Tempe's always been one of the better corners of the Valley, and these days it's home to ASU, a scary number of Bad Decision Bars, and some of the finest restaurants in the Valley -- which seem to all balance out in the end, because grabbing a meal at any of these places is a very good decision
114 E 7th St
The award-winning fine-dining restaurant is set in a cozy 1920s bungalo. Although the home is certainly noteworthy, the Tricks patio is even more impressive. The outdoor seating area has a fire pit and bar, plus tons of lush greenery. The only place in the Valley greener than this patio might be the Japanese Friendship Gardens. 
Recommended Video
Is Dessert Pizza Really a Pizza?
149 S Farmer
Tempe is always evolving and there are always new restos and bars popping up in empty lots in different corners of the city. One of those recent additions is Fox Restaurant Concept's Culinary Dropout: The Yard. It's just like the Phoenix location, except more fun, because it's in Tempe. Like the original, it's got backyard-style games like Ping-Pong and cornhole, plenty of booze, and a delicious menu with English gastropub-style eats like grilled cheese sliders and fried chicken. Yesterday's Soup is always an option. And try the pretzel fondue.
 
202 E University
If you're eating burgers in Tempe and you're not at The Chuckbox, you're doing it wrong. The award-winning burger joint has been a Tempe mainstay for more than 40 years. Local faves like the one-third-pound Big One, barbeque chicken sandwich, and the Tijuana Torpedo with two patties, green chile, and jalapeno jack cheese, which is made to order right in front of you on a mesquite charcoal grill. Say hi to Big Juan for us while you're there.
1340 E 8th St
Obvious. But hey, it's a fave among locals and out-of-towners for a reason. It has good -- no, great -- beer. And there's no better way to experience the best craft brewery in America than at its Tempe brewhouse. Even though the beer cheese is gone, there's plenty of good eats at the brewery. Order a pitcher of Kilt Lifter and try the salmon BLT. It's Four Peaks' take on the traditional sandwich with salmon, pepper jack cheese, and a tasty pesto mayo spread on 12-grain bread.
Best after-class hangout for ASU professors: Pitchforks & Corks
660 S College
Professors are people, too. And just like us, they enjoy a cocktail or two now and then. Monday through Friday from 3-6pm, all bottles of wine are half price. The sandwiches, salads, and starters are all moderately priced, and nothing on the menu is over $10. The new College Ave spot draws the ASU faculty crowd, but it's not off limits to students.
699 S Mill Ave
Finding love in Tempe is not easy. When you think you've finally found the one, do whatever possible to keep that special someone on your arm, like wining and dining your date at one of Tempe's most romantic wine bars, La Bocca. The trendy Downtown Tempe spot offers locally sourced ingredients, pastas, personal pizzas, and small plates, plus an impressive cocktail selection and wines by the glass.
 
850 S Ash
We won't name names, but a handful of Scottsdale-type bars and clubs have taken over Mill Ave and let's just saw they've attracted that same crowd Old Town is, well, umm, hated on for. You should know that there is a place where the dudes don't use an entire bottle of hair gel and cologne before going out on a Friday. That place is Casey Moore's. The casual, laid-back pub serves food and drinks into the late hours of the night, and if you stay until last call, you might just see something paranormal (apparently the place is haunted…).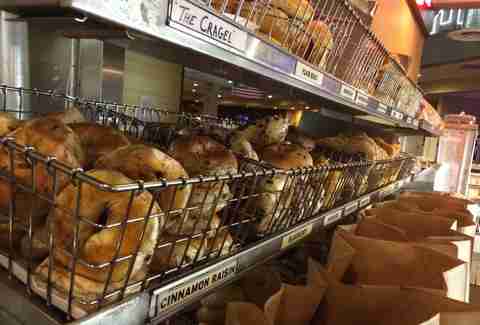 1160 E University
Since 1979, the Bornsteins have been bringing a little taste of NYC to Arizona. If you're an East Coast transplant this will be your new favorite spot. Even if you aren't from the right coast you'll appreciate Chompie's New York-style bagels, matzo ball soup, and Reubens. The food is as authentic as it gets, as many of the recipes have been passed down from the Bornstein's Jewish and Russian grandmas. The food here will make you wish you were part of the family.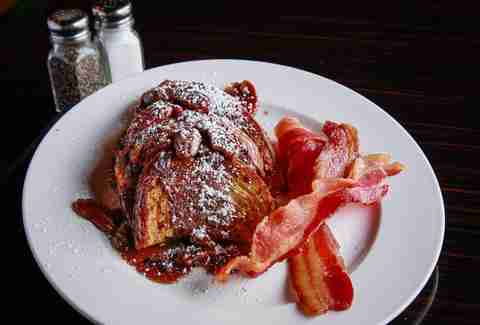 203 E 7th St
Let's be real. You graduated three years ago, but you're still on Mill Ave slamming beers and chugging buckets at C.A.S.A. The Tempe lifestyle is not for everyone, but if your liver can hang -- good for you! You'll need a good meal to refuel and recover the next morning, or afternoon, to get back out there and rally. Orange Table is that spot. It's got coffee cocktails and breakfast shots. Oh yeah, breakfast eats, too. Like the jalapeno pecan cakes, chimichurri hash, and eggs Benedict OT-style.
 
955 E University
Owned by Arizona State alums, Devil's Advocate is the place to catch an ASU game in Tempe. The food is simple, exactly how it should be at a sports bar, and the menu is mostly made up of wings, burgers, and hand-tossed pizzas. The game-day hangout also has free games like billiards, shuffleboard, and Golden Tee for all the golf geeks out there.
615 S College
Postino has got one of the best deals in the Valley. Not only on Mondays, but on Tuesday nights too, you can get a board of bruschetta and a house bottle for 20 bucks from 8pm to close. Our advice? If you don't want to wait in line, go after 9pm. ASU kids (they are so adorable) start waiting around 7:45 and getting a table is almost impossible. Let the wine sipping commence!
227 S Smith Rd
This hole-in-the-wall spot has served as the Spinato's warehouse/production kitchen since 1986. It's not much, but the minimalist dining space offers just enough room for pizza-loving customers to enjoy a pie or pick up takeout from the kitchen window. Greats like Mamma Spinato's Signature were created under this roof. There's no better way to appreciate a Spinato's pie than where it was born.
Best noodle house: Umami
21 E Sixth St
The Tempe food scene is very much focused on burgers, tacos, and pizza. And yes, these things are all very, very delicious, but sometimes you need a little variety in your diet. This Mill-area newcomer is hidden on Sixth and is gaining notoriety for its bento boxes, squid salad, and rice noodles. Umami is also credited as one of the best up-and-coming ramen houses in the country. Give it a try. It won't disappoint.
Sign up here for our daily Phoenix email and be the first to get all the food/drink/fun in town.
Lauren Topor is a Tempe writer who loves food, drink, and being followed on Twitter. Make her dreams come true here.