BBQ. It's one of the only true American art forms, and sadly, The Valley (and the West Coast in general) isn't really known for it -- but that doesn't mean we don't have our fair share of gloriously talented practitioners of this succulent craft. Here are some great Phoenix spots to prove it.
Phoenix
This award-winning barbecue spot delivers terrific Texas-style meat. And by Texas-style, that also means the portion sizes; it offers up affordable food by the half-pound or rack. We can promise you won't leave hungry.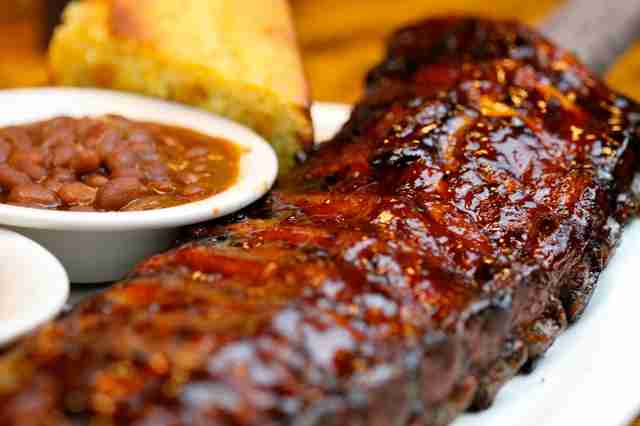 Central Scottsdale
AZ BBQ Shack is known for its ribs, but the entire menu is pretty phenomenal, from the beef brisket to the pulled pork. Aside from the great food, the casual atmosphere and friendly service are exactly what you'd hope for from a laid-back and affordable barbecue joint.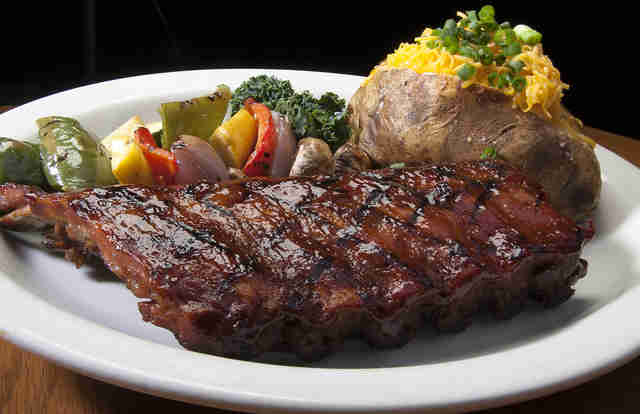 North Phoenix
Bobby-Q is the perfect setting for the more sophisticated 'cue lover, who wants to sip a glass of wine with their catfish. Portions are generous and the food is great -- and that's not to mention the extensive menu, ensuring that any barbecue you're craving will likely be accommodated, whether you're after wood-fired chicken, brisket, or smoked prime rib.
Gilbert
Housed in a repurposed church, Joe's Real BBQ is as authentic as it gets when it comes to atmosphere and taste. The joint's family owned and operated, and has been an East Valley barbecue staple since 1998. Don't forget to try one of its desserts or the homemade cornbread, which is almost as good as its full slab of ribs.
North Phoenix
Justin Erickson, son of a barbecue champion raised on a Nebraska hog farm, was practically destined to open up a barbecue restaurant. Pork on a Fork began with Justin bringing in meats from that Nebraska hog farm to sell at The Valley farmer's markets and two years later, he opened the eatery. Now, unsurprisingly, it's one of Phoenix's most beloved barbecue spots.
Phoenix
The line is long... but that's a good thing, and the impeccable service and delicious, fresh meats make it all so worth it. The meats are the undisputed stars of the show, but you'll be disappointed if you don't pair yours with the legendary Jalapeño Cheddar Grits and Bekke's Secret Pecan Pie.
Phoenix
The Barbecue Company has been serving Phoenicians bold BBQ flavor for nearly three decades, and has won several national-level awards in the process. It prides itself on its Southwestern take on barbecue that's not always traditional, but don't fear -- you'll find plenty of 'cue classics here as well.
Central Phoenix (two locations)
Honey Bear's opened in Phoenix in '86 and locals have been singing its praises more or less constantly since that day. Its menu is simple, but the items on it have been near-perfected (like the pulled pork), and its dessert selections are on point too. Food comes in individual servings or by the pound/gallon, in case you want to take your stretchy pants for a test drive.
Arcadia
This Kansas City style BBQ stop opened in the last couple of years thanks to George Frasher, the man who ran Frasher's Steakhouse and Lounge for 16 years prior. After seemingly dominating the steak world, he decided to open this casual and rustic spot for barbecue lovers. Diners have been pretty much thanking him ever since in the form of brisket, pulled pork sandwich, and turkey orders (under the "Protein" section of the menu)... and BBQ sauce-stained money and credit cards when it comes time to pay the bill.
Cave Creek
This award-winning barbecue joint has some of the best food and the biggest portions in Phoenix. Which is great because anything less than BIG when it comes to BBQ is just not worth the time. But don't worry: whether you're getting the half a chicken, the 1/2lb of brisket, or the slabs of pork ribs, you'll be fully satisfied with what's filling your plate. Grab some side favorites like the baked potato salad and olive coleslaw to let that food coma really sink in.