Just because Arizona is a border state doesn't mean it's easy to find delicious Mexican food. In fact, the task can be quite daunting. Are you looking for a quick and delicious street taco? Do you want something a bit more traditional in a small restaurant that hasn't changed the recipes in 30 years? Perhaps you simply want to unwind with a few margs and a bowl of fresh guac. Enter: this guide. 
We strongly believe life's too short for mediocre tacos (or enchiladas, or quesadillas, or churros, and certainly margaritas), so we've rounded up our top Mexican food picks in the Valley for your dining pleasure. Enjoy.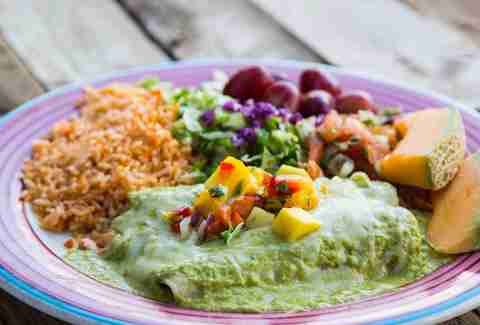 Gilbert and Mesa
Authentic Mexican food for even the most traditional of taste buds
The name isn't just a marketing technique -- Rosa's grandson opened the first Tia Rosa restaurant in Mesa in 1991 exclusively using Rosa's homegrown Mexican recipes, and the decor matches the traditional-ness of the menu. You'll definitely notice the 'Flying Saucer' on the menu, featuring your choice of beef, pork, or chicken on a large, crisp flour tortilla topped with beans, lettuce, salsa, guac, sour cream, and lots of cheese. Get it!
Old Town Scottsdale
A decades-old mainstay with outdoor seating
It may be a hole-in-the-wall, but you can pretty much throw a dart at this menu and leave satisfied. If tacos are your bag, go for (in this order) the shredded beef, the chicken, and then the fish, and finish it all with an order of the old-school sopaipillas. Their poblano cream chicken enchilada is a delicious mix of mild poblano, a light and fluffy tortilla, and chicken prepared so that it's evenly distributed throughout the enchilada. This spot's also been around for more than 25 years and has great patio in the back with outdoor seating.
Various locations
Blanco Tacos + Tequila
A modern twist on Mexican fare
Unsurprisingly, these guys do two things really well; tacos & margs. With the vast shelves of tequila, you can create approximately one million variations of the margarita. Their new-Mexican dishes cut back on the grease and lighten things up with the freshest veggies and cheeses (we love the award-winning slow-cooked BBQ pork tacos), and their happy hour comes with as many rounds of tacos as you can handle.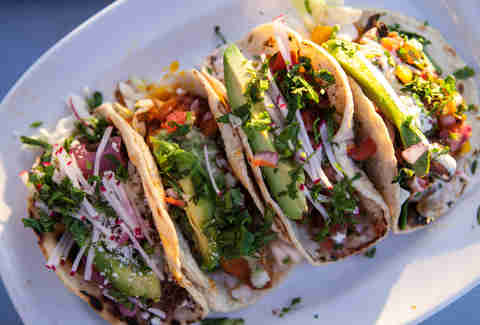 Central Phoenix & Gilbert
The most fun place in Phoenix to enjoy a taco
While the concept is moderately new to the culinary scene (it has super colorful party vibes and is great for groups), it's made a big impact on more traditional taco lovers -- the crispy fish tacos are the move. The cuisine tends to stick to the basics (chicken mole, etc.), but does them in a more modern take. And hey, if you want to stick to the basics, the margaritas and guac won't disappoint.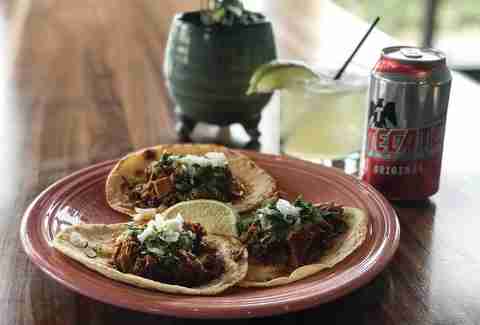 Downtown Phoenix
Phoenix's fan favorite for Mexican food
Featuring an easygoing, wood-decked vibe, Gallo offers up a range of modern Mexican bites ranging from breakfastings (huevos rancheros, etc) to ceviche. There's also a large margarita and cocktail menu (which the daily happy hour makes even more attractive).
Uptown Phoenix
The original concept from Mexican food icon Chef Silvana
With three colorfully-decked dining rooms, Barrio's been putting out authentic Mexican for more than 15 years years, and doing a damn fine job. They've got 205+ tequilas, and an extensive food menu to match, but it's Sunday brunch that should draw you in. There's an entree dubbed Huevos Divorciados (this differs from the classic huevos rancheros because the eggs are prepared separately from one another, and they sub in hollandaise for a salsa mix) which you'll absolutely want to snag. But if that doesn't pique your interest, you'll find happiness in their Cochinita Pibil Tortas, which are topped with pickled red onion.
Arcadia
Authentic Mexican food feeding A-listers for years and years
The Tee Pee has reached a legendary status -- hosting the likes of Pink Floyd, David Spade, and ZZ Top during its more than 60 year history. The family-owned restaurant is certainly casual, and homey, which adds to its charm. The food is traditional, with no frills. Our recommendation? Nana's Chili Relleno.
Arcadia
Where tortillas serve as the canvas for gourmet flavor combinations
At CRU they're serving up Latin-inspired tacos with a twist. Think street tacos but make them gourmet. Check out the lamb taco which is loaded with cotija, cabbage, pickled red onion, jalapeño, and 'birria' sauce. They've also got a Wagyu steak taco and a bunch of others that you'll surely want to pair with their over a dozen craft cocktails.
Phoenix
The best Mexican brunch in town
Ladera is an undeniable staple in the Phoenix Mexican food scene thanks to its authentic Mexican fare, welcoming and modern atmosphere, and its wildly popular brunch concept which features $4 mimosas alongside chicken enchiladas, barbacoa hash, and coco leche French toast. And just for reference, that barbacoa is loaded with guajillo salsa, cilantro, elotes, cotija cheese.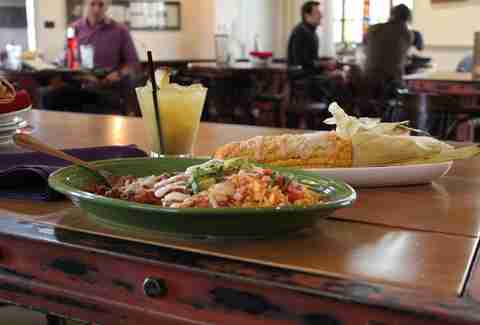 Phoenix
Like church, but for taco worship
Taco Guild's assortment of standout tacos, which include the chipotle cherry steak and the molida lamb with sweet potato hay and Creole aïoli, have been recognized as some of the best in the country, but what's even more impressive is the restaurant's atmosphere. Between its home in a cathedral-style dining room to its live music, dining here is a true sensory experience. If we had to pick just taco to recommend, it'd be their chipotle cherry steak New World taco, which features poblano straws, chile aioli, and blue cheese.
Central Phoenix
Home to the Valley's best burritos, for breakfast or dinner
While PHX Burrito House has great tacos, quesadillas, and even a delicious Mexican salad -- you have to get a burrito, because why else would you visit a burrito house? Whether you opt for the classic bean and cheese burrito or the build-your-own breakfast burrito you can't go wrong. Our favorite is the No Filler Burrito that's, well, filled to the brim with tasty, flavorful carne asada.
Phoenix and Chandler
Made to order tacos (the best in town, in fact)
While Tacos Chiwas might have only been around for three years, its traditional Chihuahua-style tacos, gorditas, and burritos are crafted from recipes that have been passed down for generations and they're getting noticed by local critics, Food Network, and even the James Beard Award committees. While you're here, try something new and go for the Lengua taco -- beef tongue, cilantro, and white onion. And for $2.50, it's totally worth it.
Various locations
More than 50 years of Carolina's original recipes
It takes some seriously good Mexican food to last more than half a century in Arizona where the competition's hot. Carolina's has managed to do that, and grow to three locations, with the same traditional recipes Carolina Valenzuela opened the restaurant with back in 1968. You'll wanna dig into the Chicken tamales which are loaded with shredded chicken, Carolina's legendary green sauce, and diced jalapenos.
Sign up here for our daily Phoenix email and be the first to get all the food/drink/fun in town.