With Arizona sharing a border with Mexico (and even New Mexico) you might think that incredible Mexican food would be easy to find, but it's actually harder than you'd expect. But fear not -- there are plenty of delicious options, and we took it upon ourselves to find the very best spots in the Phoenix area to get tacos, enchiladas, margaritas, and more.
Recommended Video
Winter Starbucks Beverages Around The World
Old Town Scottsdale
It may be a hole in the wall, but you can pretty much throw a dart at this menu and hit a great dish that'll leave you satisfied. If tacos are your bag, go for, in this order, the shredded beef, the chicken, and then the fish, and finish it all with an order of the old-school sopaipillas.
What you're getting: The Poblano Cream Chicken Enchilada is a delicious mix of mild poblano, a light and fluffy tortilla, and chicken somehow prepared in a style that it is evenly distributed throughout the enchilada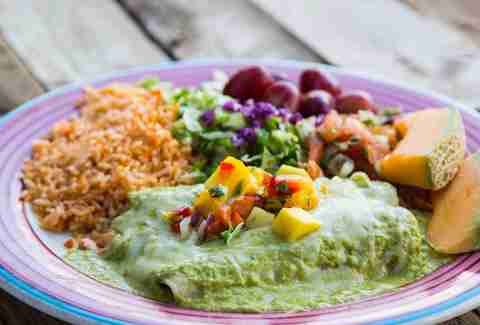 Various locations
The name isn't just a marketing technique -- Rosa's grandson opened the first Tia Rosa restaurant in Mesa in 1991 exclusively using her homegrown Mexican recipes, and the decor matches the traditional style of the menu.
What you're getting: Anything including the words, "carne asada"
Various locations
Unsurprisingly, these guys do two things really well: tacos and tequila. With the vast shelves of liquor, you can create approximately one million variations on the margarita. Their latest assortment of dishes cuts back on the grease and lightens things up with the freshest veggies and cheeses, and the happy hour specials guarantee you'll be full for only a few bucks.
What you're getting: The slow cooked BBQ pork tacos have won awards, and rightly so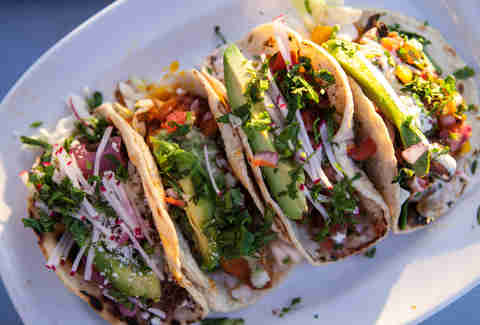 Central Phoenix & Gilbert
Joyride is a perfect spot for the young, hip crowd and families alike with cuisine that sticks to the traditionals (chicken mole, etc.), but does them really well. For the lunch crowd, there are $5 margaritas, pitchers of beer, and spiked aguas frescas.
What you're getting: The crispy fish tacos are beer battered, and absolutely terrific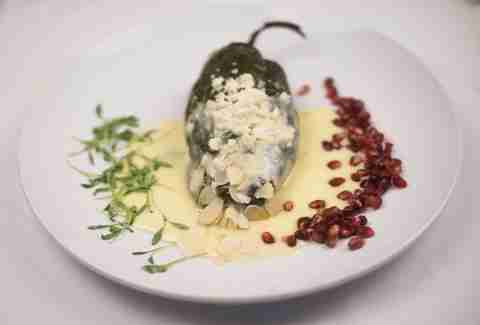 Uptown Phoenix
With three colorfully decked dining rooms, Barrio's been putting out authentic Mexican for the last 12 years -- and doing it very well. Boasting 205-plus tequilas, and an extensive food menu to match, it even has a Sunday brunch menu complete with an entree dubbed Huevos Divorciados, which differs from the classic huevos rancheros because the eggs are prepared separate of one another, and they sub hollandaise for a salsa mix.
What you're getting: Cochinita pibil tortas topped w/ pickled red onion
Biltmore
Yes, this place is all about breakfast -- there's even an entire portion of the menu dedicated to "the art of hollandaise." Unlike most morning spots with that naggy request for "no substitutions," Snooze actually says, "We encourage your custom creations" (not that it's really needed). And just because we're talking breakfast doesn't mean that the drinks menu is limited to mimosas and Bloody Marys. Plan on sampling the Snooze Fashioned, a twist on an Old Fashioned made with cold-brewed coffee.
What you're getting: Chilaquiles Benedict
Uptown Phoenix
From a man who bears a lifelong obsession with enchiladas, Gadzooks is a choose-your-own-adventure spot boasting ingredients like beer-braised bison, Chihuahua cheese, and "blended habanero lava." As weird as they may sound, they're fantastic.
What you're getting: Whatever strikes your fancy
Uptown Phoenix
Featuring an easygoing vibe, the wood-decked Gallo offers up a range of modern Mexican bites including breakfast dishes like eggs and chorizo with refried beans, wild shrimp ceviche, and a margarita and pisco menu.
What you're getting: The wood grilled fish
Arcadia
The Tee Pee has reached local legend status, hosting the likes of Pink Floyd, David Spade, and ZZ Top during its nearly 60-year history. The family-owned restaurant is certainly casual and homey, which only adds to its charm, and the food is as authentic is it gets.
What you're getting: Chili rellenos
Tempe
Tapacubo is the trendy, college town spot you haven't even realized you're missing out on. Fortunately, the intimate, quirky, and beautiful space has a lot more to offer than just good vibes. From the craft cocktails to the delicious quesadilla appetizer and the variety of tacos, you're pretty much guaranteed to enjoy your meal, especially if you end it with the brown bag churros.
What you're getting: Chorizo tacos
Arcadia
For a Latin-inspired taco that's just different enough to be unforgettable, this is your spot. To really make a night of it, don't forget to taste one of their 12 craft cocktails, like the Whiskey Mango Foxtrot or the Boom Shanka.
What you're getting: Korean fried chicken street taco
Sign up here for our daily Phoenix email and be the first to get all the food/drink/fun in town.