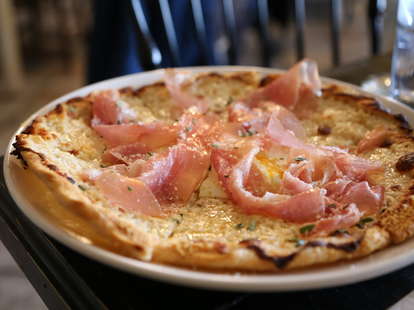 While it's easy to only focus on Phoenix when discussing the state's greatest restaurants (seriously, we tried it), that doesn't mean that there isn't ample deliciousness to be found in the rest of Arizona. In fact, we decided to take the search all the way from the snow-capped Northern region down to the far Southern border, and it was worth it, 'cause these are some pretty incredible finds...
Flagstaff
What you're getting: Polenta Shepard's Pie
Coppa Café brings worldly flavors to small town of Flagstaff through crave-worthy European menu items like foie gras, halibut confit, and baked meatballs. The café gives customers the best of both worlds by offering a casual lunch menu featuring a variety of sandwiches and salads, sophisticated dinner options, and a selection of delicious brunch dishes to choose from.

Marana
What you're getting: Colorado Lamb Shank
The fact that this exceptional restaurant is housed in the Ritz-Carlton should be enough to tip you off to the fact you're about to experience some top-quality dining. Located near one of the state's largest cities, Tucson, this restaurant has an atmosphere that is second-to-none, thanks to its beautiful décor and convenient placement in Arizona's breathtaking desert. (Fortunately, the menu items are equally impressive.)
Tempe
What you're getting: Black Peppercorn Glazed Grilled Scottish Salmon
A piece of France located in what is now practically the middle of the Arizona State University campus, House of Tricks has excellent food in a charming remodeled cottage. Just walking in feels like taking a vacation to Europe, and that's before you even try the on-point food.

Sedona
What you're getting: Lamb Adobo
Jeff Smedstad, award-winning chef and owner of Elote Café, has spent 15 years traveling to Mexico and learning about the food and culture in order to create some of Arizona's finest Mexican food. He also uses strictly local & organic ingredients to deliver the best quality, and delicious, yet amazingly healthy meals possible.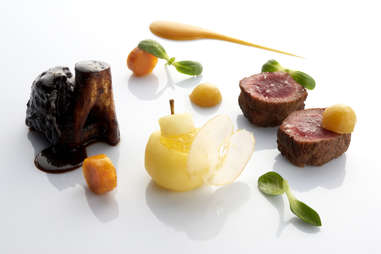 Cave Creek
What you're getting: Ribeye
Award-winning Binkley's Restaurant is the place to go if you want luxury dining right outside the bustling Phoenix metropolis. You can expect multi-course meals, a fantastic wine menu, and a one-of-a-kind atmosphere. While you're there, we recommend taking advantage of the four-, five-, or six-course tasting menus...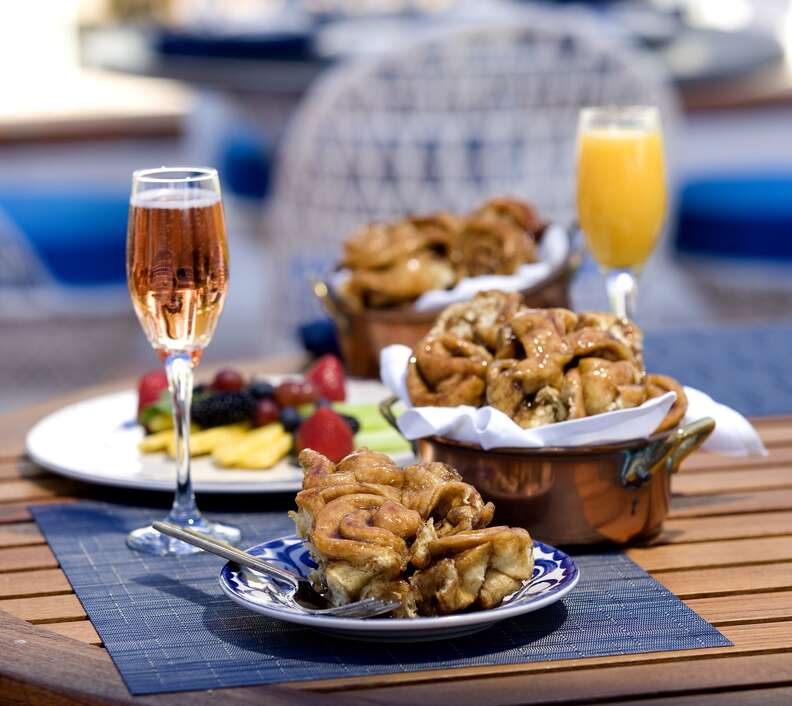 Paradise Valley
What you're getting: El Chorro Sticky Buns
Appropriately dubbed "destination dining," El Chorro is close enough to Phoenix to be well worth the trip to beautiful Paradise Valley, but far enough away that the dining experience truly feels like a vacation -- especially with the impressive view of Camelback Mountain. Not to mention, the extensive menu is sure to please even the pickiest of eaters.

Chandler
What you're getting: Pollo Alla Parmigiana
Owner Antonio Vetrati is a native Italian who started his journey in the restaurant industry working at a pizzeria in New Jersey. This is his sixth restaurant, with five more on the East Coast, and it's got all the Italian charm (and great cooking) that's made his other joints so successful.
Gilbert
What you're getting: Roasted Almond Tortellini
Romeo's Café has been an East Valley staple for years, and boasts what is likely the best Greek food in the state. The restaurant offers patrons a huge menu with plenty of options, giant portion sizes, and a warm, inviting atmosphere that has attracted and retained loyal customers for years.
Prescott
What you're getting: Green Chile Mac & Cheese
El Gato Azul is the perfect addition to small and historic Prescott; it has a quaint and quirky, yet inviting atmosphere that's perfect for casual dining, and the extensive menu and blend of different styles of food is especially appealing -- expect a rotating menu of Spanish, Mexican, and Southwestern dishes, with a permanent tapas list to boot.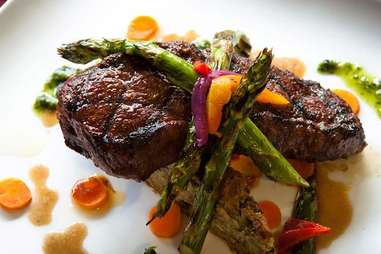 Bisbee
What you're getting: Artichoke & Portobello Mushroom Lasagne
Going to Café Roka is an experience you won't soon forget. Fine dining and live music make this restaurant one of a kind, especially in Bisbee, which isn't exactly the largest of towns in South Arizona. Café Roka focuses on using fresh, local ingredients to create unique dishes inspired by Italian and Mediterranean cuisines, and the staff will bend over backwards to accommodate all dietary preferences, from vegetarians to the gluten-intolerant.
Scottsdale
What you're getting: The Stetson Chopped
Located in Scottsdale, which is considered by many to be the Phoenix metropolis' most upscale city, is the wildly popular Cowboy Ciao. The restaurant has been in Downtown Scottsdale for nearly 20 years, serving up what it calls "modern American food," which blends Italian, Mexican, and Southwestern flavors to create a unique menu unlike any other.
Sign up here for our daily Phoenix email and be the first to get all the food/drink/fun in town.