Scottsdale is sometimes known to a few Valley residents as "Snobsdale" because it's the place to go for luxurious shopping and the occasional overpriced eat. Honestly, this is the Phoenix suburb for those who want the best of the best. Sure, it's not for everyone, but it's hard to deny that, amongst the shiny new shopping malls and a few highbrows, there are some pretty excellent restaurants in town. From steakhouses like the Pink Pony, to unique concepts perfected by local chefs (shoutout to Barrio Queen), these places ensure that Scottsdale is one of the state's top culinary destinations.
7133 E Stetson Dr
Cowboy Ciao has been a staple of the downtown Scottsdale culinary scene for nearly 20 years, serving up what it calls "modern American food," a blend of Italian, Mexican, and Southwestern flavors. The menu hosts a ton of favorites for regulars -- just look at the "actual guest quotes" for proof -- with a top choice being the flat iron steak: chef Lester Gonzalez mixes up some sesame-infused basmati rice alongside avocado & wasabi crema and soy/citrus-glazed vegetables. He then places them next to a medium-rare steak rubbed with ancho chile and Asian five-spice.
7014 E 1st Ave
Arcadia Farms Cafe is an Old Town Scottsdale favorite. Over the past 25 years, the family-owned restaurant went from being a carryout market and bakery to a full-service restaurant with an elegant, yet rustic, atmosphere (seriously, the inside looks like someone's old country house turned into a restaurant). This place serves up breakfast, lunch, and dinner, but you've got to check it out in the morning. Order yourself the breakfast quesadilla, smoked salmon plate, and the fresh berry crêpes. Then thank us later.
4360 N Scottsdale Rd
The Montauk is relatively new to the Old Town Scottsdale scene (having opened just last year), but has already made a mark with its Hamptons-esque décor (after all, it is called the Montauk) and great food. It's the perfect place to gather a group of friends to enjoy a night out on the patio, or flock together for the restaurant's daily "happiest" hour, Monday to Friday 3-6pm. If it's food you're looking for, try out the fish tacos or the mac & cheese with lobster. Then again, you can't go wrong with the weekly Sunday special (5pm-close), the fried chicken dinner.
15024 N Scottsdale Rd
You can't have a list of essential restaurants in Arizona that doesn't include at least one entry from Fox Restaurant Concepts. The Greene House offers a laid-back menu that has a little something for everyone's palate, from flatbread and burgers, to skirt steak or a bacon-wrapped tenderloin. And despite the simple menu, this place still manages to maintain an upscale appeal -- though that could be because it has one of the nicest patios in Scottsdale, perfect for enjoying a bottle of wine (half off on Sundays!) or spending time during the daily happy hour, Monday to Friday 3-6pm.
7299 N Scottsdale Rd
No, we don't love Roka Akor just because it's one of the best places for steak in the area. Or because the restaurant may mention us on its site (it does). This place actually offers some top-quality Japanese-inspired cuisine that's pretty hard to find in the Phoenix area. The menu changes with the seasons, and though it does have some of the best sushi and sashimi in town, there are a lot of other choices offered, from salads and steaks to something called a Madagascar Jumbo Tiger Prawn that we're really interested in (but way too scared to try).
6936 E Main St
The House Brasserie is a lot like going to your Southern grandma's house for dinner: it's cozy, it's vintage, and the food is always wonderful. The only difference is that this place is a lot better... and your grandmother doesn't work there. But the menu does offer some great comfort food choices, such as the buttermilk chicken thigh, or the veal chop, that'll definitely leave you wishing you could take a nap on granny's couch. If you're looking for lighter fare, stop by for brunch on the weekends, when all bottles of wine are half-off. And hell, bring your dogs along for a meal on the patio (it's allowed).
7210 E 2nd St
Rehab Burger Therapy is known for having the best burgers around. But it's not just a slab of meat you're getting here; there's a variety of weird (but great) flavor combinations to test out. Take the PBJ & Bacon burger: peanut butter, grape jelly, bacon, and Sriracha on a burger. Sound strange? Sure. But you'll be surprised how much you enjoy it. Of course, if you're not into the burger scene, grab a drink and scope the beach-like decor of this local favorite. You never know, you might even forget you're in the middle of Arizona.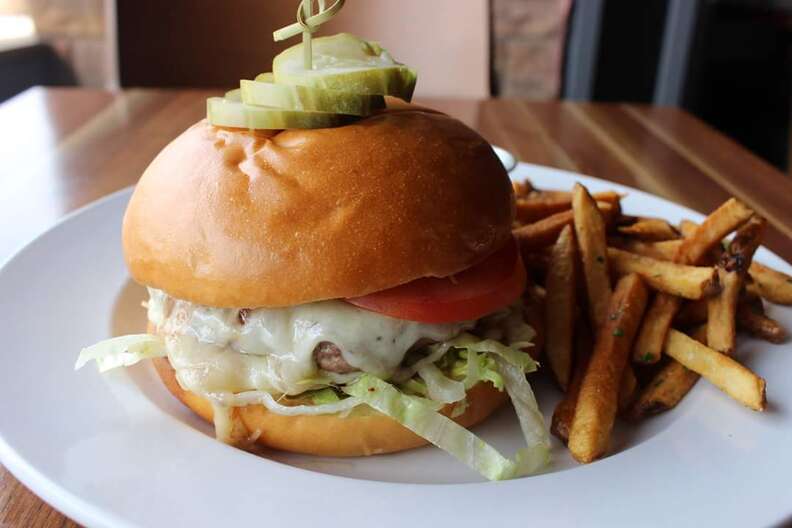 3831 N Scottsdale Rd
The Pink Pony first opened its doors nearly 70 years ago and is undeniably one of the most iconic restaurants in Scottsdale. It underwent a major remodel back in 2013 that drastically improved its atmosphere and made it more modern. Of course, while the look is new, the food at this Old West steakhouse remains just as fantastic as it always was. The steaks are usually the draw of the Pink Pony, but the burgers, fried chicken, and selection of appetizers & desserts are just as appealing.
7114 E Stetson Dr
You'd be hard-pressed to find better Mexican food in Scottsdale than the beloved Barrio Queen. The menu offers authentic choices with some unexpected twists, like its legendary pomegranate guacamole, or the El de Lujo hot dog topped with beans, caramelized onions, jalapeño sauce, avocado, spicy ketchup, and Cotija cheese. But don't get too caught up on the food; those house margaritas are definitely not to be overlooked.
4800 N Scottsdale Rd
The ruggedness and crackle of the wood-fire cooking used at Roaring Fork makes this one of our favorite spots in Scottsdale. This place fits in perfectly with the dining scene in town due to its selection of Southwest-inspired dishes, like the slow-roasted pork shoulder carnitas, tortilla soup, and grilled fish tacos -- all of which are cooked on a wood fire, just like in the Old West. Select meats are all prepared on either the restaurant's rotisserie or the open flame, which means that, from the "Big Ass" burger to that sugar-cured duck breast, you'll more than likely leave here satisfied.
Sign up here for our daily Phoenix email and be the first to get all the food/drink/fun in town.
Jamie Killin is a Phoenix writer who's always looking for the best restaurants around the Valley. Tell her your favorite on Twitter @jamiekillin.