If you're looking for some great Southwestern food, then the best place is prooooobably the Southwest, and the best place in the Southwest, as we all know, is Phoenix. That particular blend of Mexican, Spanish, and Native American food is nothing to be underestimated, and these Valley restaurants get it just right...
Central Phoenix
What you're getting: Carne Adovada
Check out Richardson's for a laid-back atmosphere, gorgeous patio, and one-of-a-kind Southwestern food inspired by traditional New Mexican cuisine. Best of all is that it's not just open for lunch and dinner; you can have an on-point Southwestern brunch here as well until 4pm (which technically makes it "linner," but whatever).
Midtown Phoenix
What you're getting: Yucatan Shrimp New School Tacos
Housed in a stunning 1940s church, Taco Guild has one of the most unique, yet alluring concepts in Arizona. The traditional architecture is combined with an upbeat atmosphere that takes your typical dining experience to the next level (some nights you'll even see a live DJ). Don't be fooled though, this isn't all for show -- the food is actually pretty incredible too and all prepared with local, organic ingredients.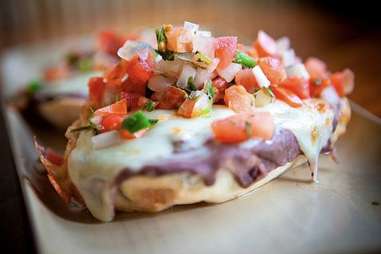 Glendale
What you're getting: Oaxaca Black Mole Chicken Shark Taco
The name doesn't lie -- these are gourmet tacos, and La Santisma blends traditional, regional Mexican food with the family's own special take on Southwestern cuisine. Prices are reasonable, and it even has its own salsa bar.
Downtown Phoenix
What you're getting: Santa Fe Stuffed Chicken Breast
Canyon Café pretty much embodies the essence of what it means to be Southwest. The menu is influenced by Western United States, Mexican, Native American, and Spanish cuisine, all in perfect balance. The mix lends itself to a pretty lengthy, diverse, and delicious menu -- and make sure you don't miss out on the tableside guac.
Central Phoenix
What you're getting: Carne Asada
Sierra Bonita's roots date all the way back to 1872, when Henry Hooker founded the Sierra Bonita Ranch in Southeastern Arizona. The menu blends its 1800s heritage with Spanish fare to create a solid Southwest selection (although its burger is pretty fantastic, too).
Old Town Scottsdale
What you're getting: Sonoran Meatloaf
The award-winning Old Town Tortilla Factory might just have the best patio in Scottsdale; it's 1,400sqft, shaded by 100-year-old pecan trees, and has received many accolades for its ability to accommodate large groups and parties. And guess what? On that patio, they serve some of the best Southwestern eats in the Southwest.
Old Town Scottsdale
What you're getting: Chopped Salad
Barrio Queen has it all -- uniquely Southwest, yet also authentically Mexican dishes, a slick atmosphere, and a ton of variety, especially if you're looking for a great margarita. To top it off, this award-winning spot is also easy on the wallet, with a weekday happy hour, Margarita Mondays, and Taco Tuesdays.
Various locations
What you're getting: Relleno Dinner
This family-owned & operated spot started out in Tucson, and has since opened multiple locations around the state. Members of the family and one single helper at a time prepare all its authentic New Mexican food, and the staff pride themselves on their ability to produce fantastic dishes with no assembly line.
Downtown Mesa
What you're getting: Land of Enchantment
This local favorite is something of a diamond in the rough. While its exterior might suggest that it's not exactly a mecca for Southwestern food, the food itself certainly does. They lay the spices on thick, and each dish packs a stunning punch of flavor. They even have jalapeño bacon!
Sign up here for our daily Phoenix email and be the first to get all the food/drink/fun in town.