The 8 Most Underrated Phoenix Restaurants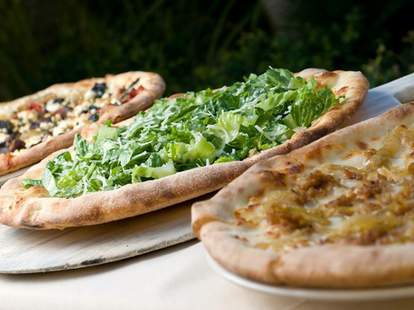 Once upon a time, the food scene in Phoenix was known only for chain eateries and hotel restaurants. Now, however, it's slowly coming into its own, thanks to a growing list of James Beard Award-nominated (and winning!) chefs and a slew of top-shelf eateries specializing in locally sourced, farm-fresh ingredients; The Valley is no longer a *food* desert. But for every attention-grabbing oasis, there are still dozens of establishments that don't get the cred they deserve. So we tracked down some lesser-known gems that warrant a bit of extra attention. Did we miss your favorite? Let us know in the comments.
Courtesy of Dave Pisani
Chandler
With approximately four dozen Vietnamese restaurants dotting the landscape, pho fans don't lack for choices here. One of the best, however, is located in a blink-and-you'll-miss-it shopping center in Chandler. Pull a Lucite chair up to one of the dozen tables in the simple, bright-orange room and savor such specialties like the Sa lach Bo (grilled spicy beef salad) or Ga Xao Xa Ot (crispy lemongrass chicken). And then there's the soup. Whether you prefer sirloin; braised brisket; or snow crab, shrimp, and scallop, Cyclo's house-made broth is simmered for 13 hours. (Take note: the joint is strictly BYOB).
North Scottsdale
Sushi? In the middle of a desert? Stop laughing. You'd be surprised at what's available. Take PURE Sushi, for example, which offers some of the area's best Japanese cuisine. While main courses like teriyaki and tempura are sure to please, the obvious star here is the raw fish, from sushi and sashimi to a full menu of specialty rolls. Lollipop Rolls, rolled in cucumber instead of rice, are must-try favorites, as are the spicy Fire Dragon Rolls and In & Out Rolls.
Alhambra
You may work up an appetite merely trying to find Fuego Bistro (hidden on a small side road off of North 7th St, it's tucked away in a rear courtyard behind a dance school), but that's a good thing, because once you get there, you'll want to try everything on the menu. The Short Rib Enchiladas and Bistro Seafood Chile Relleno are consistently great, and you can top it all off with an equally good Ancho Chile Chocolate Torte.
Courtesy of The Cove Trattoria
Scottsdale
When it comes to Italian food, Phoenix is overrun with the usual chains, so finding a family-owned local dining spot that serves fresh, flavorful cuisine is almost like winning the lottery. The Cove is that place. Although its location is in a strip center that includes five other small café/restaurants, there's a cozy atmosphere, excellent pizzas (made with house-made dough) are always a popular choice, and so are pasta dishes like the Lobster Ravioli.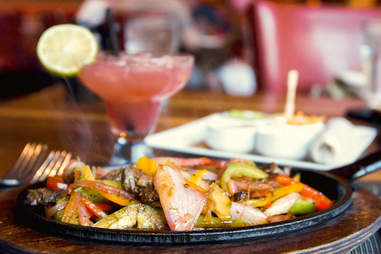 REBECCA PISANI/THRILLIST
Paradise Valley
You can't swing a golf club in The Valley without hitting another golf club, and possibly a resort restaurant too, many of which are overpriced and cater to tourists/special occasions. But giving the swanky celebrity chef-owned BLT Steak at the Camelback Inn a run for its money is the casual Southwestern cuisine of Rita's. You'll want to start with one of the hotel's signature margaritas (prickly pear or agave blossom, anyone?), then move on to the fajitas or chicken enchiladas.
 
Courtesy of Dave Pisani
Chandler
Enter the Food City on North Arizona Ave, and you're immediately hit with the mouthwatering aromas of its tortilleria's fire-roasted chiles and freshly made tortillas. Luckily, you can quell those hunger pains at this grocer's in-store sit-down restaurant that offers an array of tasty and cheap Mexican items. And with big-enough-for-two breakfast burritos for only $3.50, tamales for a buck and a half each, or chile rellenos (a poblano pepper that's stuffed with Oaxaca cheese, egg-battered, fried, and covered with green sauce) for $4 each, you can afford to.
Ahwatukee
Valley transplants often complain that there's no good pizza in Phoenix. Guess they never heard of Pizzeria Bianco, rated one of the best pizzerias in the country. But just as good -- and without all of the national hype -- is Nello's. Set back on the corner of Warner and 48th St, its wood-fired pizzas boast both house-made mozzarella and dough. Go for the Salsiccia with Nello's homemade sausage. You won't be disappointed.
Chandler
Located in the heart of Downtown Chandler, just a block from the popular SanTan Brewing Company, Vintage 95 has not yet gotten the credit it deserves. A sophisticated wine lounge housed in Chandler's original 1926 post office, its exposed brick walls and tin ceiling give it a heavy vintage vibe. Its wine list is the feature here, with more than 300 bottles (and 28 by the glass), to go with a menu of classic American dishes. 
Sign up here for our daily Phoenix email and be the first to get all the food/drink/fun in town.