It's been a big year for Phoenix. Restaurants have opened, and restaurants have closed, but the Valley's food-eating denizens have come out on top, with a huge net gain of excellent new spots/waistline inches. And because we want to make sure we mention every single one of those new spots, we're awarding honors across a pretty healthy range of categories -- these are the best new openings of the year:
Recommended Video
Debatable: Is Shake Shack Really Fast Food?!?
Best new Southern spot
Okra
Address and Info
Phoenix
The team behind our beloved Crudo took on a new endeavor this year: Southern- and Italian-style eatery, Okra. And it does not disappoint. Fried chicken (buttermilk or Tennessee hot), focaccia-style pizzas, craft cocktails, mussels, housemade pork rinds, bourbons, and burgers are just a few of the things you can find on the menu here.
Best new brunch spot
The Hash Kitchen
Address and Info
Scottsdale
We always get pretty excited about new brunch/breakfast spots opening. And we were especially jazzed about the opening of Scottsdale's Hash Kitchen this year. Hash has got six different types of mimosas and a build-your-own Bloody bar where you can choose from 50 toppings (like egg rolls and mini burgers) to deck out your drink. And we can't forget to mention the food. The specialty hashes are a big draw.
Best new healthy spot
Fàme Caffe
Address and Info
Phoenix
The farm-to-table movement is alive and well in Phoenix. And Fàme Caffe is just one of the restos here in the Valley using the finest and freshest ingredients around. The family-owned spot offers American-style breakfast, brunch, and lunch six days a week (closed on Mondays).
Best food truck turned brick-and-mortar
Waffle Love
Address and Info
Gilbert
One of our favorite food trucks made the move to a brick-and-mortar shop and we couldn't be more excited. Waffle Love, known for its grilled cheese waffles and Belgian liege dessert-style numbers, recently swung open the doors to its Gilbert store -- no more tracking down the truck!
Best new place to camp out with your laptop
DeSoto Central Market
Address and Info
Downtown Phoenix
The cafeteria-style concept called DeSoto Central Market is Phoenix's best new spot to eat and drink local. With a collection of restos and cafes in the food hall, including DCM Burger and Adobo Dragon, DeSoto Central Market is the perfect place to come, sip coffee, grab a bite, and look like you're immersed in important work on your laptop.
Best new brewery
Wren House Brewing
Address and Info
Phoenix
Arizona has more than 70 breweries around the state. While we rarely encounter a beer we don't like, let's face it, some brews are just better than others. Which leads us to Wren House, an Arizona-inspired brew house that just made its debut to the Phoenix craft brew scene. It might be new to the craft world, but it's already got a few awards under its belt. We're excited to see what's to come in 2016 and beyond.
Best new nightlife spot
District Bar
Address and Info
Old Town Scottsdale
Our list of best everything wouldn't be complete without mentioning District Bar. By day you can grab one of the best burgers in town (check out the Californication) and catch a game. But if bottle service is more you thing, stop by on the weekend.
Best new Mexican place
El Guero Canelo
Address and Info
Phoenix
Tucson's famed El Guero Canelo just set up shop in Phoenix, and we couldn't be happier. Where else were we supposed to get our Sonoran dogs? Although the dog reigns king on the menu, El Guero Canelo also serves up a mix of Mexican-style fare like burros, tacos, 'dillas, and tortas.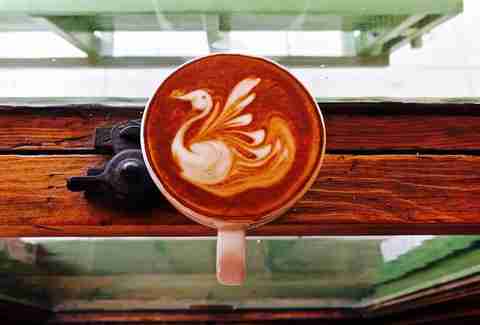 Best new coffee house
Songbird
Address and Info
Downtown Phoenix
Recently relocated from a shared space inside of Roosevelt Row's monOrchid, Songbird opened the doors to its new location in the same neighborhood. The space itself isn't exactly "new" though -- it set up shop in a charming Phoenix home, fit with original hardwood floors and a front porch, that was built way back in 1904.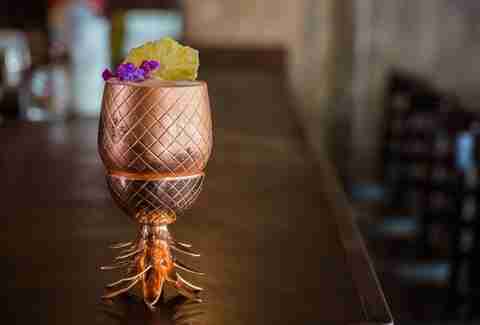 Best new cocktail bar
Counter Intuitive
Address and Info
Scottsdale
Where do you go to get a drink in Phoenix these days? Two words: Counter Intuitive. Scottsdale's newest and downright best new cocktail bar is serving up sips, plus eats like bacon beignets to satisfy your stomach. The cocktail menu theme will change three times each year, so you'll never get bored of this place.
Best spot for tapas
CoR Tapas & Wine
Address and Info
Phoenix
Small plates are big. And one of the best place to get tapas in the Valley is at Phoenix's CoR Tapas & Wine. The wine list features a selection of both West Coast and international wines, and the small dishes include paella, spicy scallops, and chicken Veracruz to name a few.
Best fries
US Fries
Address and Info
Tempe
Poutine. Finally. In Tempe, you can now get your fries loaded with Wisconsin cheese and gravy, among other things, at this Mill Ave shop. Hailing from Tucson, US Fries also serves eegee's subs, something Tucson natives who've relocated to the Valley are very happy about.
Best new random thing to do: Tune up your fixie and sip coffee
The Velo
Address and Info
Phoenix
The Downtown bike shop is geared (get it?) to Valley cycle-heads, but that doesn't mean it's off limits to those who don't ride. The bike shop hangout has everything from top-of-the-line bikes and mountain bikes, to everyday cruisers, to Press coffee. The Velo is also a member of the DTPHX Arts District and the space displays the work of local photographers and artists.
Best new food truck
Local Lunchbox (address and info)
Phoenix
This seasonally inspired resto-on-wheels is known for its healthy eats. The menu is constantly changing, but there are a handful of standby staples that are always available, like the Italian chicken sandwich, truck-made sweet potato chips, and toffee-topped brownies. Oh, and all of the ingredients are sourced from local farmers and ranchers.
Sign up here for our daily Phoenix email and be the first to get all the food/drink/fun in town.
Lauren Topor is a Phoenix food writer who's a big fan of street eats. Follow her to the best food trucks on Twitter and Instagram.