The sandwich might have been invented as a gambling aid, but that doesn't mean you should roll the dice on getting a decent one -- that's why we did the delicious research and figured out where to get the very finest bread-traps in The Valley.
Central Phoenix
What you're getting: The New Yorker
The Miracle Mile has been in Arizona over 60 years, and proudly boasts "the best Jewish food west of New York City." Taking it at its word, the New Yorker, with its pastrami and homemade slaw, it definitely feels like a little slice of the East Coast has landed right here in the desert.
Recommended Video
These Tacos Are Made for Dunking
Central Phoenix
What you're getting: No. 20
Zookz is known for its incredible sauces, and the No. 20, with its Zookz Sweet Heat Mustard, is no exception. Add that cornerstone sauce to the No. 20, which includes thinly sliced turkey, bacon, avocado, tomato, and shredded cheddar, just for good measure.
Arcadia & Tempe
What you're getting: Jalapeño Croque-Monsieur
This award-winning bakery boasts a chef trained in Paris and some top-shelf ingredients for him to work with. This standout number is a spicy, local twist on the classic Parisian dish, which features ham, Gruyere cheese, jalapeños, and béchamel.
Gilbert & Mesa
What you're getting: Chile Verde Birdie Turkey
There's nothing typical about a Flancer's sandwich, and between its thyme-marinated chicken and its filet mignon and gorgonzola cheese, you'll almost certainly have the opportunity to try something for the first time. The Chile Verde Birdie Turkey is a great turkey sandwich turned one-of-a-kind masterpiece by the New Mexican green chile mayonnaise.
Downtown Phoenix
What you're getting: Market Sandwich
The brain child of local hero Chris Bianco, Pane is Pizzeria Bianco's tasty cousin. The restaurant grew from a take-out sandwich shop to a full-service restaurant, but the sandwiches are still the star of the show. Be sure to pair yours with a local wine or beer.
Downtown Phoenix
What you're getting: Turkey Club
Ollie Vaughn's has a solid menu of simple-yet-delicious sandwiches, the perfect exemplar of which is its classic Turkey Club. Roasted turkey, bacon, avocado, roasted tomato, and of course, a little lettuce and mayo -- there's nothing fancy except the flavors.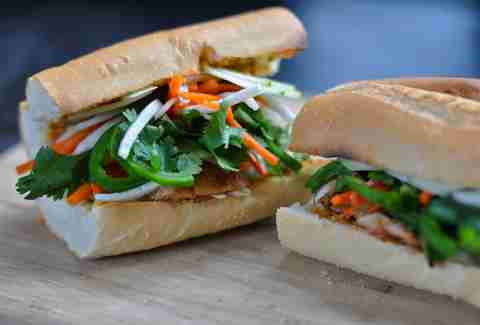 Central Phoenix
What you're getting: Five Spice Banh Mi
Chestnut isn't your typical in-and-out deli sandwich shop -- it offers healthier options, a full coffee bar, and even a great classic cocktail list. The consistently great Five Spice Bahn Mi is made with chicken OR tofu, plus a variety of veggies and an unforgettable sriracha lime mayo.
Various locations
What you're getting: Fiery Italian
The always-delicious Fiery Italian certainly lives up to its name; it's composed of smoked turkey breast, Genoa salami, tomato, Provolone cheese, Sicilian pepper relish, mayonnaise, and spicy brown mustard. In fact, the only un-Italian thing on there is the soft French bread holing it all together.
Central Phoenix
What you're getting: Asparagus and Havarti Panini
Bertha's Café is a local favorite known for consistently delivering some of the best sandwiches and salads in town and the Asparagus and Havarti Panini is undeniably one of the best items on the menu. The sando features asparagus, pesto mayo, arugula, roasted red peppers, and Havarti cheese, all grilled to perfection between two pieces of bread -- and while it's delicious alone, you can (and should) also add ham or chicken.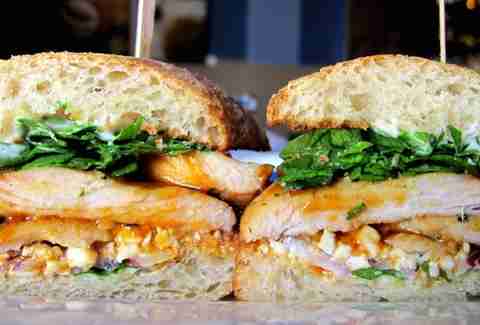 Central Phoenix
What you're getting: Apricot BBQ Feta Chicken Ciabatta
For less-than-conventional sandwich combos you likely won't find anywhere else, head to Switch. The Apricot BBQ Feta Chicken Ciabatta itself is a weirdly mouth-watering combination of chicken, apricot, BBQ sauce, spinach, feta, aioli, and cilantro, gorgeously held together by thick slabs of ciabatta bread.
Sign up here for our daily Phoenix email and be the first to get all the food/drink/fun in town.