The Pittsburgh Bars With the Best Late-Night (or Anytime) Eats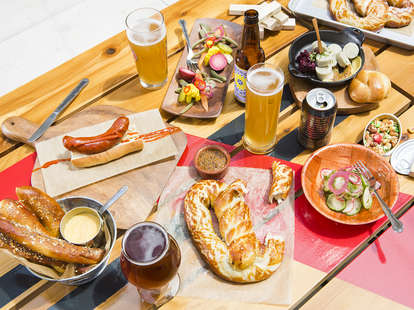 Adam Milliron/Courtesy of The Biergarten at Hotel Monaco
Adam Milliron/Courtesy of The Biergarten at Hotel Monaco
Why go to a bar to drink, when you can go to a bar and eat? Or, better yet, just do both. Pittsburgh is full of places to wet your whistle, and whet your appetite, from comfort food to classy charcuterie. Sip and bite your way through a few of the top spots for an indulgent night out, or for a bookend to a less-than-sober Saturday.
East Liberty
Kelly's dishes have become the stuff of legend in Pittsburgh's bar scene. While the dive's menu features delicious options like tofu bites, potstickers, and tacos, the macaroni & cheese is the real reason you show up here. Baked to crusty perfection, the mac shows up bubbly in a personal crock. Underneath the charred top, gooey and creamy noodles await. With a similar cheese-to-pleasure ratio as a fancier establishment like Smoke in Lawrenceville, but for less cash, and with an opportunity to pair with a $4 cocktail, you can't go wrong with this order.
Bloomfield
If there is a better bar food than potatoes wrapped in dough, we don't know it. Polish food gets its due at Bloomfield Bridge Tavern, and the mighty pierogi is a top pick. BBT sources these gems from the top pierogi supplier (aside from church basements everywhere): Pierogies Plus out of McKees Rocks. You can also get platters of haluski, kluski, and kielbasa; it's an all-out Eastern European palace. Other staples like meatball sandwiches and fried fish are available, but go for the gold. Eat those 'rogies.
Bloomfield
Hungry on a Monday at 1am? How about Sunday at 11:30pm? Caliente serves its menu of pizza, salads, and sandwiches until 2am every day of the week, which is unheard of in the 'Burgh aside from subpar diner food. Late-night cravings can and should only be satisfied by Caliente's ridiculous cheesy bread (with pepperoni or bacon, if you're into either). Ask for extra marinara sauce for dipping.
South Side
Over the Bar, or OTB, is a cyclist's best pal. Lots of bike parking is available out front, and inside, a menu full of bike-themed bites awaits. Tangled Spokes, i.e. pretzel sticks with beer cheese, or Stick Shifters, i.e. spicy mozzarella sticks, make for a good first chomp. Crazy burgers round out the menu, with the star, Dirt Rag Delight, topped with peanut butter, cheese, and pickles. America!
Lawrenceville
Boldly named after a Step Brothers quote (Catalina Wine Mixer, anyone?), this quirky spot serves decently priced wine from an impressive list. The food is magically prepared behind the bar in a tiny "kitchen" space, but arrives at your table like a gourmet plate. Feast on a cheese board, or truly find the meaning of life with a Toastie order. Prosciutto and Gruyere sandwiched between bread makes any day much better.
Downtown
A rooftop bar with epic views of Downtown, the new-ish Biergarten is the perfect spot to not only get your drink on, but to chow down on German snacks. Pair your Belgian or dunkel with a giant pretzel or potato salad. Sop up that schnapps with your choice of house-made currywurst or bratwurst. The currywurst, arriving on a fluffy bun and topped with a curry ketchup, will transport you to the streets of Germany with every snap of the sausage.
North Side
The Park House is super-old, you guys. This classic on East Ohio St has been in operation as a pub for a long-ass time -- over 100 years -- and there's a reason a place like this has existed for as long as it has. Where else can you listen to live bluegrass and folk bands while eating Mediterranean bar snacks like falafel or gyro? Owner Zamir Zahavi, dubbed the "falafel master," bought and transformed the Park House from a simple bar spot to a place to get a craft beer and a stuffed pita. Fingers crossed for 100 more years of The Park House!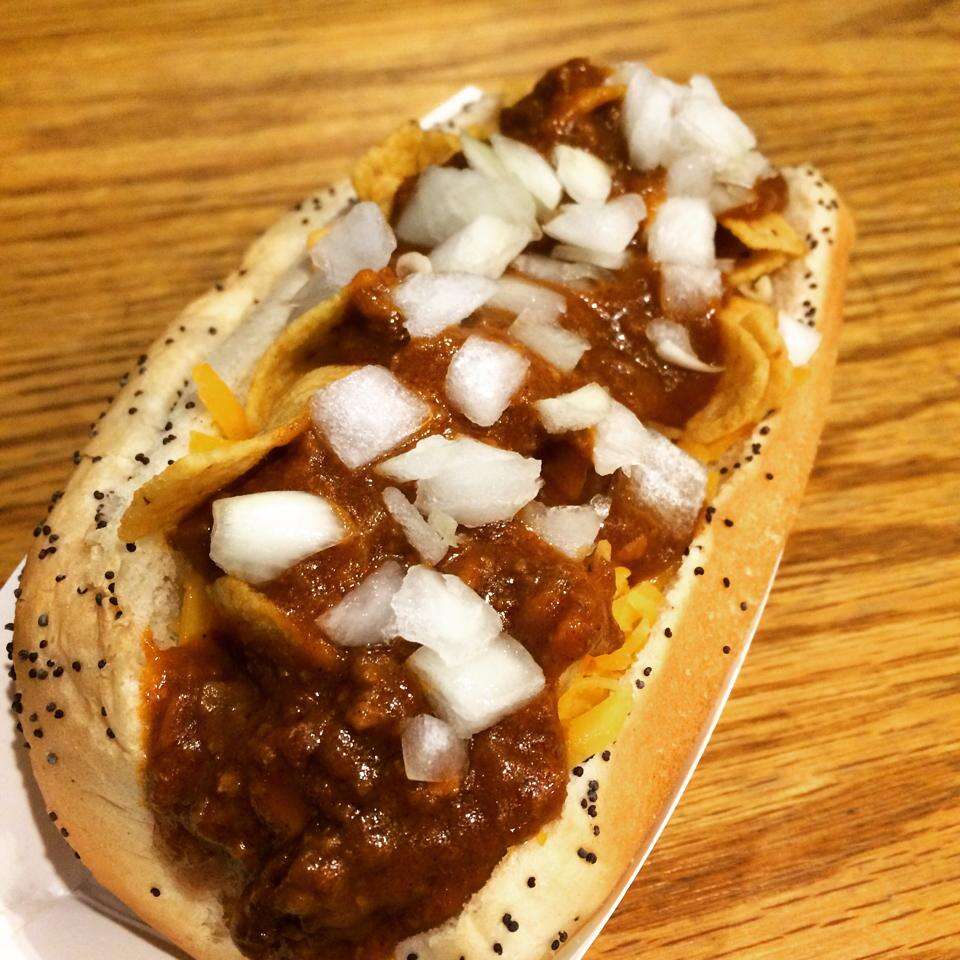 Regent Square
With a cave of hundreds of brews to pick from, D's is the ultimate beer bar. But getting your buns to D's is rewarded not only by hoppy bliss, but by dang tasty hot dogs. Build your perfect dog with a choice of all-beef, veggie, turkey, cheesy bratwurst, and jalapeño kielbasa, then throw on the toppings. Or pick a predetermined pile-on like the Big Ben with fries, cheddar cheese, and coleslaw. Encased mystery meat not your jam? The pizza here is also top-notch and features as many toppings as the dogs, from ham and pineapple to steak. Load it up!
North Side
A quiet, residential street on the North Side hosts this unassuming place to kick back with a Guinness and a boxty; the cozy wood booths and the handsome wood bar only aid in transporting you across the pond. The Irish-themed menu is startlingly good, from bangers & mash to shepherd's pie. Slow-roasted, Guinness-marinated shredded beef elevates every dish it touches and keeps locals coming back for more.
Oakland
The bar of Legume, the classy-occasions restaurant next door, Butterjoint features excellent cocktails in its own right and a simple but effective menu of snackage. The Fancy Burger of the day uses beef that's ground daily and arrives topped with a variety of high-brow toppings, from bleu cheese to wot aioli, inspired by Ethiopian curry. Bonus points for being branded, literally, with the word "fancy" on top of the bun. The bar also is home to the best desserts in the 'Burgh. Flourless chocolate cake for the win!
Sign up here for our daily Pittsburgh email and be the first to get all the food/drink/fun in the Steel City.
Laura Zorch never shares her Butterjoint cake with anyone. Don't ask. Follow her at @lzorch.