City of Bridges? More like City of Brunches. With more spots than ever serving up the city's favorite meal of the week, restaurants around Pittsburgh have taken brunching to the next level, offering so much more than bacon and eggs. No matter where you are, you're probably not far from a top-quality brunch, and we've gathered up the best options in 11 different Pittsburgh neighborhoods. From quiet cafés to bustling food halls, these best-of-the-best spots can help to satisfy your weekend morning cravings for French toast, Eggs Benedict, and cocktails that were made for day-drinking.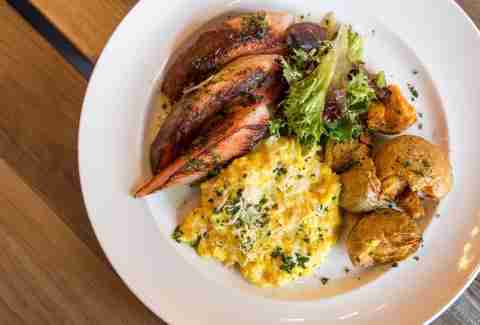 North Side
Federal Galley
Incubator food hall with four distinct, chef-run restaurants
As the sister restaurant of Smallman Galley, the uber-popular restaurant incubator in the Strip District, Federal Galley had a lot to live up to -- and it does, mightily. The four restaurant concepts in Federal Galley include Provision PGH, El Lugar, Michigan & Trumbull, and Which Came First, all bringing various styles of cuisine, from elevated New American fare to Detroit-style pizza, to one location. Brunch offers eclectic options while the bar serves up a solid selection of local beer, wine, and spirits.
Threadbare Cider & Mead
Local cidery with fresh-made pizzas and salads  
The team behind Wigle Whiskey has outdone themselves with one of the newest additions to Pittsburgh's brunch scene. Threadbare Cider & Mead not only serves Wigle's own (great) ciders and cider cocktails, but they also offer a full brunch menu on the weekends. You'll find a rotating selection of breakfast-inspired pizzas (made with yeast that was started with the same yeast used to make the cider), Dutch pancakes, and salads.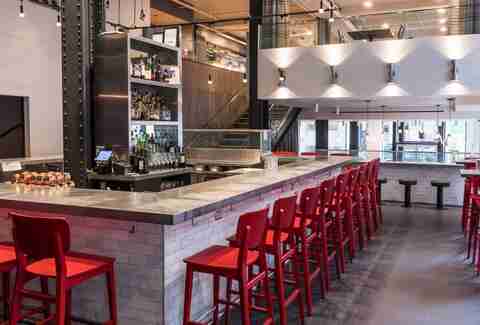 Downtown
Union Standard
Buzzy spot serving modern American cuisine in a bright setting
Union Standard has become the... well, standard for Downtown brunch dining, thanks to its hearty, savory-heavy brunch menu (though the bourbon & vanilla bean French toast, served with Millie's vanilla ice cream, bacon maple syrup, and bourbon whipped cream, is decidedly on the sweet side). Oysters on the half shell, from the Union Standard's raw bar, make the perfect first course, and there's a strong lineup of brunch cocktails on the menu featuring local favorites like Maggie's Farm Rum and Boyd & Blair vodka.
Meat & Potatoes
Ultra-popular new American gastropub in the center of the city 
Meat and booze do the body good, thus making a trip to Meat & Potatoes a worthy endeavor. All hunger pains will be vanquished with enormous dishes like the cheddar jalapeño waffle topped with fried chicken and the roasted pork huevos rancheros. The Bloody Mary bar and drinks, like the Old Fashioned Breakfast with bacon bourbon and maple syrup, wash down the portions (and any bad memories from the previous night) right away.
or, The Whale
Elegant hotel restaurant with a sea-inspired menu and décor
With an ambitious brunch menu (one of the few places in town where you can order it seven days a week) or, The Whale is your go-to place when you've got to impress someone before 2pm. Menu options include a must-try monkey bread (sweetened with brown sugar, black cardamom, and orange), and savory corn waffles, piled high with bacon, sausage, and a fried egg. Plus, their cocktail program (brunch or otherwise) is one of the best in the city.
East Liberty
Whitfield East Liberty
Lively spot known for using sustainable, local ingredients
The Ace Hotel Pittsburgh is home to Whitfield: a bright, airy restaurant that's a hit with the city's in-crowd. Led by chef Bethany Zozula, the brunch menu features local produce and sustainably-raised meats in hearty, classic sweet and savory options, like steak & eggs and blueberry buttermilk pancakes. The Whitfield Breakfast, a twist on the classic eggs Benedict, is a must-try featuring chimichurri and delicious beet and potato rosti.
Muddy Waters Oyster Bar
Cajun-style cooking for Yinzers in need of a N'awlins fix 
New Orleans is more than 1,000 miles away from the 'Burgh, and if you don't want to travel all that way for a French Quarter beignet, your best bet is Muddy Waters Oyster Bar, tucked away on South Highland Avenue. On Saturdays and Sundays, brunches run lazily and long, like a hot Louisiana day, from 10:30am to 3pm. The menu offers more than just oysters, including Creole Shrimp and Grits, Bananas Foster French Toast with maple bourbon syrup, fried green tomatoes, and for the most adventurous eaters, alligator bites. 
Oakland
The Café Carnegie Oakland
Elegant museum café with a locally sourced seasonal menu
Step inside The Café Carnegie and prepare to be dazzled. The modern café space, housed inside the Carnegie Museum of Pittsburgh, is awash in clean lines, bright lights, and floor-to-ceiling windows that look out to the heart of Oakland. On the menu, you'll find very "ladies who lunch" selections, like salad chevre chaud with roasted shiitakes and cauliflower, and a croque madame with house-cured ham. Don't overlook their jelly donuts, either, served with a dollop of house-made Concord grape jelly; they're a cozy addition to an elegant meal.
Spirits & Tales at The Oaklander Hotel
Where the only thing fancier than the spread, is the view
Well-suited in name, The Oaklander Hotel is smack-dab in the middle of the action of Oakland. Just a short hotel elevator ride takes you up to Spirits & Tales, a spacious restaurant filled with windows perfect for gazing at the hustle and bustle below. If you're in the mood for something light, cinnamon chocolate babka buns (what Jerry was in search of on a classic episode of Seinfeld) pair well with a French press coffee on the outdoor terrace. For more ravenous diners, there are mains like the Savory Dutch Baby: a souffle pancake, fried egg, bacon lardons, date maple syrup, and fresh herbs. Spirits & Tales also offers green and golden juices as healthy palate cleansers. 
Pie for Breakfast
It's exactly what it sounds like (and more!)
There are very few restaurants where pie is the main feature, with two notable exceptions: The Pie Hole on ABC's Pushing Daisies, and Pie for Breakfast on North Craig Street. Enjoy a slice of pie of the day with an assortment of brunch drinks, including J Town Java which combines Commonplace coffee with Four Roses bourbon. You can even order a whole pie to go (just call ahead 48 hours) and make it pie for breakfast for days.  
Point Breeze
Point Brugge Cafe 
Cozy bistro with classic European offerings 
Point Brugge has the brunch checklist covered: adorable, tiny space, neighborhood vibe, outdoor dining, and uncompromisingly good food. Come by on an off hour to avoid the wait and indulge in the Belgian-inspired menu. The Liege waffles are the jam, and the famous Point Brugge mussels (try the classic white wine prep), when available, are a necessary add-on.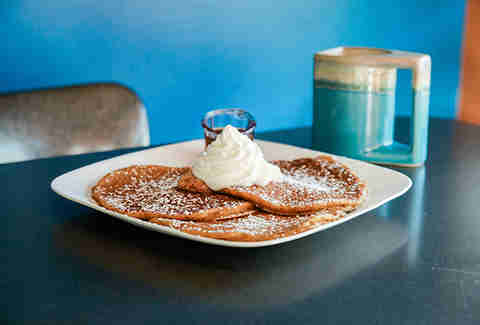 Regent Square
Square Cafe Regent Square
Family-friendly café with lots of local charm
Colorful and quirky, the Square Cafe space is a little ray of sunshine in Regent Square. The super-popular spot boasts seasonal menu choices like pumpkin walnut pancakes, and keeps thirsts at bay with coffee (served in square mugs) and killer milkshakes. On warm days, tables spill out onto the sidewalk for outdoor dining in the sunshine.
Lawrenceville
Franktuary Lawrenceville
Quirky, hot dog-focused spot with an ever-changing menu
After leaving the sanctuary, head to Franktuary. This religious pun-infused hot doggery cooks up a thoughtful and small Sunday brunch menu that changes weekly. The waffle sandwich -- a sausage and egg nestled between quartered waffles -- is a revelation, as are the ever-changing hot dog options (now with more than 50 toppings to choose from), and their stellar list of poutine choices.
Coca Cafe
Butler Street's crown jewel for brunch
If someone suggests brunch in Lawrenceville, "Coca" is inevitably mentioned, followed by a discussion of whether there will be a wait. There probably will be, but for good reason: The omelets here are some of the best in the city, with a variety of options, including sun-dried tomato, wild mushroom, and smoked salmon. For the perfect fusion of sweet and savory, try the herbed goat cheese-stuffed French toast with fresh berries, which will satisfy all of your tastebuds.
Strip District
Bar Marco
Intimate wine bar in a historic firehouse 
Every weekend, this natural wine bar turns into the spot for scoring an elevated brunch, with an ever-changing list of offerings that leans heavily on the savory side. Hearty dishes like smoked salmon Benedicts and rock shrimp & grits are the stars of the show, but you'd be remiss not to snag a plate of Bar Marco's bomboloni: fresh-made sugared donuts with dipping sauces that change seasonally, like bourbon caramel and lemon curd. And, with one of the best wine programs in the city, there's no excuse not to have a glass (or two) of vino while you're there.
DiAnoia's Eatery
Hybrid café, deli, and restaurant that serves seriously good Italian specialties 
DiAnoia's Eatery is one of our city's most unique spaces. Equal parts deli, bar, restaurant, and bakery, the all-day Italian spot serves everything from house-made linguine with clams and zeppole donuts to porchetta-stacked panini and steak Florentine -- not to mention the incredibly indulgent gnocchi bowls. The Sunday brunch program combines the best elements of the restaurant's offerings into one menu. You'll find Italian-inspired comfort foods like veal Parmesan with a sunny-side-up egg and a side of spaghetti, and panettone French toast drenched in maple syrup. Plus, DiAnoia's in-house bakery churns out those piping-hot zeppole like they're going out of style. Word to the wise: If the Nutella panzerotti (fried dough stuffed with Nutella) is on the menu, get it.
Smallman Galley
A restaurant incubator with four concepts and a local-based bar 
You'll find four restaurant concepts (and a great bar) under one roof at Pittsburgh's original restaurant incubator Smallman Galley, which means that no matter how picky your entourage is, everyone will find something they love. The incubator's current crop of restaurants at this shared space include Iron Born (Detroit-style pizza), BA-CO (Latin American street style food), Home (comfort food with Southern flavor), brunoise (elevated upscale American food), Colonia (a Latin-American concept) and Banhmilicious (serving Vietnamese fusion), all offering brunch specialties on the weekends.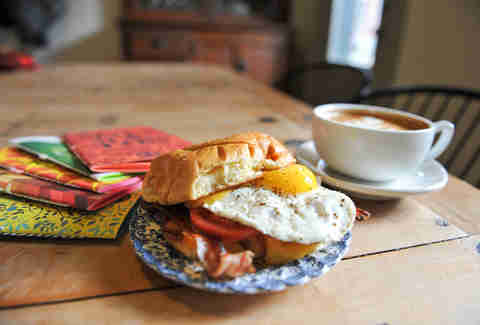 Troy Hill
Pear and the Pickle
Spacious café with incredible coffee and breakfast sandwiches
Pear and the Pickle has only been around for a couple of years, but in that time, the tiny Troy Hill café and market has quickly become one of Pittsburgh's worst-kept brunch secrets, with arguably the best breakfast sandwich in town. Yes, it's a deceptively simple bodega staple -- bacon, egg, and cheese on a roll -- but it's still worth taking a trip up one of the steepest streets in town to get. The café also offers a selection of other sandwiches (think deli classics like "the Rialto," with sweet sliced ham, capicola, and pepperoni), and Stumptown coffee to wash it all down.
South Side
Waffles Incaffeinated
Boutique diner with sweet and savory gourmet waffles
If you're a waffle lover, you definitely shouldn't waffle about going to this joint (which also has a location Downtown). Waffles Inc. allows customers to build their own Belgian creation and customize it according to what they're in the mood for -- it could be chocolate and sweets, or chives and veggies, or maybe even a unique combination of both. You can even make them gluten- or dairy-free! If waffles aren't your thing, they also have omelets and other breakfast staples... but really, who doesn't love a good waffle?
Squirrel Hill
Pamela's Diner
The most popular brunch spot in the city (for good reason!)
You can't talk about brunch in Pittsburgh without mentioning Pamela's (Barack Obama visited in 2008, and called the pancakes the best he'd had in a long time). There are five locations in the Pittsburgh area, and all of them offer an old-fashioned diner experience with '50s style tables, chairs, and decor. Pamela's specialty is of course its crepe-style pancakes, including strawberry, blueberry, chocolate chip banana, and banana walnut varieties, but the California French toast is an underrated favorite: whole-wheat raisin bread dipped in cinnamon-vanilla egg batter. Squirrel Hill offers some other quick brunch options where you can grab something on the go, but Pamela's is one of the few in the neighborhood where you can really do some serious brunching -- the kind where you forget what time it is because you've spent so much time eating pancakes and waffles while chatting over coffee. Is going to Pamela's a Pittsburgh cliche? Sure, but every Pittsburgher will tell you that it's still worth every visit. Just remember to bring cash (it's cash only!). 
Sign up here for our daily Pittsburgh email and be the first to get all the food/drink/fun in the Steel City.