Pittsburghers have embraced the leisurely sport of mixing breakfast and lunch, and restaurants have pushed the game to the next level, offering oh so much more than bacon and eggs. Our city has more to cheer for than just the Black and Gold on Sunday (and sometimes Saturday) afternoon thanks to these 14 brunch spots.
Highland Park
Fried dough plays a very important role on the e2 brunch menu, in the form of beignets and a variety of zeppolli. The place fills up quick with diners eager for polenta topped with sausage or eggs, potatoes with chorizo, and, of course, those balls of dough. Lucky for Pittsburgh, this is a brunch joint on Saturday AND Sunday.
Point Breeze
Point Brugge has the brunch checklist covered: adorable, tiny space, neighborhood vibe, outdoor dining, and uncompromisingly good food. Come by on an off hour to avoid the wait and indulge in the Belgian-inspired menu. The Liege waffles are the jam, and the famous Point Brugge mussels (try the classic white wine prep), when available, are a necessary add-on.
West End
Take a trip to France (minus the baggage) at Tartine, a bistro in the West End, complete with a Muppet-like dog named Bert. It has standard French fare like tasty crepes and quiche, but the real piéce de résistance is the pear-, cheese-, and nut-covered French bread, aka Tartine Du Poire. Have mercy! Or merci?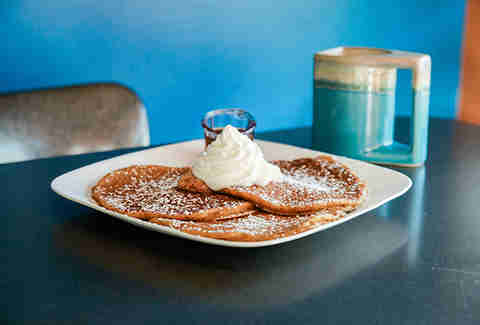 Regent Square
Colorful and quirky, the Square Cafe space is a little ray of sunshine in Regent Square. The super-popular spot boasts interesting menu choices like tofu hash and cornmeal pancakes, and keeps thirsts at bay with coffee in square mugs and killer milkshakes. On the 10 warm days per year in the city (just kidding, Pittsburgh has at least 11 nice days), tables spill out onto the sidewalk for outdoor dining.
Meat & Potatoes
Downtown
Meat and booze do the body good, thus making a trip to Meat & Potatoes a worthy endeavor. All hunger pains will be vanquished with enormous dishes like the cheddar jalapeño waffle topped with fried chicken and the roasted pork huevos rancheros. The Bloody Mary bar and drinks like the Old Fashioned Breakfast with bacon bourbon and maple syrup, wash down the portions (and any bad memories from the previous night) right away.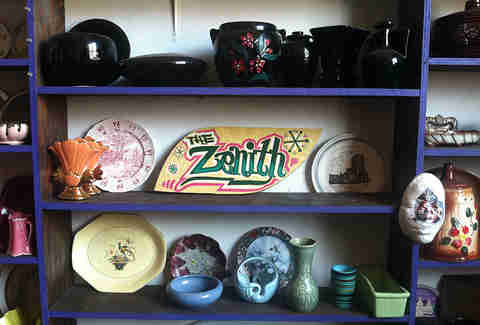 South Side
Zenith is an eclectic antique haven and vegetarian eatery. Sunday brunch dishes are always changing, but the formula is always the same: brunch comes with an entrée, a coffee, and... wait for it... a buffet! The buffet features side dishes and a wondrous cake table with a plethora of options to get sweet.
Lawrenceville
After leaving the sanctuary, head to Franktuary. This religious pun-infused hot doggery cooks up a thoughtful and small Sunday brunch menu that changes often. The waffle sandwich -- a sausage and egg nestled between quartered waffles -- is a revelation.
Downtown
At Grit & Grace, it is all about the brunch cocktails. You can even get an alcoholic bev made with Cinnamon Toast Crunch milk! Or, partner up and order a Scorpion Bowl, a mixture of brandy and rum with orgeat made in house, that comes with two or four straws. The menu includes small plates like the steam bun with mortadella and larger plates of pancakes, and traditional breakfast items.
Station Square
Sometimes you just want to be fancy AND eat copious amounts of ham. When the moment strikes, the only answer is the brunch buffet of the Grand Concourse. Overlooking the Mon, the old, ornate train station is one classy-looking establishment with a large Sunday spread. Indulge in Salmon Rockefeller, prime rib, an omelet bar, and more.
Shadyside
Welcome to the cheapest Sunday brunch in town. For $14 you get an entrée, a coffee, AND a frozen mimosa, Bloody Mary, or a juice (if you need to remain functional that afternoon). The wacky menu is at once funny and frustratingly hard to read, but you can't go wrong with Skillet Stickies or the Breakfast Mac made with sausage.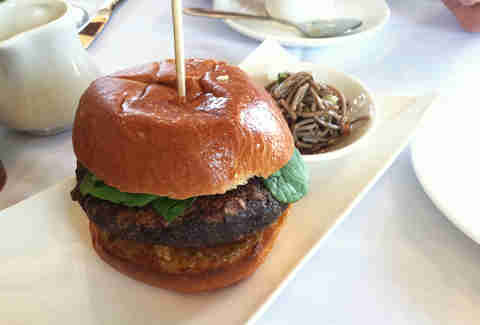 Point Breeze
Museum cafes can be rough, like soggy pizza dough. The Café at the Frick, essentially a museum cafe, is anything but. It is elegant, quaint, and surprisingly fresh with some ingredients sourced right from the on-site greenhouse. Dine outside on the grounds of the Henry Clay Frick mansion and feel like old-timey Pittsburgh royalty.
de on the grounds of the Henry Clay Frick mansion and feel like old-timey Pittsburgh royalty.
Allentown
You'll be charmed even before entering Sweet Peaches with its little peach sign hovering over the the Warrington Ave sidewalk. Wait inside the cozy and bright space for the on-demand prepared ceregi (donuts) and one of the rotating entrée options. Sweet Peaches is BYOB, so get to day drinking.
Lawrenceville
Coca Café is a hot, hot ticket for Sunday brunch. Oh yes, there will be a wait, but the payoff is in the creative plates of never-not-delicious quality eats. The menu changes weekly, but favorites from the daily breakfast menu include the herbed goat cheese stuffed French toast. Retro décor provides a solid vibe in which to chew away the afternoon.
Strip District
If an award was given for juice delightfulness, Marty's Market would win hands down for the fresh-squeezed OJ, ordered by the glass or carafe. Marty's would have another award locked down as well: best pancakes. Topped with cinnamon butter, the small stack is fluffy, light, and makes a perfect pair with a side of potatoes or house-made sausage.


Sign up here for our daily Pittsburgh email and be the first to get all the food/drink/fun in the Steel City.
Laura Zorch is a Pittsburgh writer who loves the crap out of cake. Follow her sweet tooth at @eatpgh where she eats around town with her three pals.