Industry Public House Burger

| Brian Henry/Thrillist
Industry Public House Burger

| Brian Henry/Thrillist
The 11 Best Burgers in Pittsburgh, Ranked by Our National Burger Critic
I knew Pittsburgh was going to be a good burger town. I knew this not only because several people told me, "Pittsburgh is going to be a good burger town," but also because of its reputation as a land of people serious about meat.
For my second leg on this journey, I ate alongside Thrillist Editorial Director Ben Robinson, who'd visited PGH many times while his brother attended U Pitt, and has a fondness for the 'Burgh that is perhaps greater than the mass of his giant beard. Over the course of 36 hours, we drank with several local chefs, had amazingly awkward conversations with strangers about posing nude for magazines, talked about Hot New Food Towns on 90.5, and hit 11 spots around the city, from local burger chains, to fancy restaurants with limited-edition off-menu burgers, to classic dive bars. A few guidelines here: if the restaurant had multiple burgers, I tried to order the closest to a classic cheeseburger, and if it came with options, I always picked American cheese and grilled onions.
Of course, I can only go to so many places, and so I try and narrow down the list beforehand by talking to local editors and chefs, reading all the local listicles and rankings, and just generally doing my homework. If you think I missed one, let me know about it, otherwise behold my Pittsburgh Best Burger rankings in all their glory:
11. The Tap Burger
South Side
I went to The Urban Tap just as they opened for lunch on a rainy summer Thursday. On the whole, the place was great: roomy, welcoming, unfazed by me ordering a beer at 11am on a weekday. The burger, however, left something to be desired. The bun was good -- looked homemade, and they did a fantastic job grilling it -- but the actual burger lacked any real oomph. Its structure (basically a big ball) necessitated that it be slightly undercooked to avoid turning into a meatball, but that didn't happen, and thus the meat was a little dry and couldn't be bailed out by the solid roasted garlic aioli.
10. Standard Deluxe
North Side
Burgatory is Pittsburgh's small, local, hip burger chain. I was admittedly conflicted as to whether or not to include it, seeing how there are eight locations (including one in Heinz Field and the Consol Energy Center) but everyone seemed to agree that omitting a central burger presence in PGH would be a huge mistake and I would be ostracized.

I got the Standard Deluxe, which is their most basic cheeseburger (already comes with American, yay!), and I have to say I was impressed by the size of the patty, a "private label blend of sirloin, chuck, brisket, and short rib." The burger was flavorful and the House Burger Sauce meshed nicely with the meat and cheese, but there were two issues:

1) The aggressive raw red onion had a tendency to overpower the rest of the flavors.
2) There was just too much bun. The actual flavor of the bun was good, but -- especially on the bottom -- there seemed like an excess of bread in my mouth with each bite and that made me weep a little bit.

Still, a solid local chain.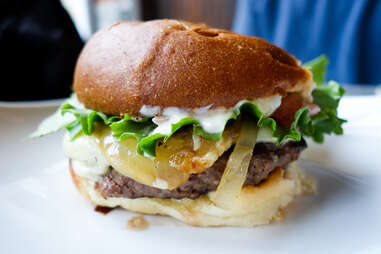 9. Cheeseburger with American and grilled onions
South Side
Winghart's has a great reputation among the chefs I talked to in Pittsburgh. Almost everyone mentioned it as a must-stop, and so I hit up the Southside location on a Thursday afternoon. I was tempted to get one of their crazy creations, but I am a purist and a professional (dammit), and so I stuck to my guns and custom ordered a cheeseburger with American, grilled onions, and all the fixings.

The burger patty was medium-thick, with a little bit of crust, but did nothing to really stand out against the toppings. The grilled onions were a little young and lacked that flavorful caramelization, but the chopped pickle combined with the mayo for a good fatty/acid duo. It was fine, but I can't help but wonder if all of their delightful, crazy permutations take away from focusing on the genuine article.
8. The Hard Tail with American
South Side
Another place known for its stunt burger game (like the Dirt Rag Delight with peanut butter, pickles, and bacon), this can backfire when you're forced to show your true meaty colors. And yet Over The Bar Bicycle Cafe performed admirably -- there was good peppering on the medium-sized patty, and the bun was soft, thin, buttered, and griddled. The only real issue was that it was overcooked and so that flavor through the middle was a little dry. But honestly, this was a solid burger.

Also, they put Hidden Valley ranch dry seasoning on the fries and that is delicious.

Also also, I'm almost 100% positive our waitress at OTBBC was a delightful woman named Barbie who told lots of stories I mostly can't repeat here.
7. Entry Level Burgher
Lawrenceville
Industry Public House is in Lawrenceville across from the amazing Arsenal Bowling Lanes where I rolled maybe an 80 later on that night, much to the embarrassment of my editor. But enough about my lack of bowling acumen! The burgers here are square and thick, making them look almost like building blocks made from meat. The burger itself was a true medium, juicy with a good crust on a bun that was super-pliable and squishy, though not toasted enough on the bottom. All in all though, you could tell the folks here know much more about burgers than I know about bowling.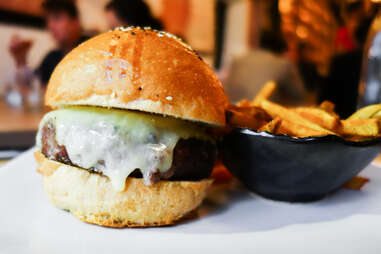 6. The (Off-Menu) Burger
Downtown
I didn't think to make a reservation at Butcher and the Rye. I was going on a Wednesday night, and I figured it might be half-full, because that's a school night, dammit. I was ever so wrong. It was jumping, but luckily, Ben and I managed to squeeze ourselves into the bar and order up one of the last of the 20 special secret burgers they whip up per night.

These things are packed with a dry-aged steak and brisket blend that gives the meat a serious funk. Like Parliament Mothership Connection with Jerome Brailey on the drums-level funk. And some aged cheddar to add some twang to that funk. And some delicious house-made pickles for acid, and slightly underdone grilled red onions.

Taken as a whole, this was easily one of the most unique tasting burgers I had in Pittsburgh, and delicious from a strict beef standpoint. The issue was the bun. The sesame poppy bun (very similar to the one at Richard DeShantz's other spot on this list) wasn't toasted on top; it was merely buttered. And the bottom was so lightly toasted that the juicy hulk of a burger soaked through its mild defense, rendering it useless. Nevertheless, with a little bun griddling, I'd definitely eat this burger again.
5. Cheeseburger with American
Bloomfield
One of my favorite anecdotes of the trip happened at Tessaro's. I brought along a talented local pro photographer named Brian F. Henry to shoot a couple of the burgers, and, seeing how Tessaro's is a little dark, he asked me to hold a portable light while he was shooting the burger. So we're basically doing a giant impromptu photo shoot in our booth at 5:30pm on a Thursday and our waitress walks by and seems completely unfazed. "Our burger is famous," she shrugged, and moved on to fill some other table's water cups.

And it is. The name Tessaro's rings out to anyone from PGH. What was, in its earliest form a neighborhood bar from Rich Tessaro, was purchased by legendary local bartender Kelly Harrington in the '80s, and Harrington tweaked its focus to include burgers. And those burgers became a Pittsburgh culinary landmark. I was told numerous times that if my list didn't include Tessaro's it would be "rejected" and "no one would respect a single thing I said" and I would be "banned from Pittsburgh" and forced to "live out my life in shame."

So here we are. And really, thank God I liked this burger, because I was a little worried about what might happen if I didn't. The burger was giant. A half-pound, easily, maybe even more. The beef itself is the win here. It's loosely packed, salty, juicy, and cooked to a perfect medium. It tastes like a burger your dad might make, if he quit all his other hobbies and dedicated himself to backyard grilling. But, as with most giant juicy burgers, the bun couldn't hold up. Without any toast on the bun, it quickly became a soggy mess and fell apart before our eyes. Not that that stopped us from eating a lot more.
4. Cease and Desist Burger
East Liberty
I'm not a huge fan of removing vowels in the names of restaurants (the exception being my forthcoming pizza place PZZ), so I first approached BRGR with a little unease. But then I tried the Cease and Desist (also famously the name of Houston Chef Chris Shepherd's burger, after he received such an order from In-N-Out) and I stopped caring about vowels and pretty much anything else.

The burger speaks to all of my favorite burger elements -- American cheese, Thousand Island, caramelized onions -- and manages to combine them skillfully, reaching that meat, cheese, grilled onion, aioli sweet spot. Honestly, the only thing keeping this from moving higher on the list is some acid from pickles to cut through all that greasy glory.
3. Hamburger with American and Caramelized Onions
Oakland
Our meal at Butterjoint was one of the last things I remember from Wednesday night. Ben and I made the crucial error of thinking we could keep up with Chef Bill Fuller of the Big Burrito Restaurant Group, and Dinette's Chef/Owner Sonja Finn. We could not.

But before memories faded, I managed to have a fantastic burger made using Jubilee Hilltop Ranch beef that was incredibly flavorful, with just the right amount of char blending in with that melted American and buttery marinated grilled onions that made me feel decadent and wealthy. And though I normally complain about the bun not being grilled, this one managed to hold up to the burger as long we ate, though honestly -- given the flavor -- that wasn't very long.
2. Plain Jane Burger
Downtown
When I first went to Meat & Potatoes, I didn't realize just how nice it is. The entire horseshoe bar and the space are elegant in a way you wouldn't really expect from a place named for a protein and a starch. I'm just trying to say that I wish I was dressed nicer, is all.

Anyway, Ben and I found a place at the packed bar and immediately sought out the Plain Jane. It came on a perfectly toasted homemade poppyseed and sesame bun that somehow felt lighter than the one at Butcher and the Rye. Before we added any fixings, I took a bite of the burger in its purest and most Plain Jane form and gave a deep contented sigh afterwards. The burger was juicy, a true medium, with a great char. The meat was salty and peppery, crusted in the right places. The American cheese was even unique, and -- as Ben put it -- almost tasted like "non-spicy queso poured into an American cheese mold."

It's one of the most purely satisfying cheeseburgers I've had anywhere in the country, and I think you should probably go there right now. Just maybe put on a nicer shirt.
1. Classic Cheeseburger
Lawrenceville
During my travels for this Quest, I tend to get a little cynical and down when I see the same sorts of things happening all over the place. But then I get to a place like Stinky's Bar & Grill and all of a sudden life is glorious and fresh and new again. Stinky's is a sports bar in Lawrenceville. From the outside, it looks like the type of place where outsiders might be frowned upon, a deep-cut locals-only spot. And in many ways it is. But the friendliness from both the patrons and the bartenders and servers was nearly unnerving. I'm not sure if that's just a Pittsburgh thing (Side note: on the whole, the people in PGH were downright delightful), but for whatever reason, no one batted an eye.

And then we had the burger. I usually dislike the 1/2lb weight burgers because I worry that the cooks will clump the meat together and overcook it, but Stinky's was cooked perfectly, a fine char tucked under a gooey blanket of American and a distinctly fresh-tasting, lightly toasted bun that got the hell out of the way and let us enjoy the meat, but did its part in not breaking down. Combine that with their "special sauce," pickles, and torn lettuce and you've got my favorite burger in all of Pittsburgh. And that is BEFORE I mention their fresh cut, impeccably seasoned Stinky chips and Stinkers wings. If there is a sports dive with a better food menu in the country, I haven't visited it yet.

And now, as a bonus, here is me artfully holding the Stinky's burger in front of a brick wall:
Sign up here for our daily Pittsburgh email and be the first to get all the food/drink/fun in the Steel City.
Kevin Alexander is Thrillist's National Writer-at-large and is considering renewing his vows in that back area with the poker machines at Stinky's. Lavish him with praise and glory @KAlexander03.