The Definitive Guide to Eating in Downtown Pittsburgh
Meat & Potatoes

| Adam Milliron
Meat & Potatoes

| Adam Milliron
Downtown's always been a go-to for quick and casual lunch options, but its dinner choices were fairly limited -- that's all changed in the last few years, though, thanks in large part to Richard DeShantz and his four (yes, four) restaurants, all located within a two-block radius. Today, the neighborhood is home to some of the absolute best bites in Pittsburgh, whether you're looking for a quick bar bite or a celebratory steak dinner. Here are all the spots you need to know.
136 Sixth Street
Keith Fuller and Richard DeShantz's Pork & Beans opened last year to some well-deserved rave reviews and is one of Pittsburgh's best spots for all things meat. While the pork-centric smokehouse's ribs are worth a mention, we're partial to the brisket: it's available in half-pound platters, or on sandwiches with house-made pickles, white onion, and BBQ sauce.
942 Penn Avenue
You'll find plenty to love at Sienna Mercato, a three-level Italian restaurant that boasts a different concept on every floor. Wood-fired pizza and a rooftop bar are available upstairs, but the ground floor devoted to meatballs is where you'll want to spend most of your time. The menu features four classic balls (beef, spicy pork, chicken, and vegetarian) and about a dozen sauces to pair with them, like creamy Parmesan, arrabbiata, and mushroom gravy. If solo meatballs aren't your thing, have no fear: you can get them piled on top of mac & cheese, mashed potatoes, spaghetti, and more.
458 Strawberry Way
From the buckwheat waffles with citrus mascarpone and grilled peaches, to the Yorkshire pudding bowl with brisket and a duck egg, all it takes is one look at The Commoner's brunch menu to realize that you're not in a typical hotel restaurant. You can start your day with some truly decadent dishes, but there's also lighter fare on offer, and fresh juices -- like the Wild Child -- with parsley, kale, carrot, and a rotating selection of seasonal wild edibles.
212 Sixth Street
You can't really go wrong with a cut of meat from a place that has "butcher" in its name, and the steak at Butcher and the Rye doesn't disappoint: The perfectly prepared grilled filet is paired with a bone marrow custard that you'll be dreaming about for days afterward. If you need another reason to check out Butcher and the Rye, the eight-shelf bar with 600 different types of whiskey is a pretty damn good one.
947 Penn Avenue
Cozy bistro Le Lyonnais excels in French comfort food, from cassoulet to beef bourguignon, but if you're just looking for a quick bite and a drink (or two), look no further than the daily happy hour. From 5-7pm, Monday through Friday (and 9pm to midnight on Saturdays), sample a selection of small plates like the Parisian-style hot dog, country pâte, and smoked salmon rillette. Plus, you'll find major discounts on wine, cocktails, and beer.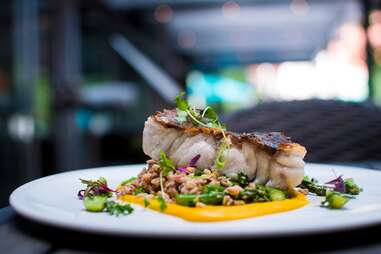 2 PPG Place, Market Square
With a splashy interior and a wrap-around patio, Poros has long been a favorite for diners who want to impress their guests. While the Mediterranean mezze dishes (like eggplant pie and spanakopita) are definitely worth a try, what really stands out are the whole-fish options, which include branzino, sea bream, and Dover sole. Make your selection from the restaurant's ever-changing options, then choose your preparation: chargrilled, a la plancha, or tandoor-roasted.
649 Penn Avenue
Don't let the name fool you: Meat & Potatoes' "Plain Jane" burger is anything but ordinary. Served simply with lettuce, tomato, red onion, and house pickles, this juicy classic done right is incredibly satisfying if you're looking for a reliable standby. If you want to get a little fancy, though, order the Pub Burger topped with pastrami pork belly, horseradish cheddar, and a fried egg.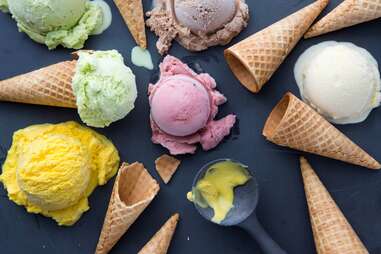 246 Forbes Avenue
It's only been open for a short time, but the downtown location of Millie's Homemade is already one of the neighborhood's hottest spots. Just like at the original East Liberty ice cream shop, all of the flavors are sourced using local, seasonal ingredients, and while you'll find many of the flavors overlap at both locations (like Vietnamese coffee and The Best Chocolate), there are also a few downtown-only surprises. Keep an eye out for seasonal treats, like Szechuan-roasted peach in the summer and cranberry-apple in the fall.
214 Sixth Street
From al pastor to roasted maitake mushroom, you'll find so many taco varieties at täkō that over-ordering is pretty much a foregone conclusion. Inventive toppings (think mizuna greens, fermented cucumber, and Brussels sprout salad) add dimension to each dish, and the margarita selection (eight options on the current menu, with another one or two popping up regularly as specials) is reason enough to book a reservation now.
139 Seventh Street
There are plenty of places to grab a slice or two downtown, but Proper Brick Oven & Tap Room offers a slightly elevated experience thanks to its fresh, family-recipe dough, and homemade mozzarella. As the name suggests, you'll find brick oven-fired pies here, with a slightly thick, chewy crust, and toppings that include caramelized wild mushrooms and fresh clams and shrimp. Oh, and the beer selection isn't bad either, with 30 rotating local and regional options available on draft.
542 William Penn Place
When Chef Derek Stevens opened Union Standard earlier this year, we were most excited about the raw bar -- but as awesome as it is to have fresh Wellfleet oysters and Chesapeake littleneck clams available for the picking, we've also fallen in love with the bar snack menu. The market vegetable crudité platter is a favorite, with smoked onion and goat cheese dip, but make sure to save room for the skillet-baked cornbread served with a smoky bacon jam, and the crispy smelts, too.
Sign up here for our daily Pittsburgh email and be the first to get all the food/drink/fun in the Steel City.
Emily Catalano is the creator of Good Food Pittsburgh, a site devoted to all of the good food that her hometown has to offer. She loves fries on her salad, Jalapeno Hannah, and any event with a cookie table. Follow her at @emcatalano.