The Best Italian Restaurants in Pittsburgh
Pittsburgh celebrates its annual Italian Days every summer in August, but these restaurants embody our city's Italian side every day of the year. From red-sauce places to cross-cultural cooking, these are some of the best Italian restaurants in the Steel City. And while we love pizza a lot (like, a lot), we've excluded many of our favorite places that are pie-oriented in favor of the restaurants exploring the remainder of the carb-loaded cuisine.
Bloomfield
You can't make a list of best Italian restaurants in Pittsburgh without starting in Bloomfield, the city's Little Italy. The Pleasure Bar has been around since 1941, under three different family owners. The retro decor hasn't changed much over that time (and includes lots of windows for people watching), and neither has the high-quality food. If you're looking for an old-school Italian setting with big portions, this place is for you. The gnocchi with meatballs entree is dense and filling, but make sure you save room for tiramisu and coffee.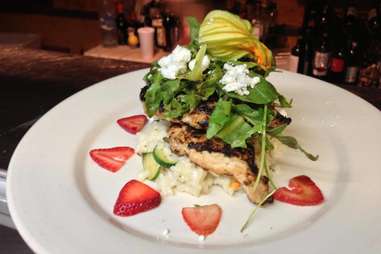 Shadyside
Girasole means "sunflower" in Italian, and it's a perennial ingredient the restaurant incorporates into some dishes (the house salad features sunflower vinaigrette as well as sunflower seeds). While the step-down basement setup is reminiscent of a rustic European cafe, the menu reflects modernity, changing with the season. Like a big Italian family, be prepared to get cozy with customers in this tiny but charming space. The spinach and ricotta ravioli with sweet tomato cream sauce is a fan favorite that shouldn't be overlooked.
Lawrenceville
Piccolo Forno features a menu of Tuscan-style dishes incorporating interesting meats like rabbit and lamb, while also sporting an interior of traditional design elements including exposed brick. But even if the heart is set on pasta, which is certainly delicious in its own right, pizza lovers will want to order a pie from the wood-fired grill. Choose from classics like the margherita with crushed tomatoes and mozzarella, or more adventurous selections like Tartuffo, topped with asparagus, truffle oil, corn, and egg, or the famed Capricciosa with crushed tomato, fresh mozzarella, mushroom, artichoke, olive, prosciutto cotto, and egg. And don't forget to bring a bottle of wine with you: Piccolo Forno is BYOB.
Allentown
Before you venture to Alla Famiglia, you'll want train like you're preparing for a marathon… of eating. As soon as you sit down, all tables are set with "Holy Oil" for dipping locally made bread, which is truly a spiritual culinary experience. But as tempting as it is, try not to fill up on bread, because there's so much more to come. This restaurant definitely likes its meats, and the veal is highly recommended, whether it's the veal chop Pizzaiolo with hot and sweet peppers or the veal chop Milanese coated and fried in butter. In the summer, try the patio view for alfresco dining. The view, like the food, is breathtaking.
Irwin
"Business park" and "Italian restaurant" are rarely uttered in the same sentence, but don't let that stop you from seeking out Cenacolo. The venue is located within the restaurant's pasta factory, which provides pasta to lots of area restaurants, and makes for a unique ambience with high ceilings in a space that could be described as "industrial chic." Naturally, you'll want to try the homemade pasta -- there's something for everyone. The lobster ravioli is a standout for its sweet seafood flavors fused with garlic, spinach, and truffle cream.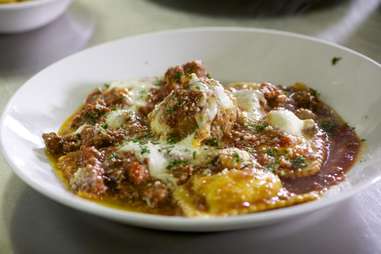 Highland Park
With its white tablecloths and refined elegance, this is the perfect "special occasion" Italian restaurant. Lots of couples and families will come here for birthdays, anniversaries, and nights out because this establishment is truly a treat for the taste buds. When it comes to appetizers, the sesame calamari puts an Asian flourish on an Italian classic, crispy and crunchy with a sweet soy glaze. Try the Mafalda Giancarlo, with your choice of pasta topped with pine nuts, spinach, and sun-dried tomatoes for a tangy twist. The dessert menu is decadent, with plenty of after-dinner options, from lava cake to cannoli to butterscotch pound cake.
Bloomfield
So maybe you like Italian food but sometimes want to pair it with cuisine from a completely different culture? Enter Adolfo's, an Italian and Venezuelan restaurant on Liberty Avenue in Bloomfield, which brings the neighborhood into the modern foodie era with its more foreign flair. Where else can you eat spaghetti and meatballs with a side of savory arepas with chicken and avocado? Plus, if you forget to BYOB, sangria is complimentary.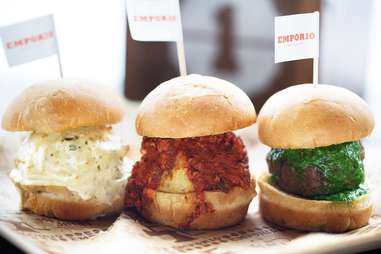 Downtown
This isn't just one Italian restaurant -- it's three, each housed on its own separate floor, each operating at a different speed. At street level, you'll find Emporio with its spread of meatballs and sauces; go up a flight and you'll be in Mezzo, serving generous plates of charcuterie, pizzas, pastas, and wine. Go all the way to the third floor to end up at Il Tetto (literally translated as "the roof"), one of the most handsome rooftop bars in the Steel City. It'll be open even when a couple feet of snow get dumped on us -- it's got a retractable glass roof.
Sign up here for our daily Pittsburgh email and be the first to get all the food/drink/fun in the Steel City.
Megan McLachlan is a freelance writer who measures the merit of Pittsburgh restaurants by their mozzarella sticks. Follow @heydudemeg on Twitter and Instagram.