The Best Lunch Spot in 13 Pittsburgh Neighborhoods
Adam Milliron/Courtesy of Bluebird Kitchen (edited)
Let's make a pact: no more sad desk lunch. Step away from your desk at lunchtime and stop by one of these 13 lunch spots in Pittsburgh instead -- there ought to be one in or near your neighborhood. And for the spots that aren't in your area, take a trip, drive away from the office, work can wait. Trust us.
Downtown
Downtown
Bluebird Kitchen's menu offers creative takes on sandwiches, salads, soups, and veggies. The tuna nicoise and house roast turkey sandwich (brined and served with shallot-bacon jam) are classics. Side dishes, changing daily, are worthy of being turned into meals themselves -- think quinoa, chickpeas, roasted beets, and pastas. Open on weekdays only, Bluebird is coveted by Downtown workers, meaning lunch-hour lines form early (pro tip: beat the Market Square crowds by stopping by the restaurant's Stanwix St location).
East Liberty
East Liberty
Sometimes you just need to step away from the office and stifle your work sorrows with a giant burger. BRGR is here to help. Its burgers blend Angus chuck, sirloin, New York strip, and ribeye into one hefty sandwich, making it one of the city's finest burgers.
Highland Park
Highland Park
Echoing the feel of a European bistro, lunch at Park Bruges is like stepping away from Pittsburgh for an hour. The restaurant is known for its moules-frites -- mussels served with Bruges frites. And with three cheeses and a bit of a spicy kick, Park Bruges' macaroni and cheese is the ultimate comfort food.
Lawrenceville
Lawrenceville
This bright new restaurant on Butler St in Lawrenceville is a true lunchtime escape. The roast pork with apple mostarda, Swiss, and Dijon makes for a standout sandwich, especially when paired with a part-sweet, part-tart vanilla lemonade.
Mt. Washington
Mt. Washington
In the summertime, Shiloh Grill's deck is lunch-hour paradise. Even in cold weather, come here for the large menu featuring everything from tacos (fish, jerk chicken, or short rib) to turkey burgers with stuffing and cranberries. It's easily accessible for Mt. Washington and Station Square workers.
North Side
North Side
Tacos, burritos, quesadillas, and the most gratifying guac, plus vegetarian and vegan options. Seating inside is limited, so order it to go and eat in Allegheny Commons Park across the street.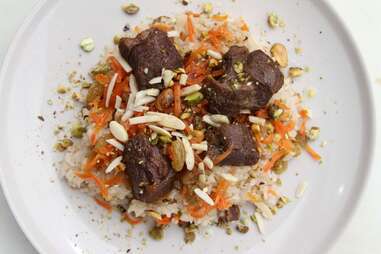 Oakland
Oakland
This takeout shop serves food inspired by countries with which the United States is in conflict. The menu rotates, focusing on a different country regularly. Recent iterations have included menus based on Cuba, Afghanistan, and North Korea. At Conflict Kitchen, lunch is served with a side of dialogue about cultures and countries.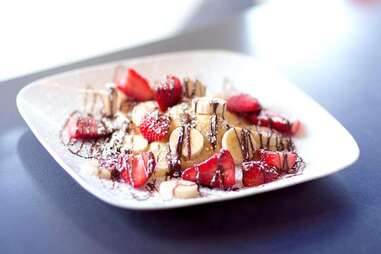 Regent Square
Regent Square
The range of selections at Square Cafe is so vast, you can choose the healthy route (kale and quinoa salad or the Square protein breakfast) or decide to treat yourself (Nutella crepes). Breakfast items are served all day, so, yes, you can gorge on some cinnamon swirl pancakes at noon.
Shadyside
Shadyside
Noodlehead specializes in Thai noodle dishes, like street noodles, kee mao, see yew, and pad Thai in a low-key, industrial space not far from Bakery Square.
South Side
South Side
For an ultra-healthy -- and ultra-Zen -- lunch, Amazing Cafe is the spot for leafy salads, buddha burgers, peace pizza, and smoothies. The acai bowl is both beautiful (great opportunity for an #eatclean Instagram here) and delicious with acai puree, banana, raspberry, buckwheat, granola, dried fruit, coconut, and vanilla.
Squirrel Hill
Squirrel Hill
This no-frills sandwich shop specializes in jumbo hoagies, like the Loaded Italian Sub and the Sam's Buffalo Chicken Sub with plenty of melty provolone, Buffalo sauce, and of course, ranch dressing. It's located in Squirrel Hill's business district, not far from the Parkway if you don't work nearby.
Strip District
Strip District
The freshest fish served in every imaginable preparation -- sandwiches, tacos, pizza, sliders, salads, and soups. Also on the table for lunch: mussels, crab cakes, and sushi -- the sushi is renowned here.
Uptown
Uptown
Sitting across from Consol Energy Center, it's only fitting that Blue Line Grille channels a sports bar vibe. Think classic bar food, like fried wings, with some more upscale options, like mahi mahi cakes.
Sign up here for our daily Pittsburgh email and be the first to get all the food/drink/fun in the Steel City.
Rossilynne S. Culgan is a Pittsburgh native who needs to follow her own advice about foregoing sad desk lunch. Follow her and remind her to uphold the pact: @rossilynne.