In case you somehow missed it, Pittsburgh is in the midst of a culinary transformation. Restaurants are opening at an incredible pace, with a healthy mix of eager new chefs getting into the game and familiar faces launching their own brick-and-mortars and new projects. But instead of offering more of the same, each of these restaurants brought something new that was missing from our city's dining landscape. These Pittsburgh chefs showed us the value in carving out their own spaces through menus and concepts that weren't yet represented in town. From a Japanese izakaya to a modern Eastern European vegan eatery, these are the best restaurants that opened in Pittsburgh in 2016.
Recommended Video
These Onion Rings Are Stuffed With Cheeseburgers
Lawrenceville
2016 has been a fine year for Justin Severino. Not only did Bon Appetit magazine call him "the most underrated chef in America," but his second Pittsburgh restaurant, Morcilla, is booked solid each and every night. And for good reason. If you do manage to score a table (or at least a spot at the bar), prepare yourself for some of the best Spanish food in the country. Severino's Basque-region tapas menu features seasonal small plates called pinxtos, with an emphasis on house-made charcuterie, and fresh takes on classic dishes, like salt cod croquettes and queso en aceite, bites of manchego cheese in Seville sour orange-infused olive oil. Sample a cocktail (or two), preferably from the extensive list of gin and tonics featuring Morcilla's house-made tonics, paired with the "All of the Meats" charcuterie board served with marinated olives and lavender & sea salt marcona almonds and you'll quickly see what all the hype is about.
Downtown
When the eagerly anticipated Pork & Beans finally opened Downtown in October, the wait for a table was out the door. And it doesn't seem like that's going to change anytime soon, thanks to the restaurant's killer barbecue menu and Southern sides and a cocktail list fit for a Texas roadhouse. Having previous experience absolutely killing it at restaurant concepts like Meat & Potatoes, Butcher and the Rye, and täkō, Richard DeShantz's latest winner in Pork & Beans comes as no surprise. Add in the home-spun stylings of Keith Fuller, the brainchild behind specials like Buffalo BBQ pork mac & cheese with fried carrot curls and ranch brown butter bread, and Pork & Beans is well on its way to becoming a destination restaurant. Come here for hearty plates of brisket, BBQ pork ribs, and the Pittsburgh take on nostalgic Southern specialties, like boiled peanuts and pimento cheese with house-made pickles. And wash it all down with a selection from the vast wall of draft beer, or a sampling from one of the best bourbon programs in the city.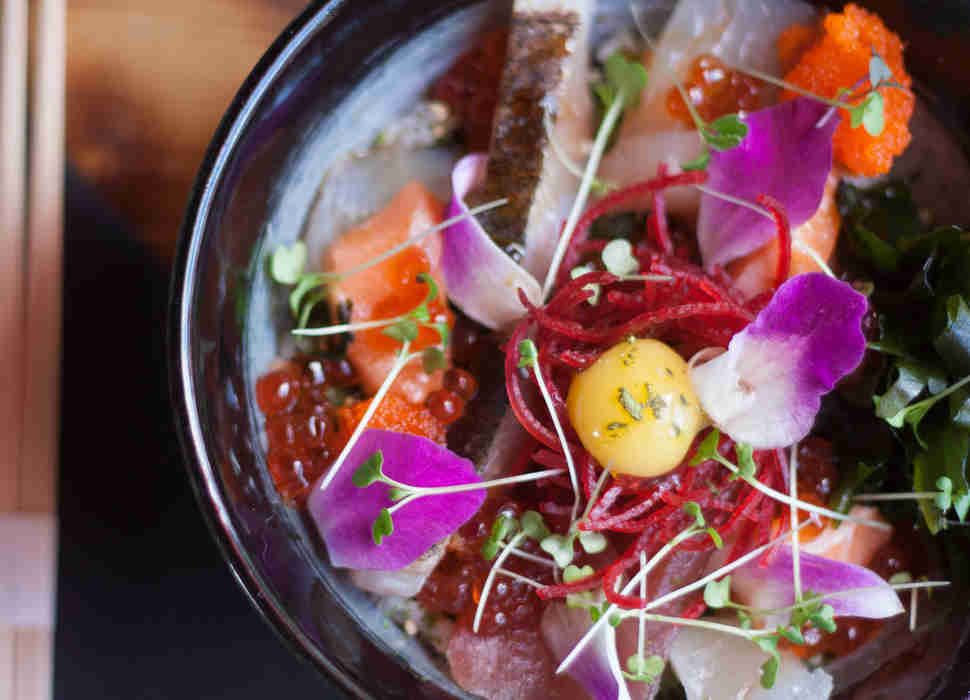 Lawrenceville
Since opening earlier this year, Roger Li's Japanese-style gastropub has become the spot for late-night bites. With a menu that centers around robatayaki (skewers of meats and vegetables cooked over a charcoal grill) and a rotating list of fresh sushi options, Umami serves food until 2am on Fridays and Saturdays. The bar program here is strong, with a deep selection of sake bottles and Japanese beers, not to mention the cocktail list, with spicy and aromatic offerings dominating the menu. Not satisfied in bringing just one Japanese street-food concept to Pittsburgh, Li has big plans for the coming year -- look out for Ki Ramen, a collaboration with Piccolo Forno's Domenic Branduzzi that will feature ramen with Italian influences.
Strip District
Four chefs, four different restaurants, one unique concept. That's the story behind restaurant incubator Smallman Galley. The expansive Strip District space, with a separate bar area and communal seating, hosts four chefs, each responsible for their own menus and kitchens. Toast, Provision PGH, Carota Cafe, and Aubergine Bistro -- the first four concepts invited into the space -- offer vastly different, yet somehow complementary culinary points of view, and the layout of the space makes it easy to pick and choose dishes from each spot to create any kind of meal you'd like. With options that range from grilled sourdough topped with sweet ricotta and local honey at Carota Cafe to shrimp & squid ink pasta with English peas and pork rinds at Aubergine Bistro, it's the perfect place to bring a group with diverse tastes. Smallman Galley's next round of restaurant concepts will be announced early next year and we can't wait to see what's on deck.
Strip District
This isn't your average deli. When Dave Anoia opened DiAnoia's Eatery earlier this fall in the Strip District, we were all wondering exactly what he had in store for us. A restaurant that was open for breakfast, lunch, and dinner with a deli counter and an in-house bakery? It seemed like it had the potential to go off the rails. Oh, how wrong we were. From DiAnoia's playful take on a basic ham and cheese sandwich with honey-smoked ham, black garlic BBQ sauce, Boursin cheese, and pickled red onions, to the fresh zeppoles available every morning, it's a take on Italian comfort food that we haven't seen for quite some time in the city. The bar is an equal attraction, with an extensive specialty coffee menu for the daytime, and a fantastic wine list for the evening.
East Liberty
It's not every day that you get one of your best meals of the year in a hotel restaurant. But then again, it's not every day that you have a restaurant in a hotel as dreamy as Ace Hotel's Whitfield. Led by Executive Chef Bethany Zozula, the dinner menu at Whitfield is centered around steak, with T-bones, porterhouses, and rib-eyes from Bedford's Jubilee Hilltop Ranch served family-style. The rest of the menu is one big love note to Western Pennsylvania, with touches of Polish, Italian, and Eastern European cuisines, like a braised rabbit "porchetta" with semolina gnocchi and a double-cut pork chop garnished with rhubarb BBQ sauce. The exceptional dessert menu from pastry chef Casey Renee changes with the season, incorporating compelling flavor combinations (hibiscus and cranberry top a croissant creme brulee in one particularly inventive dish), and is always worth leaving room for.
Bloomfield
Kate Lasky and Tomasz Skowronski first came onto the Pittsburgh restaurant scene with their monthly Pierogi Night pop-ups, selling handmade pierogies to the hungry masses. Apteka, their new minimalist and everything-vegan restaurant in Bloomfield, is decidedly fancier than their last venture, with a healthy mix of Old World Eastern European favorites and modern touches. The small menu changes regularly, though one staple is the ever-present pierogies, stuffed with whatever happens to be in season, from foraged mushrooms to smoked potato and turnip greens. The duo is crazy about fermenting, and the menu features heavy doses of their own Polish pickles, horseradish slaw, and sauerkraut. They're takes on Pittsburgh staples that we haven't encountered before.
Sign up here for our daily Pittsburgh email and be the first to get all the food/drink/fun in the Steel City.