Pittsburgh's Best New Restaurants of 2017

Pittsburgh takes its culinary clues from no one. The chefs and restaurateurs leading this city have their own, hard-won sense of what will work in this town, and the best new restaurants to open this year -- from a seafood and chop house to a French brasserie -- have forged their own path to offer something unique to Pittsburgh's hungry masses.
With dozens of new restaurants opening each year in the city, it can be hard to make a lasting impression. As Pittsburgh gets more national attention, and more chefs are finding financial means to open their own brick-and-mortars, diners have more choices than ever on where to spend their dollars. These five new establishments have each had a big impact on Pittsburgh's culinary landscape in the short time that they've been open, and are our picks for the best new restaurants of the year.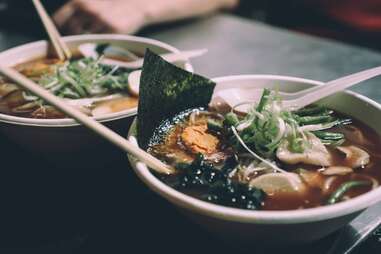 Lawrenceville
Bustling ramen restaurant known for from-scratch noodles
Chef Roger Li has been busy. Last year, he opened Umami, a Japanese-style gastropub (and one of our best new restaurants of 2016), and this year, he (along with fellow Lawrenceville restaurateur Domenic Branduzzi) debuted two new concepts: Ki Pollo, the just-opened fast-casual restaurant offering Korean-style fried chicken and empanadas, and Ki Ramen, a from-scratch ramen restaurant, which has quickly become a go-to for those of us who lamented the lack of quality ramen in the city. At Ki Ramen, Branduzzi is charged with preparing the noodles that are cut daily using a Japanese-made noodle machine, adding weight and substance to Li's delicate, delicious broths. The menu has evolved over time, and includes a vegetarian curry ramen and shoyu ramen, served with soy-braised chicken and an onsen (sous vide) egg. The restaurant has also recently added house-made bao to the menu, with fillings (miso eggplant and roast duck are two recent favorites) that change daily.
Downtown
Buzzy downtown spot offering a modern take on Northeast American cuisine
Since opening earlier this year, Derek Stevens' Union Standard has given Downtown a sorely needed after-work option, elegant enough to take out-of-town clients yet casual enough for happy hour drinks with friends. The beautifully designed restaurant was part of a $100 million renovation to the historic Union Trust Building, and offers a lively, modern bar area downstairs, and a cozy, intimate upstairs dining room. The menu merges Northeastern American coastal cuisine with heartier dishes made on the wood-fired rotisserie and grill, and Stevens also offers an incredible raw bar, serving shellfish and seafood from all the usual Northeast spots -- Massachusetts, Chesapeake and Maine are typically represented. Although the menu changes frequently, it tends to lean toward traditional steak-and-seafood house fare, including a flawlessly-prepared rib-eye and a salmon dish that's brightened with dill gnocchetti and hazelnut brown butter. You'll also find one of the best bar snack menus in the city here, with elevated takes on classic offerings including duck fat popcorn (made with Anson Mills heirloom flint corn) and smelts (fried and served crispy with a smoked pepper remoulade).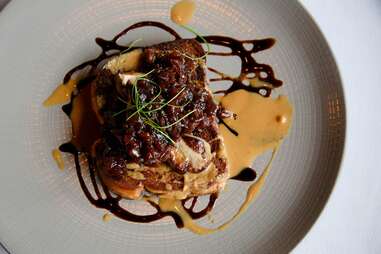 East Liberty
Upscale French brasserie serving classic European dishes
The Twisted Frenchman has been a top-ranked restaurant in Pittsburgh since opening in 2015, so when chef/owner Andrew Garbarino announced earlier this year that he was introducing a new upscale French bistro concept, we were stoked. Bar Frenchman has since lived up to the high standards set by the Twisted Frenchman, serving perfectly-executed French classics like escargot with mushroom ragout, ratatouille, mussels & frites, and the best foie gras to be found in the city. The elegant bar also serves a killer cocktail, with a menu that features twists on classics (the Boukman daiquiri with white rum, cognac, lime and cinnamon is a favorite), along with an extended list of Champagne cocktails.
Braddock
Community-driven, hyper-local restaurant in Braddock with a focus on seasonality
It's impossible to over-emphasize how highly anticipated Kevin Sousa's Superior Motors was for the Pittsburgh dining community. Not only was it one of the highest-grossing restaurant Kickstarter campaigns ever, but Sousa (who dazzled diners at Salt of the Earth and Union Pig & Chicken) has a well-earned reputation as one of the city's leading culinary forces, and while the wait was long -- more than three years between the initial Kickstarter campaign and opening night -- it was worth it. The community-focused restaurant in Braddock is now open seven days a week, serving a seasonal, locally sourced menu, with produce primarily coming from nearby Braddock Farms. The dessert menu is a particular standout, with complex pairings (chocolate matcha cake with mushroom, sourdough pound cake with fresh corn cream) ending each meal on a decidedly sweet note.
Downtown
An elegant seafood and chop house known for customer attention
Downtown's new Distrikt Hotel Pittsburgh is now home to or, The Whale, an ambitious restaurant led by chef Dennis Marron, who's pulling double duty on the restaurant-opening front as his Merchant Oyster Company also recently opened in Lawrenceville. Housed in what used to be the gym and track area of the historic Salvation Army building, or, The Whale is a beautifully designed gem, with an upstairs bar and lounge, and an impressive dining room that features a butcher room, a private wine cellar, and an open kitchen, featuring a wood-burning hearth and a pastry room (all the better for pastry chef Jessica Lewis to make her delightful desserts). The menu offers an eclectic take on seafood and chophouse standards, with dry-aged steaks sharing space with linguine and cockles (served in a lightly seasoned garlic herb sauce), and a ground duck burger topped with seared foie gras. A separate bar, called Evangeline, adds to the experience, serving coffee during the day, and cocktails and raw bar offerings at night.
Sign up here for our daily Pittsburgh email and be the first to get all the food/drink/fun in the Steel City.
Emily Catalano is the creator of Good Food Pittsburgh, a site devoted to all of the good food that her hometown has to offer. She loves fries on her salad, Jalapeño Hannah, and any event with a cookie table. Follow her at @emcatalano.