Brunch is arguably the most important meal of all time, pulling double duty for both breakfast and lunch like it's not even a big deal. Except that it is: in Pittsburgh, we're seeing an embarrassment of riches when it comes to great brunch spots lately, a trend we have no trouble getting behind. But knowing exactly what to order becomes much harder than finding a good place to dine. Well, skip the menus and pick up your forks (or don't -- there are some handheld creations on here), because below is what you should be eating right now for the best damn meal of the week.
Migas taco
Smoke BBQ Taqueria
Address and Info
Lawrenceville
Smoke is the queen of all things, well, smoked, and the brunch options at this lively taqueria are no different. Order up a the migas taco -- with an egg, crispy tortilla crumbs, peppers and onions, and the important balancing cheese -- and add some burnt ends or just enjoy the spicy fresno hot sauce it's topped with. Breakfast tacos for the win.
Oyster po-boy
Muddy Waters Oyster Bar
Address and Info
East Liberty
Oysters for breakfast? Oh, yeah. Our closest bodies of water might be not-the-cleanest rivers, but that doesn't mean we can't have decent seafood. Muddy Waters does its best to give us nice things and serves up oysters sourced from both oceanic coasts. On Sunday mornings, they come fried on a po-boy with shredded iceberg lettuce, tomato, pickles, and the solidifying chili mayo, bacon, and an egg. Finish it off with a house-made pop tart because we stick by the rule that even breakfast-ish is incomplete without dessert.
Toad in a Hole
The Whitfield
Address and Info
East Liberty
Mkay, so eggs *rubs hands together*... Eggs can sometimes be a snooze, but don't tell that to the Whitfield. It has a take on a classic breakfast dish called a Toad in a Hole, which consists of no reptilians whatsoever! A nice slice of toast with the center cut out to cradle a farm-fresh egg meets a smear of zippy pepper jam. It's an insanely good starter on the brunch menu, but if you're looking for something heartier, the Whitfield's chefs somehow prepare some of the best eggs with its simple breakfast in town -- poached, pickled, soft scrambled, sunny-side up... you name it, it might very well be on offer. So enjoy your eggs in the lobby of the hottest hotel in town with a cocktail in hand. Mornings don't have to suck, and your eggs shouldn't have to be rubbery.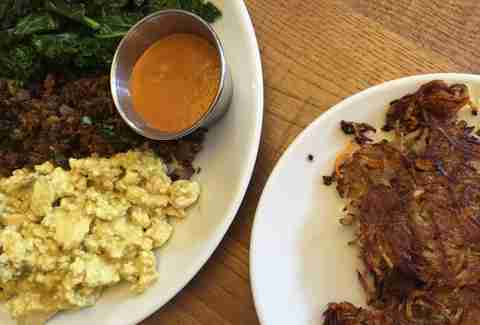 Latkes
B52 Cafe
Address and Info
Lawrenceville
This joint offers the good people of Pittsburgh an all-vegan approach to Middle Eastern cuisine. Tofu scramble and thick-cut toast make for solid entrees, but the potato, carrot, and onion latkes perfectly complement any dish. Think hash browns but more wonderful. It's not technically a main dish, but no one's judging if you order it that way.
French toast
Josephine's Toast at Smallman Galley
Address and Info
Strip District
If the name of a food item is in a restaurant's name, you gotta figure that food item is going to be real good. Josephine's Toast, part of the unreal restaurant incubator, Smallman Galley, makes good on the promise of excellent toast. The French toast, made with thick cut, but not comically, brioche, dusted with powdered sugar, and served with preserves or maple syrup, is absolutely perfect. If your sweet tooth is still asleep during the brunching hour, you can get, among other toasts, a classic egg in the hole, a staple avocado toast, or the bright and funky roasted pineapple cottage cheese toast topped with honey, sunflower seeds, and pink peppercorns. Bring on the bread!
Rice pudding
The Vandal
Address and Info
Lawrenceville
Check the dictionary -- does The Vandal show up by "hip"? Known for excellent sandwiches, this minimalist spot is understated in its coolness while serving up delicious treats. Last seen at grandma's house, the souped-up rice pudding, filled with seasonal fruit and hazelnuts, and balanced out with a heavy pinch of sea salt, proves that what is old can be new and tasty, and, again, that it's never too early for dessert.
Provision smothered fries
Provision Pgh at Smallman Galley
Address and Info
Strip District
Pittsburgh's love affair with fries runs deep. We put those bad boys on everything. And when we put everything on our fries, boy howdy: stars align and everything feels right. Provision Pgh, another one of the four excellent Smallman Galley restaurants, serves up the ultimate brunch side of fries heaping with pea puree, lentils, goat cheese, lemon aoli, and pickled onion. We bet if you ask real nice, they'll even put a fried egg on top. If you can think of a better use of a Sunday morning than sharing a plate of these fries, you are a liar.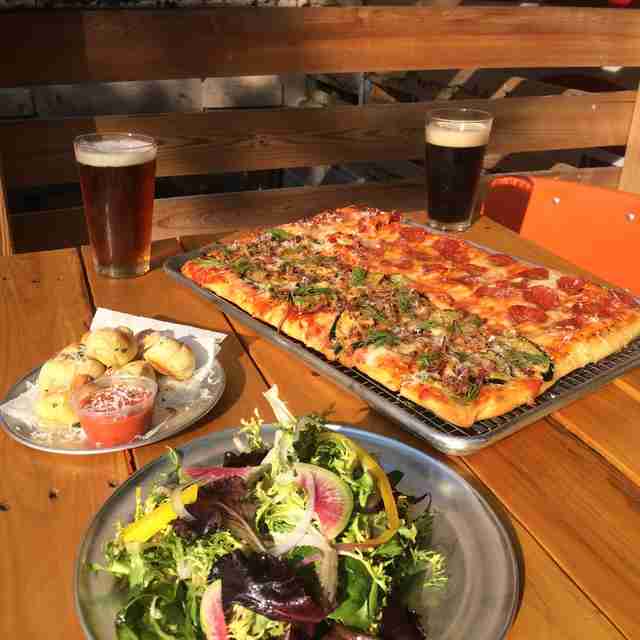 Endless pizza
Spirit
Address and Info
Lawrenceville
Pizza for breakfast is always a good idea, so why not pizza for brunch? An even better idea is hitting up the endless pizza and brunch bar at Spirit on Sunday mornings. We repeat: Endless. Pizza. Grab a stack of pizza pie slices, yogurt, quiche, and a big old Bloody Mary handcrafted by you (yes, you!) from the Bloody Mary bar, and you've got the perfect start to a Sunday Funday. Or a Sunday afternoon nap.

Sign up here for our daily Pittsburgh email and be the first to get all the food/drink/fun in the Steel City.