The Best Meals and Deals for Pittsburgh Restaurant Week 2020
Feeling like you're not taking advantage of all the culinary excellence The Steel City has to offer? You're in luck: Pittsburgh Restaurant Week's 2020 Winter edition runs from January 13 to January 19 this year, with more than 80 restaurants taking part in the action. From fast and casual spots to elegant dining destinations, each of the participating restaurants offers deeply discounted prix fixe lunches or dinners.
Of course, it can be difficult to find the right spot with so many tantalizing choices, but don't worry: we've picked out a dozen of our favorite menus for you to focus on this Restaurant Week. Whether you're trying something new, or re-discovering an old favorite, this is the perfect time to shun your home kitchen and have a meal (or seven) out on the town.
South Side
Fans of chef/owner Chris Bonfili's dearly-departed Avenue B restaurant will find a lot to love at Bonfire, his two-story, dual-concept restaurant that opened last year. The downstairs section of the restaurant serves comfort food favorites centered around a wood-fired oven, while upstairs, a slightly elevated upscale version of the menu is served.
Order: Cauliflower Bisque, Wagyu Beef Meatloaf, and the Hazelnut Chocolate Crunch Bar.
Cost: $35.20 for a three-course dinner.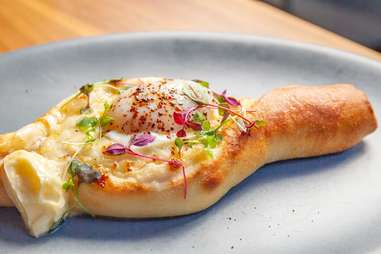 Lawrenceville
The recently-opened Brick Shop in Lawrenceville's TRYP Hotel has quickly become one of Pittsburgh's hottest restaurants, serving breakfast and dinner daily. The menu features simple, contemporary dishes inspired by the cuisine of Eastern and Central Europe, and the modern, beautiful space is the perfect place for everything from morning meetings to late-night dates.

Order: Khachapuri, Brick Chicken and Russian Honey Cake.
Cost: $35.20 for a three-course dinner.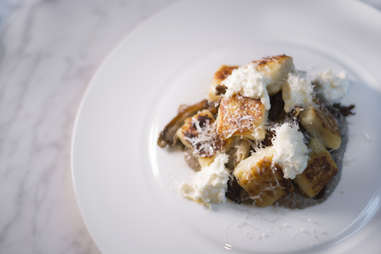 Downtown
Not only will you have one of the most finely-crafted cocktails of your life at Bridges & Bourbon (spring for the Kakigori, with vodka, matcha, blueberry, Szechuan peppercorns, and tableside-shaved yuzu ice), but they also boast a killer culinary program, serving decadent dishes that feel right at home in the elegant space. Bridges & Bourbon's Restaurant Week menu features some of their dinner favorites that flirt with playful molecular gastronomy notes, like their Whiskey Sour Gummies paired with Angostura Gel.
Order: Chili-Roasted Baby Carrots, Pillow Gnocchi and Whiskey Sour Gummies
Cost: $35.20 for a three-course dinner.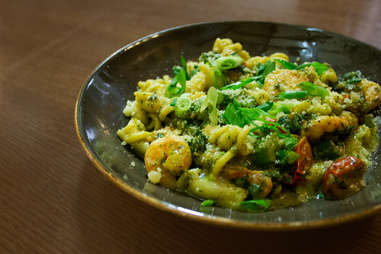 Westmoreland
Cenacolo's Restaurant makes their mark on Restaurant Week with an abundance of options, with their fantastic hand-made pasta as the star of the show. You really can't go wrong with any of their choices, but we're partial to their Ricotta Gnocchi, melt-in-your-mouth pockets of pillowy perfection, covered in a slow-braised short rib ragu with Porcini mushrooms.
Order: Carciofini Fritti, Ricotta Gnocchi, and Cannoli
Cost: $35.20 for a three-course dinner.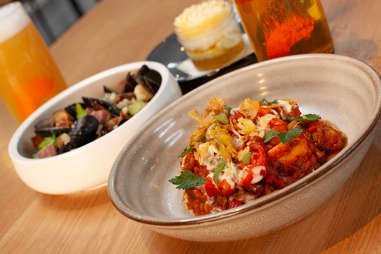 Lawrenceville
Cinderlands Beer Co. has recently relaunched their original Lawrenceville brewpub into a Foederhouse, with a focus on funky, oak-aged beer that they're producing. The food menu has stayed mostly the same, however, and Cinderlands Foederhouse is serving one of the best-value Restaurant Week menus this year, with hearty, stick-to-your-ribs options that pair perfectly with their brews.
Order: Spent Grain Chicharrones with beer cheese, 24-Hour Beef Brisket, and Oatmeal Butterscotch Cookie
Cost: $25.20 for a three-course dinner.
Downtown
Brunch, lunch and dinner options are available during Restaurant Week at Fl. 2, the elegant, upstairs restaurant in downtown's Fairmont Hotel. The prix fixe menu showcases the best of this modern American menu, with classic favorites like Lobster Bisque and roasted beet salad on offering, along with hand-cut homemade pasta options.

Order: Roasted Beets, Cacio e Pepe and Affogato for lunch, Lobster Bisque, Spinach Pesto Tagliatelle and Sticky Toffee Pudding for dinner, and Poblano Soup, Huevos Rancheros and Honey Caramel Chips for brunch.
Cost: $25.20 for a three-course lunch, $35.20 for a three-course dinner, and $30.20 for a three-course brunch (weekend only).
Downtown
or, The Whale is featuring highlights from their newly-revamped menu for Restaurant Week this year, including soon-to-be favorites like their fresh seafood chowder and a comforting mushroom terrine. Desserts continue to be a standout at this downtown spot, with Restaurant Week guests choosing between two sweet offerings: a classic creme brulee, and a hearty bread pudding, served with house-made pear ice cream.
Order: Seafood Chowder, Mushroom Terrine, and Bread Pudding with Pear Ice Cream
Cost: $35.20 for a three-course dinner.
Garfield
If you're looking for another hearty meal for a price that won't make you cry, Spork is your Restaurant Week spot. This year, they're offering a $21.20 two-course dinner, with a salad starter and three choices of lasagna for a main course, including a meat-filled Bolognese, a Spinach and Forest Mushroom option, and a vegetarian Three-Cheese.
Order: Ricotta Salata and Forest Mushroom & Spinach Lasagna
Cost: $21.20 for a two-course dinner.
Bloomfield
Classic, comforting dishes with a twist are what you'll find on the menu at Curtis Gamble's Station. That means Rigatoni Bolognese made with carrots and green za'atar, chicken liver mousse served with a side of fermented vegetables, and Gamble's classic pound cake spiked with hints of lavender.
Order: Caramelized Celery Root & Onion Soup, Pan-Roasted Scallops, and Lavender Pound Cake
Cost: $35.20 for a three-course dinner.
Braddock
With one exception, all of the dishes on Super Motors' Restaurant Week menu have been crafted specifically for the week-long event, so if you're lucky enough to snag a reservation, you're in for a unique treat. Chef/owner Kevin Sousa's playful menu includes dishes like seared Snake River red trout served with rapini, grapes and enoki mushrooms, and an elevated S'mores dessert, made with elderflower marshmallow, smoked graham cracker and malt ice cream.
Order: Ember-roasted root vegetables, Grass-fed Beef Bavette cured with Rye Koji, and Elderflower Marshmallow S'mores.
Cost: $35.20 for a three-course dinner.
East Liberty
If The Twisted Frenchman's regular chef's tasting menu is a bit out of your budget, the $35.20 Restaurant Week menu is a must-try. The restaurant is offering more choices for each course than the typical two or three, plus an additional wine pairing option for $20, or a $70.40 Beef Wellington for two dinner, served with foie gras.
Order: Tartufo Risotto, Roasted Duck Breast, Dark Chocolate Souffle
Cost: $35.20 for a three-course dinner.
Lawrenceville
Hip, modern cafe The Vandal is a neighborhood favorite, serving gorgeous, Instagram-worthy plates for brunch, lunch and dinner. For Restaurant Week, the restaurant is offering lunch and dinner options from their season and sustainably-sourced menu, including a winter Little Gem Salad with their addictive Green Goddess dressing, and their house-favorite crispy chicken sandwich, only available for lunch.
Order: Beans & Greens Soup and Crispy Chicken Sandwich for lunch, and Little Gem Salad, Lamb Ragu, and Blood Orange Tart for dinner.
Cost: $20.20 for a two-course lunch, and $35.20 for a three-course dinner.
Sign up here for our daily Pittsburgh email and be the first to get all the food/drink/fun in the Steel City.
Emily Catalano is the creator of Good Food Pittsburgh, a site devoted to all of the good food that her hometown has to offer. She loves fries on her salad, Jalapeno Hannah, and any event with a cookie table. Follow her at @emcatalano.
Popular in the Community