Pittsburgh is known for many things: Pierogies, Mr. Rogers, iconic sandwiches, and sinkholes that swallow buses whole. Pizza, sadly, is not one of those things. But it should be! From hometown hole-in-the-walls serving classic cuts to fancier Neapolitan eateries experimenting with the latest baking techniques, overlooking Pittsburgh's remarkable pizza experiences would be a major mistake. Whether you're a deep-dish fan or love a crispy crust, here are the spots that are making the greatest pizzas in Pittsburgh. So grab a slice (or a pie) and enjoy the best of the best.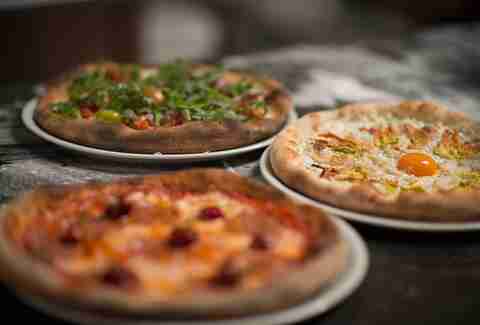 East Liberty
BYOB shop with Roman-inspired pies
Pizza Taglio's artisan pies are Roman-inspired, with a light, impossibly airy crust, and each one is big enough to share... if you're willing to share, that is. The Greenpointer brings the heat, topped with mozzarella, spicy Calabrese sopressata, and a hot honey that's been infused with chilies, so if you're looking for something with a kick, you've found your perfect pizza match.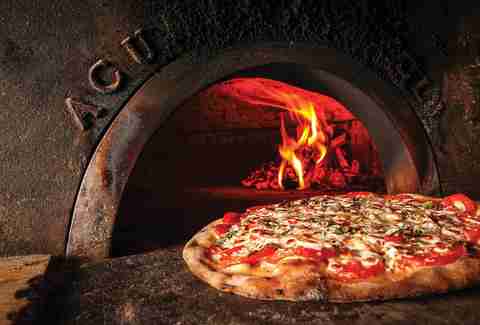 Lawrenceville
Charming BYOB emphasizing seasonal ingredients
Pistachio pesto, Romano cheese, mortadella, burrata, and fresh basil all come together perfectly on Piccolo Forno's mortadella e pistachio pizza, which has just a hint of sweetness. It's just one of the more than a dozen wood-fired pizzas on the menu at this cozy, super popular Lawrenceville BYOB. Whatever you end up ordering, save room for dessert -- specifically, the Pittsburgh-famous tiramisu.
Brookline
Casual, old-school pizza shop
Fiori's motto is "we fix you up," which is appropriate since pizza can fix almost any bad situation. The floury dough is tossed by hand -- a feat you can admire for yourself through the large window near the door -- and there are a whole host of meaty toppings including capicola, Virginia ham, bacon, meatballs, steak, and hot-sausage links. Of course, Fiori's pizza is just as delicious plain thanks to its sweet (but not too sweet) sauce, thick cheese, and puffy crust. For eat-in dining, order at the counter and wait for a seat to open up; it'll be bustling around dinnertime.
Millvale
Detroit-style deep-dish pies served piping hot
One of Pittsburgh's newest pizza places also happens to be one of its best. Iron Born (which originally got its start in the restaurant incubator Smallman Galley) has definitely earned its spot in the pizza pantheon. With one location in Millvale, and a soon-to-open space coming to the Strip District, Chef Pete Tolman's Detroit-style pizza has fans all over the city. Each pie is cooked in a personal-sized cast iron pan, giving the focaccia-like base a crisp crust and light, chewy interior. There's an extensive menu with new additions that change frequently, but the red pie (with brick cheese, pepperoni, 24-month Parmigiana, and red sauce) and the white pie (garlic cream, caramelized onions, marinated cherry tomatoes, arugula, and ricotta) are always available, and always worth ordering.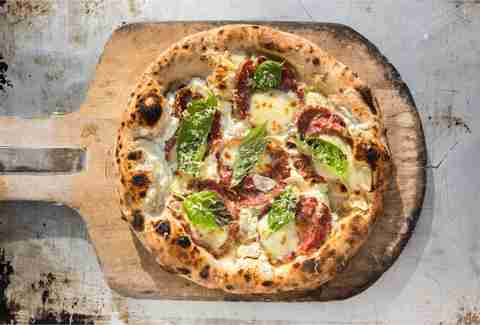 Lawrenceville
Cozy pizza spot serving sourdough pizza with locally-sourced toppings
Driftwood Oven started as a mobile pizza oven in 2015, serving up fresh, wood-fired pies topped with ingredients that are sourced from local farms and change with the season. Now, it's a beloved Pittsburgh restaurant in Lawrenceville, still serving the same, carefully-created pies. All the pizza from Driftwood starts the same way: with, well, a starter. The bread and pizza doughs produced from Neil Blazin and Justin Vetter's mobile pizza are all hand-mixed with organic flour and a sourdough culture, which makes the dough rich and flavorful. The restaurant just announced expanded hours, and an expanded dessert menu, offering you something sweet after your meal.
Squirrel Hill
Family-owned joint with classic pies
Mineo's Pizza House has been a Pittsburgh classic since John Mineo opened his original Squirrel Hill shop way back in 1958. Though the business has grown over the years (there's also a Mount Lebanon location), the family recipe that was used on the very first day of business is still what's being used today. Go for John's Special: named for the man who started it all, the pie's loaded with pepperoni, mushrooms, onions, green peppers, and sausage.

Mount Lebanon
Cozy suburban pizzeria using imported Italian ingredients
Ray Molinaro opened Il Pizzaiolo's flagship location in Mount Lebanon back in 1996, putting emphasis on sourcing the best ingredients possible. Fresh Buffalo mozzarella's imported from Italy for the restaurant's classic Neapolitan pizzas, which are fired in a 1,000-degree oven; for our money, you can't go wrong with the classic Margherita DOC, topped with fresh basil, San Marzano tomatoes, creamy mozzarella, and extra-virgin olive oil.
East Liberty
Wine bar known for thin-crust pizzas
At Dinette, crispy, wafer-thin dough is the foundation for light sauce and fresh toppings, some of which are actually grown on the restaurant's rooftop. Dinette's version of a "plain" pizza is essentially a margherita, but with spoonfuls of fresh, creamy ricotta; don't sleep on the savory prosciutto pizza either, with arugula, Parmigiano-Reggiano, mozzarella, and tomato. The restaurant is airy and open-concept, with bright white walls, big windows, and an unobstructed view of the kitchen and its chefs at work.
Mount Washington
Old-school Italian BYOB with Sicilian-style pies
This place is literally over the river and through the woods from Downtown, but it's worth the drive for Nonna Pina's Pizza, the "grandmother's specialty:" a thick, square-cut pizza with Romano cheese and a chunky tomato-onion sauce. La Tavola has been serving up slices for 50 years, so the locals know how to find the practically secret take-out entrance -- for the uninitiated, it's the unmarked door on the side of the building. Look for the wooden staircase.
Beechview
Made-to-order pizza shop with an extensive menu
At Slice on Broadway, the cooks own up to having an abnormal obsession with pizza, and happily accept their label as perfectionists. Buy by the slice or by the pie (small, large, or "ginormous" with 16 cuts). There are 20 specialty pizzas, such as the Slaughterhouse Five, with pepperoni, sausage, bacon, capicola, and prosciutto, along with the dish's motto: "Vegetarians need not apply."
Beto's Pizza
Beechview
Pittsburgh-famous spot serving "raw" pizza
If you haven't already heard of Beto's Pizza (and, since it's been in business for more than 60 years, it's hard to imagine that's the case), this may blow your mind a little bit. The restaurant serves classic pies by the slice, with pizza dough topped with sauce pulled hot and fresh from the oven... then covered in cold shredded cheese and assorted toppings. These "raw" pies are a local favorite, and slices start at just $1.65, with toppings for an additional 55 cents. Order at the counter and take it to-go, or commandeer a booth in the dining room.
Downtown
Brick-oven pizza in a casual, comfortable setting
Proper has brick-oven pizzas down to a science. The thin dough begins with an organic yeast starter, which rests for three days, before it's fired in a wood-burning oven transforming it into a crisp, smoky crust. With fresh basil and house-made mozzarella, the margherita is a great choice. For more adventurous palates, try the Ocean (sautéed fresh clams and shrimp, roasted garlic spread, Italian parsley, Fontina, grated Parmigiano-Reggiano, and lemon) or the Pittsburgh-themed Black & Gold (crispy Yukon Gold potato, black pepper, red onion, roasted garlic spread, extra-virgin olive oil, and grated pecorino Romano).
Garfield
Funky shop with legitimately great vegan pizza
Spak Brothers is a crowd-pleaser with vegan options, plus plenty of choices for carnivores. Slices -- bubbly and big enough to fold -- are served on pieces of wax paper. On most nights, a line snakes through the shop, and punk or metal music blasts through the speakers. Bring along some coins to play the restaurant's vintage pinball machines while you wait for slice after addictive slice.
Sign up here for our daily Pittsburgh email and be the first to get all the food/drink/fun in the Steel City.