In Pittsburgh, yinzers defend staunch pizza allegiances to the death (are you Team Mineo's Pizza House or Team Aiello's Pizza?). But in the end, there are plenty of superb slices within our city limits. From the fancier Neapolitan pies, to the grab-and-go slices, here are PGH's greatest pizzas.
(We wish Rick Easton of the now-closed Bread & Salt the best in NYC.)
Lawrenceville
Piccolo Forno's Capricciosa is a classic Italian-style pizza combining crushed tomato, fresh mozzarella, mushroom, artichoke, olive, prosciutto cotto, and egg. Piccolo Forno's intimate, BYOB venue on Lawrenceville's popular Butler Street is classic Italian, too, evoking the style of Italian cafes. More than a dozen wood-fired pizzas are on the menu. Make room for dessert: the tiramisu is unrivaled.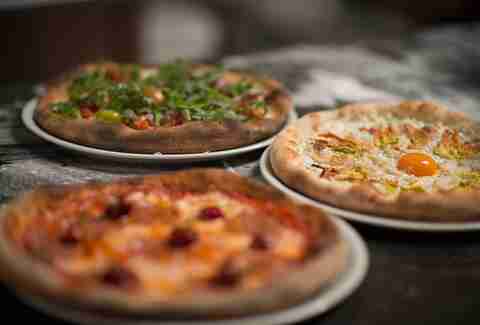 East Liberty
Spicy enough to leave your lips tingling, the Pino pie combines mozzarella, hot sausage, roasted red peppers, and spicy chili oil. The spice is balanced with a sweet red sauce and a cracker-thin crispy dough. Pizza Taglio's artisan pies are Roman-inspired, and each one is big enough to share... if you're willing to share, that is.
Downtown
It's probably a lot of work and expense for Il Pizzaiolo to import fresh ingredients from Italy regularly, but it's worth it to genuinely represent Neapolitan pizza. Order the classic Margherita DOC, which is fired in a 1,000-degree oven and topped with fresh basil and creamy mozzarella. The Market Square location is in the heart of the city and offers a more elegant, sit-down dinner with a long wine list (Chianti pairs well with the DOC).
Strip District
Bella Notte's breezy outdoor patio is prime-summertime real estate along busy Penn Ave. Ranch addicts, order the 16in buffalo specialty pizza: ranch sauce, chicken, buffalo sauce, and cheddar cheese. Pizzas are also sold by the slice with more than a dozen topping options to DIY.
Brookline
Fiori's motto is, "we fix you up," which is appropriate because pizza could fix almost any bad situation. (Even a broken heart? Possibly.) The floury dough is tossed by hand, a feat you can admire firsthand in front of a large window near the door. Meat lovers rejoice: toppings include sausage, capicola, Virginia ham, bacon, meatballs, steak, and hot-sausage links. Fiori's pizza is just as delicious plain with its sweet sauce, thick cheese, and puffy crust. For eat-in dining, order at the counter and wait for a seat to open up; it'll be bustling around dinnertime.
Beechview
At Slice on Broadway, the cooks own up to having an abnormal obsession with pizza, and happily accept their label as perfectionists. Buy by the slice or by the pie (small, large, or "ginormous," with 16 cuts). There are 20 specialty pizzas, such as the Slaughterhouse Five, with pepperoni, sausage, bacon, capicola, and prosciutto, along with the dish's motto: "Vegetarians need not apply."
East Liberty
At Dinette, crispy, wafer-thin dough is the foundation for light sauce and fresh ingredients, some of which are grown on the restaurant's rooftop. Dinette's version of a "plain" pizza is essentially a margherita, but with spoonfuls of fresh, creamy ricotta. The prosciutto pizza is savory with arugula, Parmigiano Reggiano, mozzarella, and tomato. The restaurant is airy and open-concept with bright white walls, big windows, and an unobstructed view of the kitchen and its chefs at work.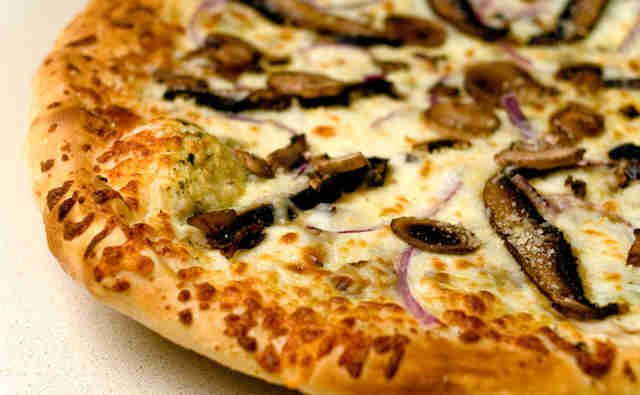 Lawrenceville
At its heart, The Church Brew Works is a brewery and bar, but it also happens to make pierogi pizza that makes Pittsburghers' hearts swoon. Instead of sauce, there's mashed garlic potatoes with sautéed onions. Instead of mozzarella cheese, there's cheddar. It's a delicious twist on the traditional Polish favorite.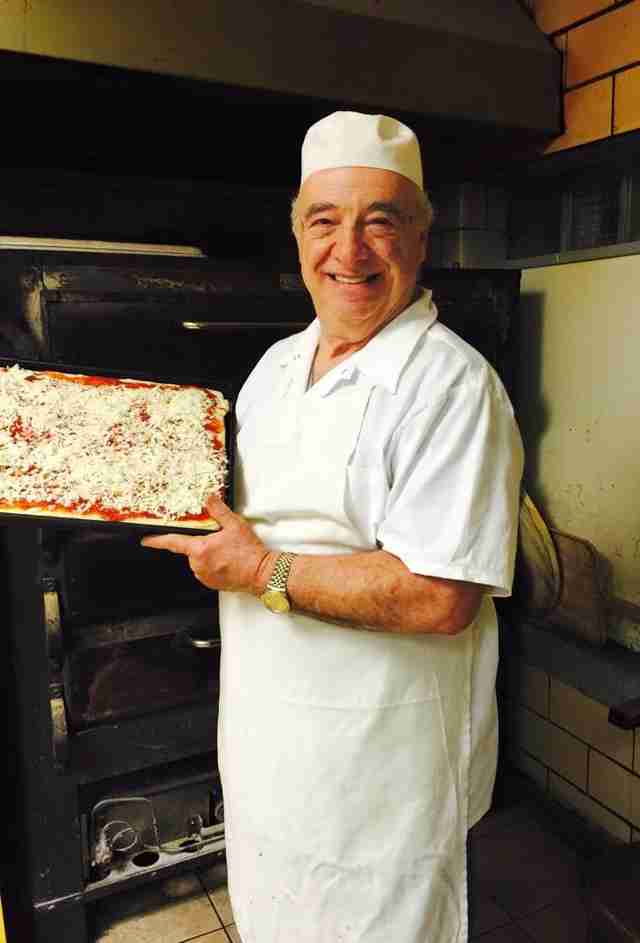 Mount Washington
La Tavola Italiana is literally over the river and through the woods from Downtown. But it's worth the drive for Josephine's Pizza, the "grandmother's specialty:" a thick, square-cut pizza with Romano cheese, and a chunky tomato-onion sauce. La Tavola has been serving up slices for 50 years, so the locals know how to find the practically secret take-out entrance. (For the uninitiated: It's the unmarked door on the side of the building. Look for the wooden staircase.)
Beechview
Don't be alarmed -- the cheese isn't supposed to be melted. Beto's cooks the pizza dough and sauce, then drops toppings and cold shredded cheese (lots of it) on top for a unique hot-cold dish. Slices start at just $1.30 with toppings for an additional 50 cents. Order at the counter and take it to-go, or commandeer a booth in the dining room.
Garfield
Spak Brothers is a crowd-pleaser with vegan options, plus plenty of choices for carnivores. Slices, bubbly and big enough to fold, are served on pieces of wax paper. On most nights, a line snakes through the shop, and punk or metal music blasts through the speakers. Bring along some coins to play the restaurant's vintage pinball machines while you wait for slice after addictive slice.
Downtown
Proper has brick-oven pizzas down to a science. The thin dough begins with an organic yeast starter, which rests for three days, before it's fired in a wood-burning oven transforming it into a crisp, smoky crust. With fresh basil and house-made mozzarella, the margherita is a great choice. For more adventurous palates, try the Ocean (sautéed fresh clams and shrimp, roasted garlic spread, Italian parsley, Fontina, grated Parmigiano Reggiano, and lemon) or the Pittsburgh-themed Black & Gold (crispy Yukon Gold potato, black pepper, red onion, roasted garlic spread, extra-virgin olive oil, and grated Pecorino Romano).
Sign up here for our daily Pittsburgh email and be the first to get all the food/drink/fun in the Steel City.
Rossilynne S. Culgan is a Pittsburgh native, but she'd rather be in Italy eating pizza. In researching this story, she ate seven slices of pizza in 24 hours, and it was like a slice of heaven.