Highland Park
What you're getting: Brunch OMGs including the Gorgonzola Mess
Happiness lives at e2. This sweet BYOB spot packs friends and strangers into about 10 tables to feast on hearty and heart-warming Italian-inspired meals. Don't let this adorableness fool you, though, Chef Kate Romane is a badass in the kitchen and brings big, bold flavors to the table and designs easily the best brunch in town.
Downtown
What you're getting: Steak & Ale Pie, Wood Oven Charred Cauliflower; Sticky Toffee Pudding
A newcomer to the dining scene, The Commoner is already the coolest joint in town with a menu that offers tavern-style tastes with meat as the main attraction. The Sticky Toffee Pudding dessert -- a warm date cake with ice cream -- will steal the show.
Northside
What you're getting: Pub Style Shepherd's Pie; Bangers & Mash
This is a Northside neighborhood treasure with a cozy bar and tiny booths that make you yearn to be a regular. The Irish fare, often marinated in Guinness, goes down easily. Tender, shredded Guinness beef is featured in several menu items, but is best served under a heap of mashed potatoes and cheese in the Pub Style Shepherd's Pie.
Shadyside
What you're getting: Peanut Butter Salad; Banana Split; Perogies
Eden lays claim to one of the most interesting menus in the city with an emphasis on raw and vegan options. The veggies come cooked too, and the creative dishes, like cashew cheese perogies, are equal parts weird and delicious.
Strip District (& Other Locations)
What you're getting: Capicola & Cheese; The Pitts-burgher cheesesteak
Primanti Bros. has been a Pittsburgh institution since its Strip District location opened in the 1930s. Massive sandwiches piled high with French fries and coleslaw are used for city initiation, sports celebrating, and general food merriment. Truly, no other mouthful of food says "Steel City" more than a Capicola & Cheese.
Strip District
What you're getting: Provoletta; Lomo (filet mignon)
Nothing beats having the jubilant dudes at Gaucho Parilla Argentina cook steaks straight on the wood-fired grill. Order a steak. Order empanadas. Order the grilled provolone on top of grilled bread (Provoletta), or a chorizo sandwich or corn on the cob. Order them all, there is no wrong choice.
Downtown
What you're getting: Pig Candy; Wagyu Flank Steak; whiskey flight
If you like whiskey, meet your home away from home: Butcher and the Rye. A legit wall of whiskey makes a great first impression and the meat-heavy small plates, like pork belly with miso caramel (mmmmm... Pig Candy), cement its reputation.

Lawrenceville
What you're getting: Pineapple Curry; Tempura Vegetables; Crispy Tilapia
Located in the Upper Lawrenceville area that's been heating up, Pusadee's provides a garden oasis for an outdoor dining retreat. Classic Thai dishes mix well with the tranquil surrounds. Pusadee's has "best place for wining and dining" written all over it.
Mount Lebanon (& Other Locations)
What you're getting: Famous Lyonnaise Potatoes; Pamela's Famous Crepe Hotcakes
P&G Pamela's Diner serves standard greasy spoon fare, with one exception: the Crepe Hotcakes. These ultra-thin pancakes with crispy edges are worth the guaranteed sidewalk wait on weekend mornings. Even President Obama had these sweet puppies flown in to the White House (anything to not have to go out to eat with Joe Biden).
Downtown
What you're getting: Crispy Pickle Chips with bacon ranch; Meatball Grinder; Saucy Balls
With a menu of saucy balls (it's ok, your giggling will make more room in your stomach), Emporio hits all of the right notes with beef, chicken, turkey, and veggie balls, complete with a variety of complementary sauces like "government cheese" and spinach-almond pesto. The mushroom and bean veggie balls served as a grinder, topped with the spicy arribiatta sparks table-flipping as a response of pure joy.
Lawrenceville
What you're getting: Queso; Brisket Taco
A tiny menu of tacos with BBQ fillings is all it takes to make Smoke an all-star. A rich mac and cheese and queso dip round out the terrific, teeny offering. Plan to have the smell of meat lingering on you long after exiting.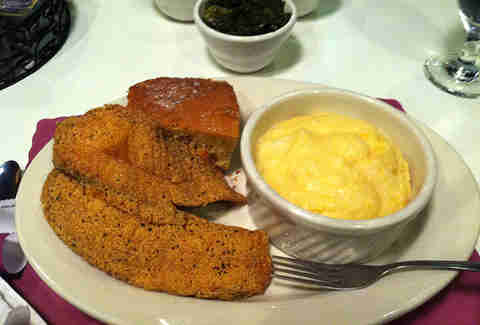 Northside
What you're getting: Chicken & waffles, macaroni and cheese, Stuffed Pork Chops
The chicken & waffles at Carmi are the stuff dreams are made of, coincidentally the same dreams you'll have after a post-chicken & waffles nap. Crispy and juicy fried chicken rests next to a fluffy, buttered waffle and alongside the enchanting duo, there's a variety of soul-satisfying soul food in a feels-like-home atmosphere.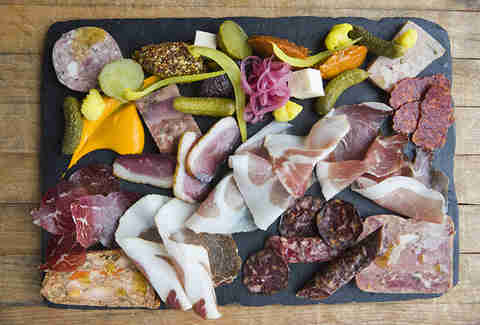 Lawrenceville
What you're getting: Salumi
Chef Justin Severino is a meat magician and while Cure's carefully curated menu rotates, it always features both tricks and treats. Passing up the salumi boards of lardo, duck speck, mortadella, and oh so much more, would be an incurable (!) mistake.
Oakland
What you're getting: Chicken Cooked Under the Skillet; Mercy of the Bartender
Few places have the premium consistency that Legume boasts, even as the menu changes daily. Every dish is on point, and the accompanying bar, Butterjoint, crafts intricate whistle wetters. Leaving the decision making to the professionals is easy with the Mercy of the Bartender cocktail option.

Sign up here for our daily Pittsburgh email and be the first to get all the food/drink/fun in the Steel City.

Laura Zorch is a Pittsburgh writer who loves the crap out of cake. Follow her sweet tooth at eatpgh.com where she eats around town with her three pals.