Pittsburgh's Vegetarian- and Vegan-Friendly Restaurants That We Love
The most interesting and exciting new restaurants in Pittsburgh share a common bond: they don't focus on meat. (We're looking at you, Apteka and B52.) Indeed, vegetarians and vegans are having their moment when it comes to dining out in a meat-and-potatoes kind of town. Here are some of the trailblazers that have been serving alternatives for years alongside the brand new besties carrying on the torch of plant-based food. Visit all of them -- you won't even miss the meat. We promise.
Lawrenceville
B52 offers a taste of the Mediterranean with the likes of hummus, falafel, and kofta, all meat- and dairy-free. Even the coffee bar uses house-made almond milks to create its hot chocolates and cortados. The kitchen staff is simply masterful with ingredients. Try the cashew cheese toast with preserves and just try not to dream about it nightly. You will fail.
Aspinwall
With menu items like hot sausage, chicken salad, and reuben, you'd think, "this can't possibly be a vegan joint." Wrong. Using seitan, tofu, and more plant-based substitutes, Randita's creates pretty convincing fakes. The real highlight here is the African Peanut Stew, a hearty bowl of slowly cooked sweet potatoes with a heavenly blend of spices.
Bloomfield
Can pierogies without cheese be the best in Pittsburgh? Yes, thanks to Apteka. The all-vegan Eastern European spot proves that dairy or meat is not required for greatness. The smoked parsnip or the sauerkraut and mushroom pierogi further prove this point (and make a real case that love is real). Don't forget to stop back after 10pm for the late night menu -- the veggie burger is the best in the city.
Shadyside
The first place in the 'Burgh to commit to the idea of raw vegan fare way back in 2011, Eden is a creative meal haven. Vegetables and nuts are used in ways that might have you scratching your head but stuffing your face. Fancy a slice of raw lasagna? How about a raw vegan sorbet? The answer should be yes, you coward, and you can find it at Eden. Perhaps this is how Adam and Eve did it before the creation of fire.
Lawrenceville
We know, we know: hot dogs are usually associated with mystery meat blends and 'pink slime.' Not at Franktuary, where alongside natural-cased dogs, it's serving tofu dogs and other meatless treats. Vegan chili, lentil sloppy Joes, and roasted grain sausage are all on offer so you can indulge in classic, guilt-free American fare.
Oakland
Onion Maiden (mobile, hardcore vegan food purveyors) and Lili Cafe of Polish Hill (also worth a visit) formed a magical alliance to serve lunch, breakfast, and early dinners out of Pittsburgh Filmmakers. The location is a touch off the beaten path, but the vegan banh mi with tofu and vegenaise make it worth the trek. Enjoy soup, sandwiches, salads, and even waffles animal-free.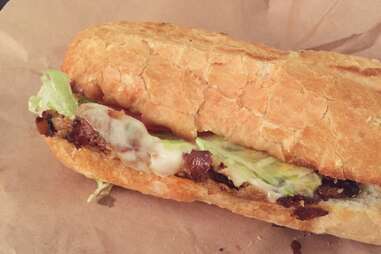 Garfield
There are hoagies and then there are the seitan melts at Spak. Order a 6in or a 12in with barbecue or Buffalo sauce and cheese. Proceed to high five everyone around you for making the correct life decisions. Spak also offers vegan pizza toppings, seitan wings, and a shaved seitan cheesesteak that you can't go wrong in ordering.
South Side
Part antique store, part restaurant, The Zenith is the truly most unique place to chow down in Pittsburgh. While primarily vegan, you can get cheese (and eggs at brunch!) if you want to go the lacto (-ovo) route. The weekend brunch is particularly epic with a buffet of noodle salads, greens, and cakes. You'll leave with a full tummy and maybe a macrame owl.
Northside
This spot boasts a separate vegan and vegetarian menu for all of the taco and burrito lovers. Chile relleno burrito, vegan chorizo, potato tacos, and now seitan tacos... it's all here, and it is all the shit. Look out for rotating vegan specials -- there's always a new reason to come back.
Lawrenceville
Brillobox always features vegetarian fare on its standard menu, but the best time to visit is for Starving Artist Sundays. For all of $7, you get to eat whatever the chef is prepping for dinner. In the past, we've seen the likes of chana masala, oyster mushroom po-boys, and adobo tofu burritos. Who needs meatless Mondays? We'll take meatless Sundays.
Sign up here for our daily Pittsburgh email and be the first to get all the food/drink/fun in the Steel City.
Laura Zorch married a vegetarian and has thus developed an ability to sniff out the best veg-friendly spots in town. It's a gift. Follow her journey @lzorch.