The Art of Handmaking Pierogies, Pittsburgh's Most Beloved Food
It's only 9am, but the kitchen at Pierogies Plus already smells like butter and onions.
It's an aroma reminiscent of Pittsburgh kitchens where families have prepared closely held, made-from-scratch recipes for generations, brought over by the Polish immigrants who first settled Pittsburgh. The wafting, savory scent makes it impossible not to be hungry for the hearty dumplings, even before breakfast.
At Pierogies Plus in McKees Rocks, just outside of the city, the pillowy dumplings are prepared in the Polish tradition by an expert staff hailing from Ukraine, Russia, Poland, and Pittsburgh. "A league of nations," as the shop's CEO, Helen Mannarino, calls her staff of 16.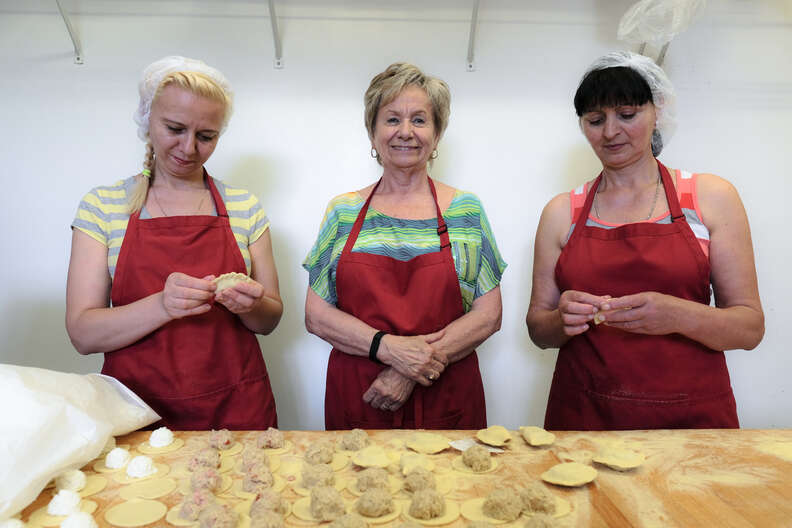 Pierogi-making is an art of precision.
Every step is executed with meticulous care. The pillowy layer of dough must be the right thickness. Each scoop of filling must be measured uniformly. Each pierogi must be perfectly pinched by hand. Each dumpling must be boiled in a vat of water until it floats -- no more, no less.
"That's what we concentrate on -- making thin dough, pinching them, and filling them as much as we can. That's why we make them by hand. A machine cannot do this," Helen said.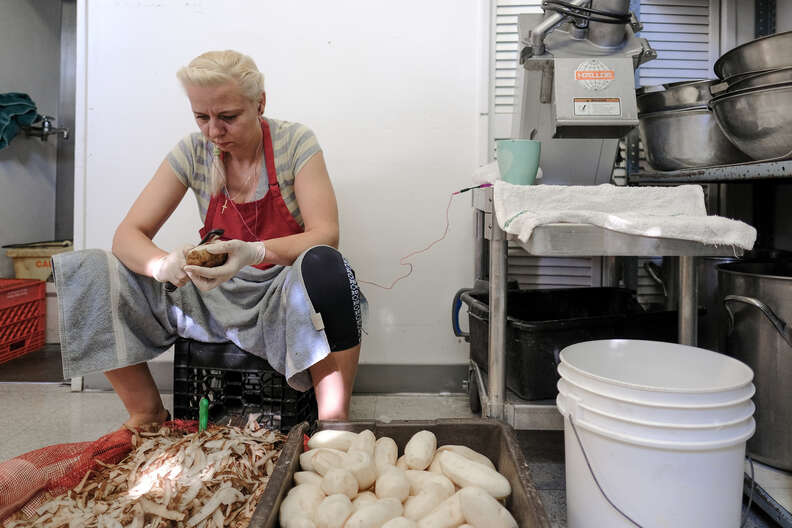 The process begins at 3am. On the early shift, long before the sun rises, the cooks are peeling potatoes, chopping onions, and making dough.
There are two major components in this process -- the dough, and the filling -- and each part must be just right.
First, the dough: a giant mixer -- a giant's version -- blends the dough. Then, it's transferred to a large rolling pin apparatus, where it's rolled into a thin sheet and taken to a long table.
Staff then perforate the dough with a biscuit cutter (like a circular cookie cutter) into dozens of perfectly round pads.
Next, the filling: preparing the classic potato-and-cheese filling means peeling a lot of potatoes. On a slow day, the restaurant peels through 250lbs of the starchy stuff. Next, the potatoes are cooked, drained, and mashed with cheese and spices.
Finally, joining the two: once the dough is rolled and the filling is ready, the staff scoops a dollop of filling onto each piece of dough. They use their fingers to push the filling down firmly enough to make it all fit, but gently enough to pinch the edges into a half-moon shape.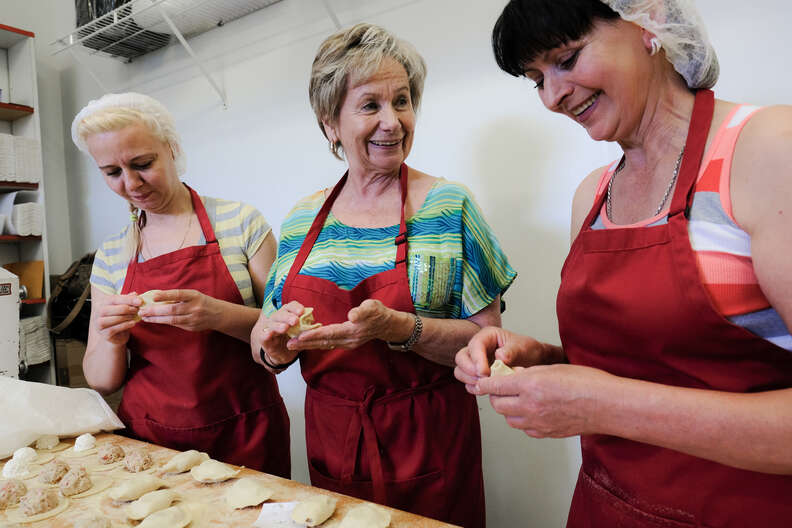 Their fingers move so quickly and with such precision that they easily carry on a conversation without missing a single fold, deftly preparing each one to cook in a vat of boiling water.
The team at Pierogies Plus has the recipe down to a science, paying careful attention to the small details. In the humid summers, the staff uses less water. When there's a breeze in the kitchen, they cover the dough to make sure it doesn't dry out.
On average, the kitchen whips up 200 pierogies each day. That number can increase fast, though, to meet the extra demand for holidays or local fundraisers. Some events require 500 dozen -- that's 6,000 -- pierogies.
The pierogi recipe has been passed down for years. "[It's] the same one my mom and my grandma used to make," Helen said.
Customers often bring along memories of their own family's Polish cooking, looking for a taste of those traditional recipes, just like grandma used to make. And Pierogies Plus more than delivers.
"We bring people's memories out. It's really worth our effort to make (these dishes) well," she said.
Helen moved to McKees Rocks in 1974 at the age of 27. Her grandparents had moved from Poland to the Pittsburgh suburb around the turn of the century for work in a steel mill. But eventually, they became homesick and went back. Several decades later, their granddaughter Helen made her own voyage from Warsaw to Pittsburgh.
"At first, I was excited about American food -- Chinese and Italian," she remembered. "After a while, I missed my food. I started to make my own pierogies."
She also became enamored with restaurants and how they worked. Her family owned a diner in Poland, and every time she went out to eat in Pittsburgh, she wanted to tour the back of the house. Eventually, Helen took business training courses and opened her own specialty shop in 1991.
When Helen founded her business 25 years ago, she and a friend operated the shop two days a week. Then, her mother and sisters came on board, and the operation began to grow. What started as a hot, cramped 350sqft kitchen grew into a 3,000sqft addition, and then into one of the city's most celebrated -- and most authentic -- pierogi purveyors.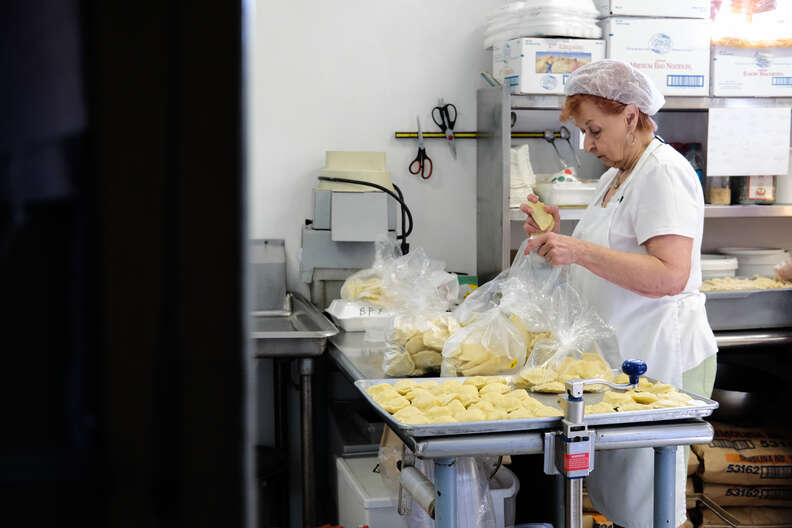 Today, Pierogies Plus' pierogies are served at restaurants across the Pittsburgh area. If you've eaten pierogies at Gooski's or the Fairmont, or Hard Rock Cafe, you've tasted the work of Pierogies Plus. These quintessential Pittsburgh dumplings are even shipped to a Steelers bar in Florida for Pittsburgh expats craving a taste of home.
They're also served as take-out at the shop, or can be ordered online and shipped.
The classic potato-and-cheese variety is a crowd-pleaser, but the menu has 40 different choices for the more adventurous diner. The latest creation combines potato, cheese, bacon, and jalapeño. But which is Helen's favorite filling? All of them.
"I eat pierogies every day. I love them. That's my favorite food," she said. "Pierogies, I never tire of."
Sign up here for our daily Pittsburgh email and be the first to get all the food/drink/fun in the Steel City.