New in Pittsburgh: the jumbo slice (finally), a fresh take on the pierogi, heady Tiki punches, and locally sourced steaks. From a restaurant that evolved from pop-up nights, to a chef incubator, to a resurrected Pittsburgh classic, this city continues to be a top challenger in the national culinary game, so pay close attention: these are the eight places to eat and drink this spring.
Recommended Video
Hooters Is Opening a New Restaurant Chain That's Hiring Guys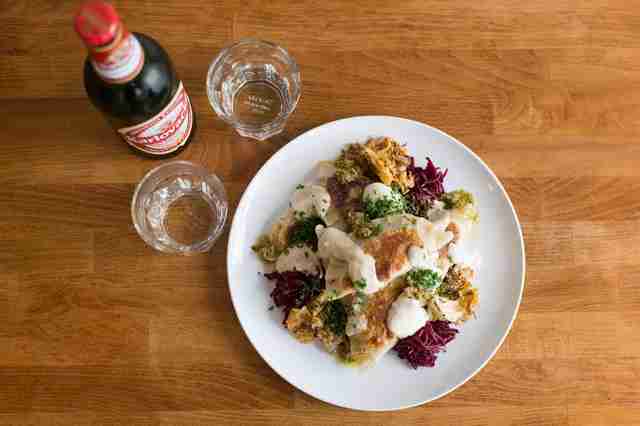 Bloomfield
The concept for APTEKA grew from Pierogi Night, a monthly pop-up that's become increasingly popular over the past several years. Now in its own space, APTEKA serves food and drink from Central and Eastern Europe -- namely, the pierogi. Rather than the cheese-and-potato version, pierogi at this vegan restaurant are made with ingredients like smoked potatoes, roasted parsnips, and sauteed turnip greens. Tartines, sandwiches, cocktails, and local brews are on the menu, too.
South Side
It's about time: the jumbo slice has arrived in Pittsburgh. The jumbo slice (Benny Fierro's calls it the Virginia Slice, given the pizzeria's origins in Blacksburg, VA) is so big, it spans two paper plates. The pizza is a thin, New York-style slice with a creamy cheese blend and a crispy crust. Now, Pittsburghers have a new go-to meal after the bars close -- Benny Fierro's is open till 2:30am on Thursdays and 3am on Friday and Saturday.
Lawrenceville
"Made from scratch" carries a lot of weight at B52. Almost everything is homemade, including almond milk, cashew cheese, yogurt, pita, and seitan. This casual vegan cafe serves up a fusion of American and Middle Eastern cuisine, along with baked goods, chocolates, and coffee. Plus, there's a great to-go section, perfect for grabbing a snack if you're shopping on Butler St.
Shadyside
For decades, The Elbow Room was a Pittsburgh institution. After moving to a new location, then closing several years ago, the restaurant is returning to its original space on Ellsworth Ave with the low-key bar and restaurant regulars have revered for so, so long. The classics are back on the menu, like the hot chicken salad (topped with fries, of course), white chicken chili, and the "Big" fish sandwich. If there was ever an appropriate use for the raised hands/glory rays emoji, it would be here.
Squirrel Hill
At Hidden Harbor, the details shine. For its atmosphere: half the bar takes on a ship-themed nautical vibe, while the other half exudes a jungle motif complete with a giant, menacing tiki carving. For its drinks: these delectable, never-too-sweet modern tiki concoctions are created with artful precision. They're served up in festive drinkware -- the golden fish-shaped glass for the Tokyo Drift cocktail is the best -- and topped with everything from delicate flowers to quirky plastic sharks.
Garfield
Prairie is the new prime spot for comfort food, from the chicken & biscuit, to the bacon-wrapped bison meatloaf, to the whiskey BBQ pulled pork. The restaurant is all about fresh, non-fussy food from the farm, topped off with a solid cocktail menu and a special emphasis on bourbon. Located along Penn Ave in Garfield, this spot's outdoor patio was made for warm, sunny days.
Downtown
This posh downtown restaurant, steps from Market Square, is making an eclectic mix of American cuisine spanning the full 50 states: from Hawaiian sweet breads, to barbecue short ribs, to country pate, to sun-shrimp and grits. The cocktail menu draws inspiration from our fair city with beverages like the Sunrise on the Square and the Pittsburgh Stock Exchange.

Troy Hill
As the name suggests, the kitchen at this unpretentious restaurant in Troy Hill takes a from-scratch approach. Hearty meals -- burgers, pot roast, halušky, even "Rust Belt" charcuterie -- are on the menu. Cocktails are both creative (the "On a Scale from Britney to Miley" cocktail, for one) and reasonably priced ($5 gimlets).
Sign up here for our daily Pittsburgh email and be the first to get all the food/drink/fun in the Steel City.
Rossilynne S. Culgan is a Pittsburgh native whose favorite food group is the Pittsburgh cookie table. Follow her here: @rossilynne.