The Best BBQ Joints in Pittsburgh
Courtesy of Double Wide Grill
Pittsburgh may not be known as a BBQ town, but maybe it should be. Within the city limits, there are plenty of pits serving everything ranging from classic staples to BBQ in a burrito shell. Get your hands on the meaty delicacies at these 10 restaurants dishing out the 'Burgh's best BBQ.
Rossilynne Culgan/Thrillist
Brookline
Newest to the Pittsburgh BBQ scene, Smoq Pitt (yes, with a "Q" as in BB"Q") has already distinguished itself as a leader. With a passion for BBQ, owner and pitmaster Mitch Liebovich has been perfecting his brisket since childhood. He applies a sugar rub to the brisket, which is then cooked in a giant smoker over logs for 20 hours. Other standouts: the mac & cheese (Gouda, Monterey Jack, sharp cheddar), Ray's wings, seasoned fries, and the sauces made with stock from the restaurant's meat.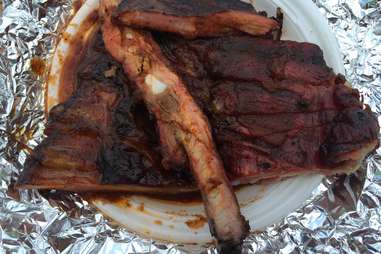 Rossilynne Culgan/Thrillist
North Side
You'll likely smell Wilson's before you see it. The small restaurant has been a local institution for decades, spreading a tantalizing smoky aroma through the North Side and serving up lots of spare ribs. The ribs are tender and smoky. Sauce options are mild, hot, or a mix of the two. Two slices of Italian bread are served on the side to mop up the extra sauce. Order a side of the peppery, piping-hot greens.
Bloomfield
Hailing from Georgia, YinzBurgh's owner Richard Coursey is an engineer-turned-BBQ pitmaster. From chicken to brisket to pork, YinzBurgh's meats are lean and smoky in flavor. The meat doesn't need sauce -- as Coursey says, "sauce can hide a multitude of sins." But sauce can be a nice touch, YinzBurgh offers a half-dozen choices, including hot tomato, vinegar, and mustard-based sauces. Other specialties: the chili combines beans with ground bacon and brisket, and the okra mixes stewed tomatoes, herbs, and spices. The restaurant also offers vegan BBQ and vegan side dishes.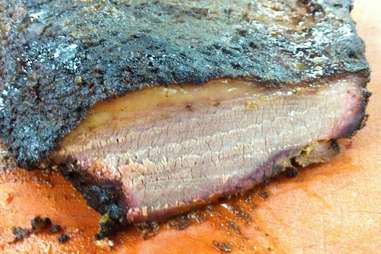 Courtesy of Pittsburgh Barbecue Company
Banksville
At the Carolina-style Pittsburgh Barbecue Company, the pork and brisket are smoked for 20 hours, making for tasty, smoky sandwiches. The tangy, peppery sauce -- served separately, of course -- is good enough to drink or, you know, just use as a condiment. On the side, order baked beans (five types of beans, bacon, hickory sauce) and cornbread (buttery with pieces of corn enclosed). Take it to go or grab a seat at one of the outdoor picnic tables.
Rossilynne Culgan/Thrillist
Uptown
The chicken at Z-Best is tender and juicy. Staff will offer a choice of sauces, including BBQ, honey, or mustard, and apply the sauce liberally before serving. Pair the meat with a side of garlicky collard greens, a sweet cornbread muffin, and a helping of baked beans -- pure brown sugary goodness.
 Rossilynne Culgan/Thrillist
Homewood West
Two pieces of Texas toast form the foundation for the hearty brisket sandwich. The sauce is thick like gravy, making the sandwich the epitome of comfort food. The ribs are another crowd-pleaser. The most adventurous diners ought to try the hot sauce on the ribs, but be warned: this hot sauce is truly h-o-t. Grab a side of greens, cooked with garlic, along with a sticky-and-sweet square of cornbread.
Lawrenceville
It's not the traditional BBQ joint, but Smoke has the concept of smoky, flavorful, mouthwatering barbecued meats down to a science. The brisket is wrapped in a soft taco shell, along with sauteed onions, hot peppers, and mustard sauce. On the side: the hot bowl o' cheese or the pinto beans.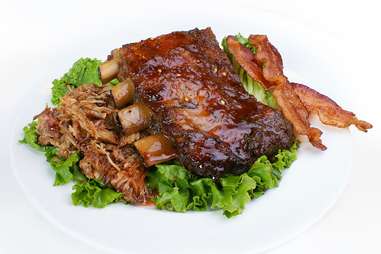 Courtesy of Double Wide Grill
South Side
The Pit Aught is a veritable feast. It's 1/3 rack of ribs, pulled pork, and bacon strips, plus fries, a pickle, cornbread, and slaw. Top it with some Carolina BBQ sauce, a tangy vinegar-based condiment that perfectly complements the pork. At Double Wide, vegetarians and vegans can feast alongside the carnivores. Try the vegetarian seitan wings with the vegan sweet-and-tangy Bar-B-Q sauce. A large outdoor patio makes Double Wide a great place to spend a summer evening.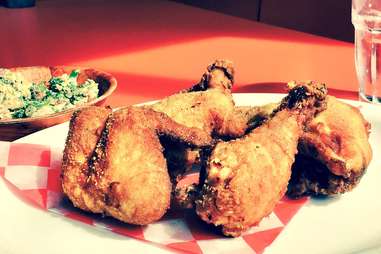 Courtesy of Matthew Chiang/Union Pig & Chicken
East Liberty
Choose the chicken -- either BBQ or fried -- and decide between 1/4 bird, 1/2 bird, or the whole thing. Top it with a Kansas-style sweet sauce, a Carolina-style vinegar sauce, or a spicy sauce, complete with a kick. Both the buttery cornbread and the vinegary greens are delicious side dishes, but the yams steal the show. They're whipped and served with toasted marshmallow on top. Wash it all down with craft cocktails, beer, wine, or whiskey.
Homewood South
Order the smoky, fall-off-the-bone ribs at The Dream. Add a side of the peppery mac & cheese and the sweet baked beans. And if you're really hungry, get some chicken, too. Sauce comes in containers on the side. Several tables are available in the restaurant, but most take the heaping Styrofoam containers of food to go.
Sign up here for our daily Pittsburgh email and be the first to get all the food/drink/fun in the Steel City.
Rossilynne S. Culgan (@rossilynne) is a Pittsburgh native whose taste buds are still recovering from the fiery hot sauce at Showcase BBQ.