The Best Late-Night Eats in Pittsburgh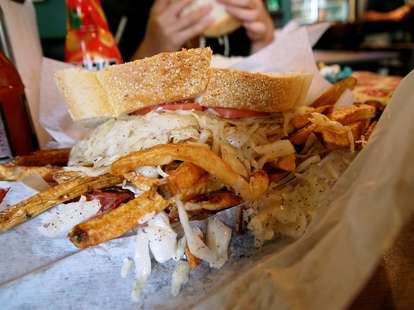 <strong>Primanti Bros. |</strong> <a href="http://bit.ly/1OqnQ1E" target="_blank">Flickr/catalatic</a>
<strong>Primanti Bros. |</strong> <a href="http://bit.ly/1OqnQ1E" target="_blank">Flickr/catalatic</a>
There is no doubting that Pittsburgh has a terrific selection of high-quality culinary delights. But the Steel City also has a solid late-night, semi-regrettable food scene. Bars close at 2am, but some of the best (OK, worst) food decisions happen after midnight and late, late, late into the night.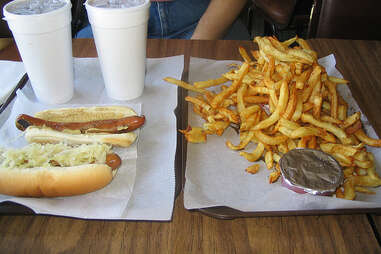 Hot dog
The Original Hot Dog Shop (address and info)
Oakland
The Original Hot Dog Shop, or "The O," is a mix of classic and terrifying. Hot dogs can be ordered until 1:30am on weekends, which is perfect for the college crowd. You can also get a legit lunch tray covered in French fries.
Breakfast sandwich
Bloomfield Sandwich Shop (address and info)
Bloomfield
A tiny storefront with room for about 10 people to sit, the Bloomfield Sandwich Shop slings good and greasy sandwiches from behind a small counter until the wee hours of the weekend mornings. Start your day right, even at 1am or 3am, with an egg and cheese breakfast sammie.

Pancakes
Ritter's Diner (address and info)
Shadyside
Ritter's is a 24-hour diner that specializes in grease. Get a short stack of pancakes and play a tune from the on-table jukebox. Bring cash.

Meat pie
The Pub Chip Shop (address and info)
South Side
Longing to be on the other side of the pond? Try one of the great meat pies from The Pub Chip Shop, a UK-inspired space that offers fish & chips and meats wrapped in pastry.

Pizza slice
Mineo's (address and info)
Squirrel Hill
For a cheese-heavy slice of pizza, nothing is better than Mineo's. Slices are big and the cheese is thick. But then there is always…
Pizza pie
Aiello's (address and info)
Squirrel Hill
… Aiello's. Mineo's and Aiello's are neighbors and are locked in an epic battle for the title of best pizza. While Mineo's has a great slice, Aiello's serves a better complete pie (this is based on science, or something). Down a whole pie -- it won't hurt that bad tomorrow.
Cheesy bread
Caliente Pizza & Draft House (address and info)
Bloomfield
Caliente is one of the only places in town that serves food until 2am every day. EVERY DAY. Cheesy sticks of bread are a great snack and they pair well with the many beers on tap here.
Capicola and cheese
Primanti Bros. (address and info)
Strip District
Pittsburgh's gross and iconic sandwich is the perfect terrible decision. The Strip District Primanti's is open 24 hours. Nothing says regret like a sandwich covered in fries and coleslaw at 4am.

Breakfast buffet
Eat'n Park (address and info)
Various locations
The midnight buffet at local chain giant Eat'n Park is an after-bar wonderland. Biscuits, eggs, bacon -- the gang is all here. All-you-can eat always wins.
Sign up here for our daily Pittsburgh email and be the first to get all the food/drink/fun in the Steel City.
Laura Zorch is a Pittsburgh-based writer who likes Mineo's and Aiello's pizza almost equally.