The 7 Best Donut Shops in Pittsburgh
What is it about fried, hollow dough circles that's so magical? Glazed, frosted, covered in coconut, or covered in ANYTHING, donuts kill the breakfast and snack game on the regular. The Pittsburgh region has a fairly strong donut game, especially when you exit the city limits and venture down windy, country roads and over to reality TV farmsteads. Be the office hero, or life hero, and head to these great donut giants of the 'Burgh.
Beaver Falls
"We don't have any donuts left." If you're not at Oram's early, this is the earful you'll get. Oram's has been in the business for almost 80 years and is known for it's enormous and delectable cinnamon roll donut. It's the size of a human head, with a cinnamon swirl, and no hole in the center. It's the stuff of legends and an absolutely necessary buy if you can make it in time. Set your alarm clock an hour or two ahead.
Sheraden 
Perhaps the most nondescript business of all time, Better-Maid Donuts is housed in what looks like an abandoned building on the side of a winding road. A hand-painted sign touting "Fresh Donuts" is your only clue to what's inside. Better-Maid was closed for a hot second in late 2015 after a van drove straight through the storefront, but even after fixing the shop up, it remains the quintessential Pittsburgh donut experience, from the weird-ass building to the no-nonsense interior. These donuts sell out fast -- so go early or be sad forever.
Aliquippa
Mac's in Beaver County has been around since 1959. This classic shop doesn't just stick to the traditional recipes, however. Sure, you can get a jelly-filled or a glazed, but you can also indulge in artisanal concoctions like a donut with cannoli cream in the center, or a s'mores donut with a roasted marshmallow on top.
Rochester
A rotating donut in the sky welcomes you to DeAngelis donuts in Brighton. Inside, you'll find a great variety of "delightfully different" donuts and a lot of friendly locals. The stars here are the maple iced donuts and the cream-filled long johns. DeAngelis also makes croissant donuts and plenty of options with sprinkles.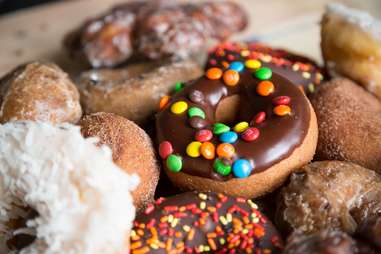 Butler
Freedom Farms is a collective of hunky brothers who farm (and once had a reality show) in Butler County. Not only do these fellows look great baling hay with their shirts off, they also operate a tremendous donut shop that offers both cake and raised donut options. And, I'm just going to leave this here: Donut CSA. Yes, that's right. You can get a donut delivery as part of Freedom Farms' Community Supported Agriculture service. Who needs kale and peppers when you can have a dozen donuts instead?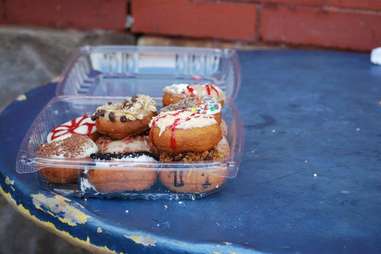 Strip District and Oakland
A psychedelic donut shop whose tagline is "Feed your inner-hippie" pops out on-demand mini donuts with wacky toppings. Despite the hippie-dippy marketing, the owner had decidedly non-hippie stances on homosexuality and politics. But, somehow, the shop remains one of the city's favorites and "funkadelic" mini donuts with Oreo or Nestle Crunch live on. The original started in the Strip but has since been franchised out across the country.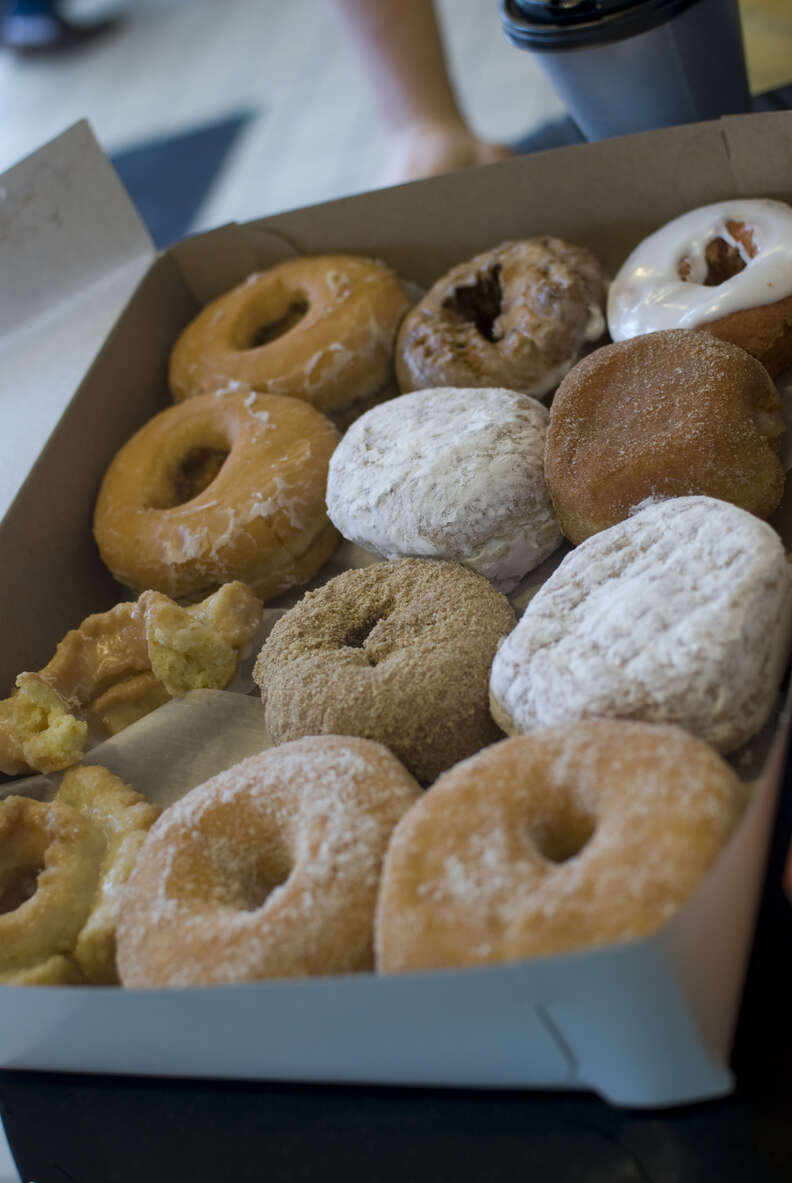 Oakmont
Not a donut-only outpost, but Oakmont Bakery is a well-stocked donut mecca. Maple bacon donuts, "doughsants" (Pittsburgh's take on the cronut), fritters, and the donut-like confection of Polish heritage, packzi -- the gang's all here. Packzi are filled dough made with a hint of grain alcohol and are a true hit for the Eastern European 'Burgh. Sweet fillings from jams to creams are inside these donuts, and they're coated with sugar or glaze.
Love free donuts? Find out where to stock up for this year's National Donut Day on Friday, June 2, 2017.
Sign up here for our daily Pittsburgh email and be the first to get all the food/drink/fun in the Steel City.
Laura Zorch loves donuts more than most things including fitting into pants and heart healthiness. Follow her at @eatpgh for delicious times.