The Thrillist Awards: Pittsburgh's Best New Food & Drink of 2015
COURTESY OF GRAPPERIA (Edited)
Pittsburgh's food renaissance has continued through 2015 with stand-out restaurants and bars from both established chefs and welcome newcomers. Key innovations from the past year include new recipes for artisan dough, a coffee shop/art gallery hybrid, and a cocktail menu made of vintage office supplies. Several spots have emerged from vacant or unused buildings (take that, urban sprawl!), a testament to the city's rebirth and growth. We've honed in on 11 best-of Pittsburgh categories to highlight new additions to the city.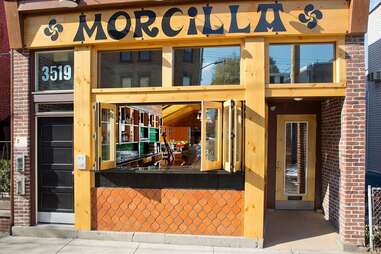 Best new restaurant (overall)
Lawrenceville
Despite opening in the last few weeks of 2015, this highly anticipated Spanish tapas restaurant from James Beard Award-nominated chef Justin Severino (Cure) has wowed diners with its ample selection of cured meats. Aside from the signature charcuterie, the menu offers pintxos (snacks), seafood tapas, sandwiches, family-style dishes, and a twisted churro dessert with mugs of hazelnut chocolate and cinnamon cream.
Best new bar (overall)
Lawrenceville
With its expansive disco ball-adorned dance floor, cheap PBRs, and an in-house pizza shop, this Moose Lodge-turned-bar has quickly won hearts in Lawrenceville. Themed events are hosted regularly from Divas Night to punk shows to the popular "In Bed By Ten" dance party series (for all you dancy party dads out there).
Best new brewery
Homestead
There's something for every beer drinker at Voodoo Brewery's new location, from the hoppy "Good Vibes" to the malty "Big Brown Ale." The spray-painted murals and chalk drawings on the ceiling of this former municipal building are part of the aesthetic charm. Voodoo is just outside the city limits, but it's so close and so good that it's worth the trip across the Homestead Grays Bridge.
Best new beer bar 
Downtown
On the roof of the freshly minted Hotel Monaco, Biergarten's outdoor space was quickly touted as a summertime favorite. The patio's long picnic tables were full all season (when it was sunny, anyway). The Belgian and German beers are the main attraction, of course, but it's hard to ignore the waitstaff walking around with hot pretzels big enough to share with the whole table and people cheering (maturely) over oversized patio games.
Best new cocktail bar 
Downtown
Butcher and the Rye's cocktail program achieved all-star status long ago, but this year's fall/winter menu outdid itself. The 38-cocktail menu is alphabetized and presented in a Bates address book, a sleek vintage relic that appears as if plucked from Don Draper's desk. A few standouts from the menu: "Conqueror's Ruin" with a surprise garam masala syrup; "Joy of Landing," which is the legit version of an apple martini; and "European Songs," a mix of gin and Champagne, chilled with lemon sorbet ice cubes.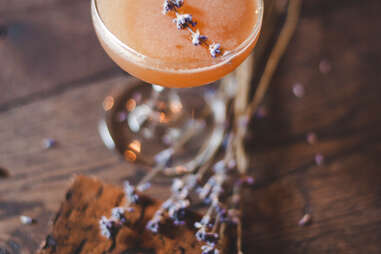 Best new drink
Lawrenceville
Until this year, grappa was tough to find in Pittsburgh, even as an aperitif in Italian restaurants. But Grapperia made the stiff, grape-based liquor more accessible by mixing it into cocktails. The best is a not-too-sweet, not-too-potent drink called "LaVanda," a mix of lavender-infused grappa, green pepper honey, and lemon juice.
Best new pizza 
Bloomfield
The pizza at Bread and Salt is unlike any other in the city. Not only is it the best new pizza in 2015, it might just be the best in Pittsburgh -- period. This Roman-style (raised dough in long, rectangular shapes) gourmet pizza is sold by the pound, measured out based on each customer's order and snipped into slices with a large pair of scissors. No matter the toppings: from the more traditional to the unusual, it's the airy dough that makes this slice so otherworldly.
Best new barbecue joint 
Brookline
At Smoq Pitt, meats are smoked for more than 20 hours, sealing in an authentic smoky flavor and guaranteeing tenderness. The Sam & Erna sandwich, a mix of pulled pork and brisket, became a classic this year. The punchy sauces are made in-house from meat stock, but the meats don't need the dressing to be delicious; they stand on their own.
Best new first date spot 
Bloomfield
Equal parts floral shop, coffee bar, and art gallery, this bright, relaxed new spot in Bloomfield embraces the right vibe for a first date. The high-quality coffee is sourced from Heart Roasters in Portland, OR, and the ambiance is made for talking, not hiding behind laptop screens. But if the first date doesn't go well, there are plenty of opportunities for #latteart Instagrams to break the awkward silence.
Best new taco
Downtown
Täkō somehow achieves a surf shack vibe in the heart of the city's Cultural District. The namesake is the Täkō taco -- for you sushi people, you'll recognize this as grilled octopus. If that's a little too adventurous for your palate, there are plenty of other margarita-friendly options, like Korean-style Waygu short rib, roasted mushroom, and grilled chicken. Definitely try the Yellow Jacket, a tequila and liquer drink made with lemon and charred yellow pepper.
Best new brunch 
Downtown
There's so much to love on The Commoner's menu. Let's start with the expansive DIY Bloody Mary bar with options for vodka, plus all the fixings -- pickled veggies, hot sauces, hard-boiled eggs, mini grilled cheese sandwiches, sausages, olives, and celery. Then, there's the pub toast: a dense Irish soda bread French toast topped with chantilly cream and whiskey barrel-aged maple syrup. Talk about a decadent brunch.
Sign up here for our daily Pittsburgh email and be the first to get all the food/drink/fun in the Steel City.

Rossilynne Culgan is a Pittsburgh native who hopes her future home will look like the interior of 4121 Main, preferably including a Spirit Duette espresso machine. Follow her #HouseGoals: @rossilynne.