You'd expect a town with so many great burgers (seriously, there are so many!), to have a great fast, casual beef-slinger like Burgerville. But what do you really know about this beloved PDX mainstay? Do you know where the first one opened? Or what's on the secret menu? No? Well here're 11 kinda mind-blowing things you didn't know about Burgerville. Until now...

1. It all started with a dairy...
Called Holland Creamery Co., which was opened by a Dutch immigrant named Jacob Propstra in 1922, and inspired his grandson George to open the first Burgerville 44 years later.
2. ... In Washington?!
Yes, the original location was in Vancouver, but hey... at least it wasn't someplace worse. Like Seattle.
3. The CEO is a serious music geek
Dude makes his own guitars, keeps one (and an amp) in his office, and even brings in bands to play live shows at Burgerville locations, which is a little strange considering that, except for all the signage and wayyy better food, they basically look like a McDonald's.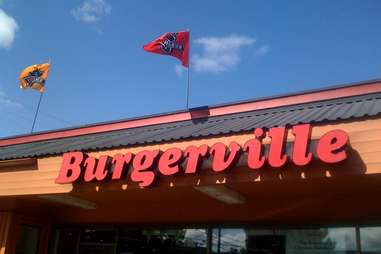 4. It used to be even cheaper!
When they opened in the '60s, their original burger was 19 cents, and their cheeseburger was 29. Today, sadly, they're $1.49 and $1.69, respectively.
5. Your food was made with wind
Burgerville runs its restaurants and headquarters on 100% wind power, making it the largest chain in America to do so.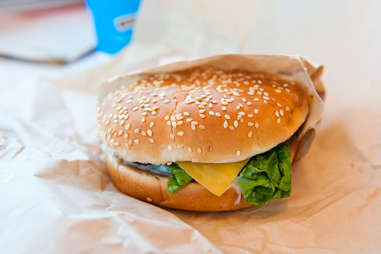 6. Their menu is seasonal
Fall is for pumpkin milkshakes and sweet potato fries, Winter brings chocolate and Oregon hazelnut milkshakes, Spring is tempura-fried asparagus, and Summer is for Walla Walla onion rings.
7. Their secret menu has... well, everything
Whether it's an all-banana milkshake, or a burger with every single topping available (that's five different cheeses, eight different sauces, and onions, tomatoes & pickles galore), if they have the ingredients to make it, they'll do it. Just please, please, don't put whipped cream on your burger, okay?

8. Their spicy Anasazi burger is vegan?!
Finally! A fast-food place your animal-averse friends can eat at... as long as they skip the Pepper Jack cheese & chipotle mayonnaise.
9. Their 40th location opens in May
At the PDX airport, so you can bring a half-pound colossal burger with you when you fly to... well, anywhere further than Albany, actually.
10. Their ingredients are like, so locavore
All burgers are made with antibiotic-free natural beef, and they source the majority of their food from farms in a 400-mile radius from Portland/Vancouver.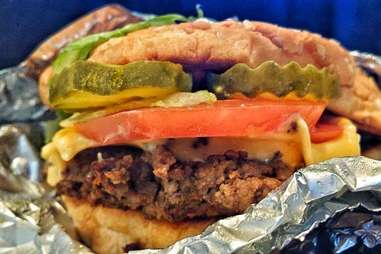 11. It's better than Five Guys
That milkshake-less, Virginia-based interloper, may have 12 locations in Oregon, but no self-respecting person from Portland would ever go to one. Mostly 'cause the closest one is way out in, like, Beaverton. And don't get us started on Seattle's Dick's.
Kat Vetrano is based in Portland, and right now you can find her begging Burgerville to make her a Funfetti milkshake. Or on Twitter.