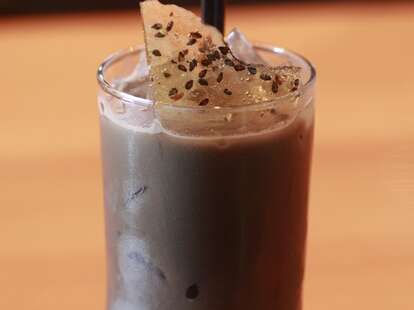 And now, PDX's finest food and drink ballers dish on the year's biggest surprises, not including the time the party backfired and sent Aunt Edna to the hospital
Brandon Wise, Bar Manager, Imperial/Portland Penny Diner "I think we saw the return of swanky cocktail joints to having fun. We all remembered that bars are about having a good time, and we've taken a giant leap forward for Portland food and drink. I love that I can go to Hale Pele or Rum Club and order a drink in a coconut that's on fire. That's what it's all about right there, not the mustachioed mixologist in a vest and fedora combo with his nose in the air.
Greg Denton & Gabrielle Quiñónez, Executive Chefs/Owners, Ox"Maybe it should come as no surprise, but we were pretty amazed by how well organized and executed Feast was. It was an incredible success, and I'm not sure who had more fun, the chefs who participated, or the guests who attended the events.
Ben Edmunds, Brewmaster, Breakside Brewery"There are a few restaurants that've been around for awhile that are putting out amazing food and have some of the best service in town. Yet hardly anyone ever seems to talk about [them] any more. The hype has moved on. I've had some great meals at Clarklewis, Wildwood, and Meriwether's, for example, and I'm surprised that, for a city that is so food-centric, spots like that don't get as much love. I'm also surprised by how commonplace menus that only list ingredients -- with no indication of preparation -- have become. My friends in San Francisco disparagingly call it 'food p*rn menu writing', but we're so used to it here. Here we see 'pork skin ragu, chili paste, rice cakes, pickled fennel', and no one bats an eye. (That dish is awesome, by the way.) I'm also surprised that anyone in this town continues to open restaurants or bars with an '&' in the name.
Trent Pierce, Executive Chef/Owner, Wafu/Roe"This year, more than any other, I have noticed a big change in the Portland diner becoming much more open minded and adventurous. A couple years ago pork liver and tongue were a tough sell. Now you're not legitimate if you don't have them on your menu.
Justin Woodward, Executive Chef, Castagna"My biggest surprise of this year is how saturated the market is getting in PDX with essentially the same concepts: mid-scale American dining, usually involving pork belly, and some kind of grilled something. It seems like some of these menus lack passion, or at least the clear voice of a chef.
Tommy Habetz, Chef/Co-owner, Bunk Sandwiches/Trigger"That people are still opening up sandwich shops. No, just kidding. I'm also amazed that Gregory Gourdet of Departure hasn't at least torn a muscle yet or that he hasn't gotten tired of making us all look so bad.
Gregory Gourdet, Executive Chef, Departure"I wasn't too surprised by much. Portland had a great year of getting put on the map and amazing national attention, but we just mostly grooved with doing what we do. The seasoned all-stars of the food and drink world stayed front and center and small and eclectic restaurants continued to get undying public support. I was blown away however, season after season, at the amazing product I saw at markets, farms, and at the coast. I have never seen so much amazing salmon, live sea urchin, endless sea vegetables, cherries, strawberries, mountain rose apples, porcini, matsutake, huckleberries, Oregon olive oil, and fresh wasabi.
Chris Angelus, Founder, Portland Food Adventures"How well the grand vision of Feast Portland was pulled off seemingly flawlessly for its first time out of the box. Subsequently, how much I could eat in three days. Also how quickly and emphatically Jacobsen Salt was sprinkled all over the city. What a startup story.
Mike Thelin, Co-Founder, Feast Portland"Everyone knew that when Greg Denton and Gabi Quiñónez finally did their own thing, that it would be great. But who could have predicted the quick and overwhelming success of Ox? I can't remember a restaurant that has had such immediate impact, and demonstrated that Portlanders are willing to spend money if the concept is right. It's a real statement -- not just by Greg and Gabi/ChefStable -- but about what Portlanders are willing to support. Sort of a game-changer."