Euro comfort food meets local history in Ladd Carriage House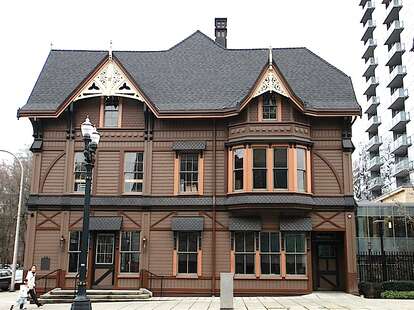 To make up for its false promise of being owned by Olivia from The Cosby Show and Betty White, Raven & Rose is creating high-caliber Euro comfort food in downtown's Ladd Carriage House, a building on the National Register of Historic Places that was once home to a founding Portlander unfortunately not named Cheryl.
The first floor's reserved for upscale dining/upscale watching the cooks toil over a wood-fired oven, while you sit at tables lit by antique gas lamps or obnoxiously quote Poe to historical society lushes at the bar until they ask you to come back nevermore
Upstairs's Rookery Bar is a mammoth lounge area with vaulted ceilings, a pool table, a fireside flatscreen, a library nook, and a locked liquor cabinet full of aged scotch
The ever-changing menu features wood-fired flatbread & mussels in addition to English-style entrees like grilled sturgeon, this rotisserie chicken w/ cabbage colcannon, and Rabbit Two Ways -- although given their rate of reproduction, you can bet its probably had a three-way at some point, too. And a 14-way, back in college
Like Naked Gun, the cocktail menu's fully loaded with classics like the above Saratoga w/ brandy & rye, plus the Buck n Break w/ Remy & absinthe, the Anejo Rum & cognac Milk Punch, and other originals that'll make you exclaim "that's so Raven! And Rose!!"