Packing enough delicious shoots to lure in most of the world's remaining panda population, Bamboo Thai has sprouted up in gigantic digs downtown, where they'll serve high-end Northern Thai and Laotian eats in a swank, candlelit setting

There's bamboo all over this joint, and it serves the dual purpose of being pretty and splitting four large areas: a windowside seating zone, the huge bar, a family-style dining nook, and an intimate, art-filled corner spot for private dining

Lunch and dinner entrees use farm-fresh ingredients and run the gamut from pineapple fried rice stuffed into its eponymous fruit, this Pad Prik King w/ bell peppers and red curry paste, and Kao Mun Gal w/ steamed chicken & coconut rice, or what his buddies call Jerry when he wears his sexy bikini in Hawaii

The two-page cocktail menu features the pictured Samurai Showdown w/ Hennessy & Grand Marnier (the samurais are from popular rap songs, apparently), and the whipped cream-topped Geisha A Go Go with cane rum

Happy hour goes down twice daily -- 3-6p & 9p-close -- and features crazy-discounted grub like $2 wontons, $3.50 pad see ew, and yum woon sen pork at a price that won't make you want to bamboo shoot yourself ($4).
Recommended Video
This Blackberry Cocktail Is the Best Case for Making Your Own Jam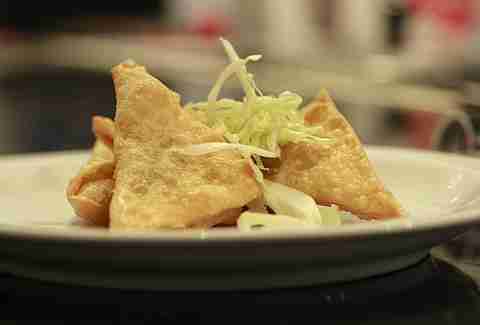 Previous Venue
Next Venue
Venue Description
1. Bamboo Thai
108 SW Pine St, Portland, OR 97204
At Bamboo Thai, you can enjoy traditional Thai stir-fry surrounded by decor that's dominated by, you guessed it, bamboo. There's also a full bar with custom cocktails, Thai and domestic beer and an array of fine wines.