Super easy stuff from Sunshine Tavern's Jun Rubles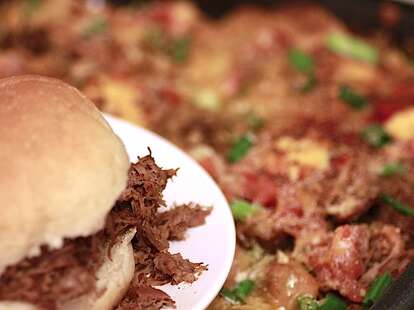 Add a little pig shoulder and belly to your pigskin with this Super Bowl recipe courtesy of Sunshine Tavern sous chef Jun Robles, who we got to break down just how easy it is to serve your party a bucket of shredded hog you can plop down on nachos or sliders.Peep the vitals below, then hit the link at the bottom to watch these things get cooked up in photo-gasmic glory.YOU'LL NEED:4lb pork shoulder cut into large chunks6 strips of your favorite bacon, diced6 cloves garlic, smashed4 ancho chilis2tbsp cumin, ground 2tbsp corriander, ground3tbsp chili powderEnough chicken stock to submerge all of itYOU'LL NEED TO:
Saute bacon, then dice it. Save the grease.
Sear pork chunks in bacon fat.
Dump all ingredients in a pot, submerge in chicken stock.
Cover and simmer at low heat for 120mins, or until tender enough to pull apart with a fork. Then go screw around for a while.
Strain the pork, pull it, and pile it high on nachos, sliders, or whatever else you like.