The Pearl's rustic restaurant in a gutted-out cottage home has kept its craft cocktail program, but totally hit reset on its food menu to focus on house-made sausages, roasted meats, and deep-fried deliciousness. Hopefully you have some extra lives.

Starters and sides include charred Brussels sprouts and creamed kale, and salad in the form of this gigantic thing with vegetables like chicken and mayo.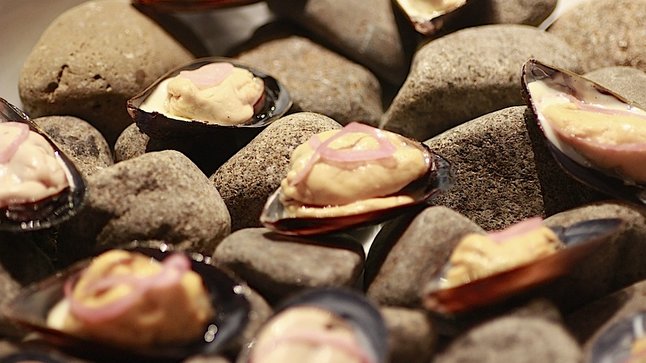 Smaller bites that are actually pretty big include these smoked mussels, which are served on a steaming mound of stones. Anyone who doesn't think this is awesome can go kick rocks. Other rocks.

The huge, house-made sausage program includes this spicy lamb, a Hunter's-style link w/ two bags of grass, 75-five pellets of mescaline, five sheets of high-powered blotter acid, a salt shaker half-full of cocaine lamb & sage, hot dogs, and chorizo.

Large meat cuts include the poached chicken breast w/ tarragon mustard (up at the top of the page) and roast pork leg w/ green-apple relish, but be sure to save room for these jojos, which are battered and fried in enough duck fat to make your heart press pause.