You could wander all over Portland and... ugh, Beaverton like you do when you're looking for great dim sum, or try your luck in Oldtown/Chinatown, but if you really want to find PDX's best Asian noodle dishes, you should really just check out our list of Stumptown's 10 essential spots, here...
Chinatown
From the homeless camp around the corner to the roasted ducks drying in the yellowing window, something about this place feels right.
What you're getting: The $5 wonton and dumpling soups are certainly a great bang for your buck, especially considering they aren't being served out of a truck and you can sit down and have tea, but the Super Bowls are where it's at. Imagine the largest bowl you can think of and add a bit, then throw in rich broth, multiple pork preparations, roast duck, and fried shrimp. You might be spending more money in the short term, but this bowl could last another three lunches.
Division
Since opening, Sen Yai has been turning out traditional Thai dishes with complex flavors that are delicious while challenging to the typical American palate. Oh, and their breakfast is one of the most underrated in town.
What you're getting: Kuaytiaw khua kai, a crispy noodle hailing from the streets of Bangkok. They're tossed with cuttlefish, eggs, and your choice of protein before being cooked in lard.
Downtown
Micah Camden's empire is all about creating a dish, executing it well, and selling it for a decent price in a good environment. His foray into ramen is no different. This place has been the best place to get ramen in Downtown since he gave it away last year.
What you're getting: If you're okay with a little heat don't miss the spicy miso ramen and make sure to get an order of the okonomiyaki tots!
Downtown
Sure it's one of our favorite places to head after a night at the bar, but Luc Lac has so much more going for it (like their pho). What really sets this place apart from most noodle houses is their fantastic bar program.
What you're getting: The vermicelli bowl of your choice and a couple cocktails.
Central Eastside
The big news here is that they're opening up a new ramen-centric spot down on Water Ave. If the quality stays the same we can expect another hit.
What you're getting:While they might have one of our all-time favorite burgers, this time go with the perfectly thick udon noodles and add whatever sounds good. (All of it.)
Southeast Portland
Let's get a few things out of the way first: this place is not for the faint of heart. Their namesake dish is an intensely spicy broth filled with gelatinous and often boney pork bits and crimson cubes of coagulated blood. Seriously, if you think too much about what you're eating, you'll never want pho again.
What you're getting: The Bún bò Huế with complimentary ice tea.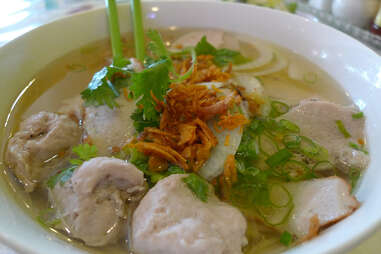 82nd
Once every chef's worst kept secret, Ha & VL has quietly usurped Portland's soup mantle. Now their daily specials often sell out and hungry people grumble about having to settle for their almost equally delicious banh mis. So if you're going in around lunchtime, make sure to call ahead.
What you're getting: Soup du jour.
Broadway
No noodle list would be complete without mention of Frank's. I mean, c'mon, Guy Fieri went there! More important, though, is the family-run noodle house's quick and friendly service and phenomenal homemade noodles.
What you're getting: Go for the stir-fried noodles, we're partial to the squid.
Southeast Portland
PaaDee isn't breaking any new ground (although their spinoff pop-up Langbaan definitely is), the food here mostly consists of the typical Thai dishes, but they're served up with serious care. It's comfort food at its best.
What you're getting: Pad kee mao, also known as drunken noodles.
Southeast Portland
Listen, everyone has a favorite pho spot, and it should be this one. Not only does the broth come out with the perfect flavor and aroma, but it also comes out at the appropriate temperature every single time. You can't beat that.
What you're getting: The #4: tái, chín, nạm, gân, sách, aka, eye of round steak, well-done brisket, well-done flank, soft tendon, and honeycomb tripe.
Sign up here for our daily PDX email and be the first to get all the food/drink/fun Portland has to offer.