The best bar eats in Portland. Period.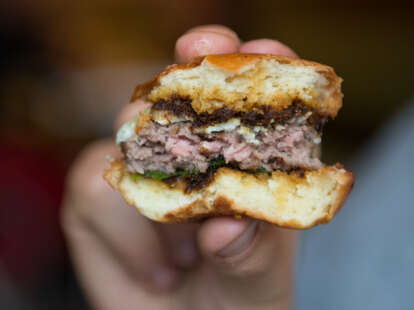 The best thing about the OLCC is that... um, they're not quite as terrible as the Washington Liquor Control Board? OK, the second best thing about 'em is that their rules pretty much guarantee you'll have something to eat until closing time, while our list of PDX's best bar snacks pretty much guarantees anything you eat from these places around closing time will be delicious.
Best Blue Collar Burger: Slow Sliders
Slow Bar, South Eastside Industrial
By now, everyone knows about the Slow Burger. Reasonably priced and unreasonably large and tasty, this homage to the perfect bar burger is a blue collar go-to. But did you know Slow Bar also has sliders? Sure they're smaller and don't come with an onion ring, but they're almost as delicious, and cheaper!
Best Traditional Sandwich: Italian Cured Meats Sandwich
Bunk Bar, South Eastside Industrial
Cult fave Bunk turns out a simple sandwich with cured meats and pickled peppers that are so good they could probably use 'em at delis in New York. They also go perfectly with what you usually drink at BB: a pitcher or two, which they could probably also use in New York right now.
Best Vegan Bar Food: Brussels Sprouts
Swift Lounge, Northeast
This spot's mostly known for enormous mason jars of awesome (habanero infused tequila cocktails, etc.), but should probably also be known for delicious eats like our favorite: the salty, tangy Brussels sprouts that make you think they've been marinated in bacon fat. But since the dish is technically Vegan that's not possible... is it?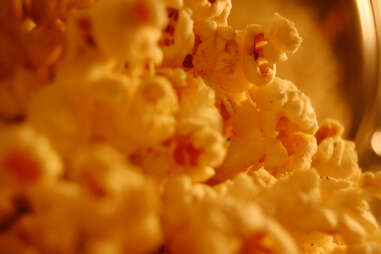 Best Free Snack: Popcorn at Yur's
Yur's, Northwest
Sure, you can probably get fancier popcorn somewhere else, but the buttery, movie theater-style version they offer in unlimited amounts at this dive-y sports hang has something special going for it: it's free!
Best Fried Combo: Chicken and jojos
Reel M Inn, Clinton/Division
We just went over this whole jojos thing, so there's not much to say except when you hit what has long been considered one of the best dive bars in Portland for some fried poultry/potatoes, do yourself a favor and get a side of ranch Gresham gravy.
Best Thing To Get When Your Girlfriend Makes You Go Someplace Nice: St. Jack's Burger
St. Jack, Clinton/Division
Portland's worst kept secret (other than that whole Dave Chapelle thing a few years back) is now on the menu over at St. Jack, so go ahead and splurge on this caramelized onions, dijon creme fraiche & Gruyere-topped beauty.