Rich with history and just steps away from our sparkling, cherry blossom-dotted waterfront, you wouldn't expect Old Town/Chinatown to turn into a weekend destination for Britneys and Chads, who wander between bad decision bars and pound vodka-crans. But it does, and it isn't much better the rest of the week, unless you check out our definitive list of OT/CT places you'll actually want to go:
For Lunch Away From The Office: Mi Mero Mole
If your office is in Old Town, the Pearl, or anywhere Downtown, Mi Mero Mole should be in your regular lunch rotation: the tacos and burritos are stuffed with slow-cooked guisados, a Mexico City-style stew in every flavor (read: meat) imaginable. Try the lamb mole negro, which is rich and chocolatey, or the hard-boiled egg-stuffed meatballs stewed in a spicy chipotle sauce.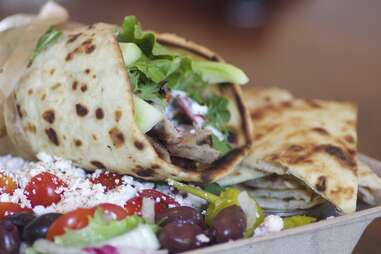 For A Quick Bite On Your Way To A Meeting: Angelina's Greek Cuizina
Once just a lowly (yet popular) gyro cart at the Saturday Market, Angelina's is now the Old Town's only lunch spot where you can purchase a Meat Boat and/or Meat Yacht, which are really just a mountain of lamb or chicken piled on a tiny, tangy feta-specked Greek salad. Pro tip: always order pita on the side, or go with a gyro -- they're slapped on the grill first for extra char.
For Your After-Work Date: Remedy Wine Bar
Their "Daily Antidote" (happy hour with a cooler name) runs until 6pm every day, so you can impress her without depressing your wallet, plus their menu includes plenty of dishes for sharing, like a French Shepard's Pie, meat plates, and "Cheezy bits", aka, the parts of the date you hope she'll forget.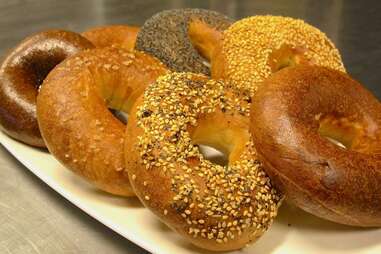 For New York-Style Breakfast: Bowery Bagels
Their walls may be plastered with realistic subway signs, but fear not, there won't be any fiddle players or bucket drummers at this grab-and-go spot on NW Broadway, just classic, boiled bagels in classic flavors, like "Everything", that're elevated with the addition of subtle touches like fennel seeds. They've also got original stuff like their Bom.com: a schmear made of caramelized onions and bacon that's a can't-miss.
For Dumpling Cravings: Chen's Good Taste Restaurant
If you're walking too fast through the Chinatown section of Old Town, you might just miss this place, but once inside, you'll find sweet-smelling BBQ duck and other meats hanging near the cash register, all of which you can get to-go or as part of your meal. If you're smart though, you'll order their delicate dumplings, which are stuffed with spiced meat. You are smart, aren't you?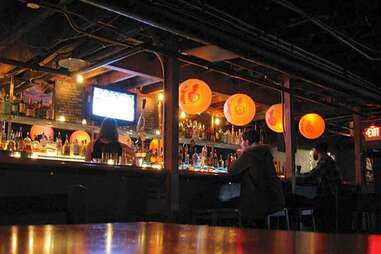 For End Of The Week Annihilation: Shanghai Tunnel
You've had the week (or day) from hell, and your plan is to hole up in the dark and drink the memory of it away: Shanghai is your spot. Drinks are strong and cheap ($2 dollar wells during happy hour), and you'll want to order their Zapata for eating -- it's house-made chips with both chew and crunch, dipped in hot queso.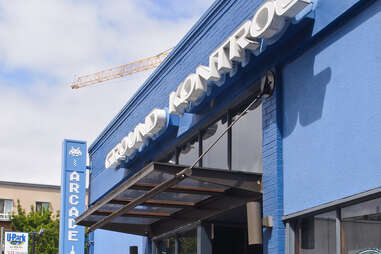 For Your Inner Gamer: Ground Kontrol
There's an abundance of (often bro-tastic) places around here to whet your whistle, but only one of these places involves Mortal Kombat, Pac-Man, and classic NBA Jam. So grab a Pabst from the bar and head upstairs to the all-pinball floor, or, head to the back corner to challenge Glen to a mean game of DDR. Suck it, Glen.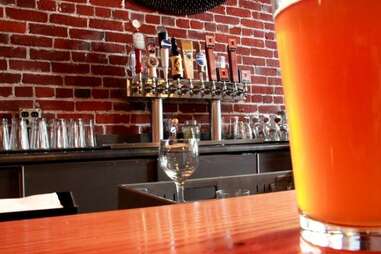 For Providing Essential Beverages: Pints Brewing Co.
This place is the Superman of coffee houses: by day, they're a bespectacled, coffee- (from Portland Roasting) sipping intellectual, and by night they're a beer-pounding party animal who happens to like really good craft beer.
You can trust freelancer Kat Vetrano's Old Town recommendations because the location of her day job has given her plenty of opportunity/reasons to do all of the above, personally. You can find her pining away for Shanghai's Zapata on Twitter @kat707.