The old argument that "Portland doesn't have good barbecue" has been taken out back, put down, smoked for 12 hours, and served with some collard greens and cornbread. True, some of our places still can't seem to figure out how to slow-grill brisket, but many others have mastered the art of the smoker. Here are the 11 best spots to grab BBQ in Portland.

Newberg
The pitmaster at this latest addition to the (somewhat) local barbecue scene went to Texas to learn his craft, but happily slings several styles of 'cue. Highlights include smoked wings with a sweet glaze, as well as ribs that fall of the bone. Also check out the exciting range of sauces, including an Asian-inspired option made with fish sauce that practically screams Portland-style barbecue.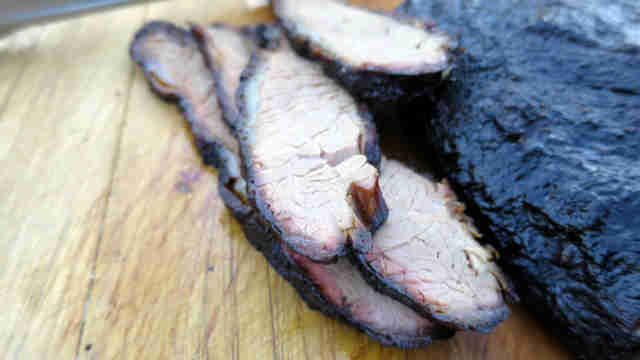 Lake Oswego
Much like Storrs out in Newburg, you might not expect a drive to Lake Oswego to end in decent barbecue. But this place manages to deliver some seriously good down-home cookin', especially when it comes to sides, which is where Pine Shed does the most damage to your middle.
Arbor Lodge
OK, this one is bending the rules a bit -- The Coop actually serves rotisserie meats rather than traditional BBQ. But that doesn't stop this hip, rustic Arbor Lodge space from serving tender brisket, pork, and chicken. When the meats are all slow-cooked for eight hours with a dry rub, then served with sides of smoky BBQ sauce, you won't care much that it wasn't cooked on a smoker. Go here for dinner for the full meat platters, or lunch for sandwiches, like the brisket Philly cheesesteak and pulled pork bánh mì sliders.
Eliot
Sure, the platters at this food cart turned brick-and-mortar are fantastic ways to sample the menu, but don't you want to try the best BBQ sandwiches in the city? The pork shoulder topped our list of best sandwiches in Portland, as befits the restaurant's name, but there's also the smoked fried chicken. Yes, it's smoked, and fried. The lamb is the only thing that isn't as memorable, but that doesn't matter when everything else is as good as it is here.
Sellwood
Sellwood is an area that's often overlooked by younger folk, and that means they're missing out when it comes to Reverend's BBQ. The Carolina-style chopped pork shoulder is a star here, and the deviled eggs with burnt-end brisket might be the best in town. But it's the griddled polenta with creamed corn and tasso ham that is truly revelatory; that alone is worth the visit to this part of town.
Alphabet
In this unassuming little spot up on NW 21st (thus the name), BJ Smith is making some of the best barbecue in the city. If Smokehouse were the only good spot in town, it would still demolish any argument that we don't have good barbecue. From the ribs to brisket to the various sauces and sides, Smokehouse will demonstrate to even the most discerning BBQ aficionados what our city is capable of.
Buckman
Smokehouse Tavern is basically the same as its progenitor, Smokehouse 21, but that's a very good thing. The ribs are the most tender you've ever had, the brisket burnt ends sell out regularly, and the collards are incredible. Get here after 9pm for one of the nine burgers for $9, made with the scraps of burnt ends. Add the best cocktail menu at any BBQ spot, designed by the inimitable Mike Shea of Rum Club, and it's pretty hard to beat Smokehouse Tavern.
King
Why is it that the best BBQ always comes from food carts? The eponymous Matt continued that trend when he opened his truck in spring of 2015 after traveling the southern states, "researching" BBQ. Now, the cart puts out some of the best brisket and ribs in NE, and serves up unorthodox products, too, like brisket tacos. It's the best of all worlds. Matt sells out of his meats most days, so get there early.
Foster-Powell
This food cart in sleepy Foster-Powell is named for a bird most known as a cartoon character, and has a large painting of Chief Wiggum on the side of it, none of which bodes well. Good thing the brisket, which dominates the menu here, is as great as it is. Slow-roasted for 12-14 hours and chopped up for sandwiches and platters, it's the best (only) brisket east of Cesar Chavez. The food cart pod is rare in that it has a covered area that also serves beer, so give a generous pour of that BBQ sauce over a brisket sandwich and grab an IPA.
Vancouver
It's located in a Shell station and not even in Oregon. Yes, Daddy D's may be in Vancouver, WA, but it's worth crossing the river to our northern neighbor for the meat smoked by Daddy D himself. It's probably due to being a Louisiana native that his BBQ shines.
Killingsworth
Rodney Muirhead gets up early every day to make sure his meat's smoking at the right temperature, ensuring a consistent quality lacking in many other local barbecue establishments. His ribs and brisket are so close to perfect it's no surprise that it's a town favorite. Unfortunately this means it comes with many of the downfalls of similarly adored local restaurants. If you can stand waiting and busy service, you won't be disappointed by the food.
Downtown
This place does a few things, but you really only need to know about one: pulled pork. Slightly smoky but incredibly moist, especially if you add one of the tangy sauces. Not only is the dish tasty, but the refined nature of this Downtown cart also demonstrates the simplistic attention to detail that has led many of its peers to brick-and-mortars.
Sign up here for our daily PDX email and be the first to get all the food/drink/fun Portland has to offer.
Alex Frane is a Portland native who still loves his city. He writes about its food, drink, and bar culture. Follow him: @franiacdrinks.