Portland has become so associated with brunch culture that it's kinda become a cliche at this point. Every neighborhood in town not only has a dedicated spot for the late morning/early afternoon meal, but it generally has one that's worth going to again and again, even when it means waiting in line for 30 minutes (which really isn't that long). In order to make the first decision of every weekend earlier, we've narrowed the list down to the best brunch spots in 17 neighborhoods. As far as what to order, that's still on you.
Pearl District
Måurice
A little piece of rural Europe in Portland
The chic hole-in-wall Måurice toes the line of brunch and lunch, even calling itself a lunchonette. But items like the quiche with greens or lefse with gravlax, plus the plethora of gorgeous pastries, secure it safely as both. The whole affair radiates a European charm felt rarely in the city, especially when the Franco-Scandinavian treats are followed by a stimulating glass of vermouth.
Alameda
Verdigris
Bucolically minded French bistro
Stepping into Verdigris is like walking into the kitchen of a house set in the French countryside… that just happens to utilize a lot of Northwestern ingredients when cooking. Brunch is only served on the weekend, and is well worth a trip for dishes like the 60 minute eggs with Smithfield ham, duck fat hash browns, and brown butter hollandaise, as well as the Dungeness crab benedict. Those looking for something a little simpler will be happy with a bacon scramble or two eggs any style with brioche and potatoes. And it wouldn't be a properly fancy Portland brunch without a ½ dozen oysters to start.
Richmond
Tasty n Daughters
The pioneer of Portland brunch in fresh new digs
Originally Tasty n Sons before its owners had daughters and moved the restaurant to its new vintage, brick-lined space on Division, Tasty n Daughters still serves up a plethora of worldly dishes, mostly drawn from Meditteranean influences like shakshuka and Turkish pizza, as well as New York omelettes and reubens, Burmese stews, and a big, rich Dutch baby. Just as before, it's best to go as a group, order a number of plates, and share the wealth.
Trinket
Your intimate, neighborhood brunch cafe
Trinket, a warm, welcoming cafe doesn't do anything too out of the ordinary for brunch, but everything is made with confident aplomb. The modestly sized menu comes from owner Gina Helvie's family recipes, and standouts include the duck eggs benedict and the huevos al pastor. Best, Trinket runs brunch through the whole week and boasts a full bar, perfect for Sunday (or Monday) morning Bloodys.
Sunderland
Salty's at the Columbia
Old school brunch buffet with an unbeatable view
Salty's doesn't have a lot of competition in the Sunderland area. It sits near the airport right on the Columbia River and boasts both gorgeous views and old-school sensibilities, with white tablecloths and a traditional Northwestern brunch buffet, complete with a carving station, seafood bar, and made-to-order crepes and omelettes. It may not bring in the hipper crowds that other places do, especially given its location, but the view alone is worth the trip.
Mississippi
Radar
Family owned brunch restaurant with a European touch
Tucked away on the busy Mississippi Avenue, the shotgun dining room at Radar can be easily overlooked. But those in the know make regular trips for the long menu of comforting brunch food, playful brunch cocktails, and friendly service, especially when husband and wife owners Jonathan Berube and Lily Tollefsen are around. The menu offers classic Northwestern fare with a Scandinavian touch, like the potato cakes topped with applesauce and creme fraîche or smoked fish hash. It's also one of the few spots in town for a full English breakfast, complete with black pudding, baked beans, and tomato.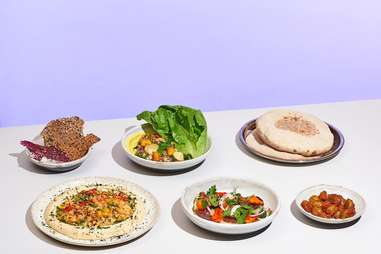 Kerns
Tusk
Bright and colorful dishes in a light and cheery venue
The array of Mediterranean brunch dishes served every weekend at Tusk are as colorful and photogenic as the space itself. Keeping with popular trends, the brunch menu here is designed to be shared amongst friends, with playful small dishes made with hyper-local, hyper-seasonal ingredients and Meditteranean flair. Dishes lean towards the lighter, brighter, and fresher side, with fewer examples of eggs and bacon (though those are there) and more instances of grain bowls, fruits, and fresh vegetables.
Canard
Decadent French-Oregon bistro with really good wine
One of the youngest spots in town for brunch, Canard, from Portland luminary chef Gabriel Rucker, opened with a bang. The Parisian-vibing café is open all day long, making it an excellent stop for happy hour or dinner, but the brunch menu is where it truly shines. The famous duck stack really is worth the hype -- duck fat buttermilk pancakes covered in duck sausage gravy and runny duck eggs, it's an indulgent way to start the day, especially when paired with one of the stunning French wines offered by the glass and bottle.
Pambiche
Cuban breakfast spot that's always a party
A Portland brunch mainstay, Pambiche may have lost its iconic colorful paint job (now a just drab beige wall), but its incredible array of Cuban dishes is as stellar as ever. Not only are the plates of plantains, black beans, croquettas, ham, and eggs delicious on their own right, they were some of the first to break up the once-homogenous nature of Portland brunch. Bright exterior walls or no, Pambiche is still a must-try for anyone living here or visiting the city.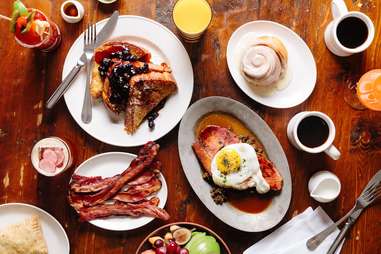 Downtown
Imperial
Boisterous, grilled fired brunch
Chef Vitaly Paley helped to define Northwest dining, and while restaurants like Headwaters and Paley's Place tend to be a bit more reserved with their menus, Imperial's bombastic brunch menu is anything but. The busy, brick-walled steakhouse and grill goes all out on weekends with multiple scrambles and omelettes, grilled hotcakes and thick French toast, some of the city's best fried chicken, and the ubiquitous but welcome oysters on the half-shell, the essential way to start a Portland brunch. Those with little to do the rest of the day will find a full cocktail list, including some excellent Bloody Marys and mimosas.
Bullard
Texan meets Oregonian brunch hotspot
Chef Doug Adams' Bullard was a long time coming, but well worth the wait, especially after it added a weekend brunch option. The menu isn't large, but it is satisfying, with options for savory dishes like a succulent fried chicken sandwich or a spread of breakfast tacos made with scrambled eggs, cheddar, avocado, and your choice of meat and vegetarian fillings. Sweeter choices include a simple-but-delicious stack of golden pancakes with butter and syrup and a brioche pull-apart with fruit.
Sunnyside
Hazel Room
Adorable, Victorian tea house and meaty brunch spot
A delightful, cozy café housed in an old Victorian home, The Hazel Room serves brunch every day of the week, save for Wednesday. There are the usual sort of egg and potato breakfast options, but the real stars are the stacked sandwiches, especially the aptly named Tallboy, a biscuit sandwich stacked with fried eggs, gravy, and three types of pork. While guests can easily find a mimosa and Bloody Mary, the Hazel Room specializes in tea-based drinks, lattes, as well as creative hot and iced tea cocktails.
Foster-Powell
Off the Griddle
The "You might not notice it's vegan" vegan Cafe
For a city once so serious about its veganism, there are surprisingly few fully vegan brunch spots. There is Off the Griddle though, a cafe that serves all the usual suspects like breakfast burritos, benedicts, chicken and waffles, and hashes, all without eggs, cheese, or meat. A good portion of items are gluten free too, just to go "full Portland." However, everything is made well enough that even the most consummate of carnivores would have a hard time criticizing the place.
Montavilla
Ya Hala
Family-owned Lebanese gem
Oddly closed on Sundays, the long standing Lebanese restaurant Ya Hala offers its brunch menu every other day of the week. A nice departure from the more "American" style brunch offerings around town, Ya Hala's menu features dishes like Shakshuka, a Lebanese country breakfast with lamb bacon, soujouk (a type of sausage), and potato-mint hash, as well as turmeric and anise coffee cake and a traditional Lebanese breakfast plate. A popular spot for Montavilla residents, it's well worth going around Mt Tabor for a visit.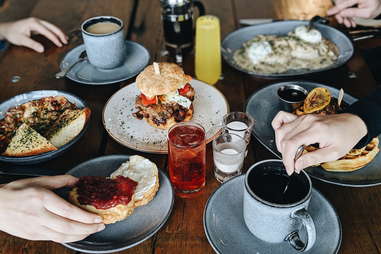 Buckman
Stacked Sandwich Shop
Italian-spiced sandwich shop with a killer weekend brunch
Recently named one of the best sandwich shops in America, Stacked Sandwich Shop makes every ingredient in house, save for the bread. This extends to its weekend brunch menu, which sees sandwiches joined by a full brunch menu. Classic items like a poached egg and roasted vegetables, a massive and fluffy cinnamon roll, and fried chicken and waffles are all solid, but the Italian breakfast is the sleeper hit. A piece of owner and chef Gabriel Pascuzzi's upbringing, it's two eggs baked in a rich marinara sauce with chunks of meatballs and a massive slice of crispy garlic bread to sop it all up.
Olympia Provisions
More than just a lot of pork, but also a lot of pork
Better known for the butchery side of things, with sausages and charcuterie sold around the country, both the Northwest and Southeast restaurant locations for Olympia Provisions serve an incredible weekend brunch. It's difficult to not start with a charcuterie board, but moving on there's an array of options, both sweet and, of course, meaty and savory. The benedicts, served at both locations, are hard to beat, and the Northwest location includes them in its special brunch for two menu, along with a hash and beignets, but everything here is solid.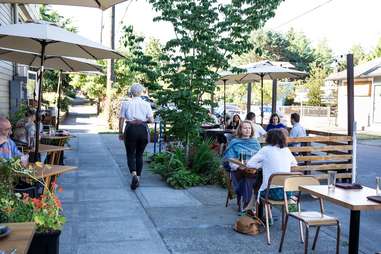 Mt Tabor
Coquine
Charming French-Northwestern bistro from one of Portland's top chefs
A Portland darling and frequent award nominee, the rustic Coquine serves its Northwest/French brunch menu daily. Everything here is deceptively simple, from the daily assortment of pastries to the fried egg on brioche sandwich, but it's all so thoughtfully and lovingly crafted that it takes it to a new level. Stop in on weekends for the caviar brunch for two, which sees two brunch items plus caviar with sieved eggs on rye blinis and a ½ dozen raw oysters.
Eliot
Broder Nord
The Scandinavian spot that changed Portland's brunch scene
Back in the early days of the Portland brunch craze, Broder was one of the few spots in town to get something other than the same menu of eggs benedict, waffles, and scrambles. Today, it's still as good as ever for its now-iconic Scandinavian menu of baked eggs, aebleskivers, and the Nord Bord, a variety of Scandinavian breakfast treats served on square plates. For lovers of Bloody Marys, it's a must-hit restaurant for its aquavit filled Danish Mary.
Slabtown
Besaw's
Historic restaurant with contemporary attitude
One of the Portland's oldest restaurants, the elegant Besaw's boasts a daily brunch menu that's as eclectic as the city itself. Alongside staples like eggs benedict, a monte cristo, and buttermilk waffles, the restaurant offers Nashville-style hot chicken on a waffle, a pecan-smoked pastrami sandwich, and guajillo pork chilaquiles. Diners can also just select from a "build your own breakfast" menu of eggs, pastrami, pancakes, waffles, grits, sausage, bacon, and more. There's also a full, dedicated brunch cocktail menu for daytime revelry.
Concordia
Beast
Portland prix fixe brunch icon
Chef Naomi Pomeroy's prix fixe dinner program, Beast, helped launch a meaty culinary renaissance, and years later she expanded it to a Sunday brunch as well. A bit more subdued than its evening counterpart, the three-course brunch has three seatings every Sunday, and changes regularly. It usually starts with something fun and sweet (think pastries and candied bacon) before moving to a salad of sorts and then a meaty, eggy entree that's always bold and unique. Of course, it wouldn't be a Beast meal without a wine pairing, and those are offered for just $20 at brunch.
Nob Hill
Hunnymilk
Sweet and savory two-course brunch menu
Hunnymilk answers the age-old brunch question of "sweet or savory" with a simple answer: both. The two course prix fixe brunch restaurant offers a flat $23 for a non-boozy drink, a savory item, and a sweet item, and only a few options for each course like biscuits and chorizo gravy with a fried egg and a Rice Krispy coated French toast with New York cheesecake schmear. Add-ons and boozy drinks are, of course, also available, and crayons are provided to keep kids (and adults) entertained while waiting.
Alberta Arts
Proud Mary Cafe
Australian Coffee House and Brunch Outpost
On the surface, just a fancy coffee shop staffed by a surprising amount of baristas with Australian accents, but in reality, a full brunch service cafe that just happens to feature seriously geeky coffee service by baristas with Australian accents. The food here is as photogenic as it is delicious, including an avocado toast so beautiful with snap peas and cucumber it's no wonder no one can purchase a house in Alberta anymore; there's also a seriously good Dungeness crab omelette and grilled croissant with capicola cured ham.
Sign up here for our daily PDX email and be the first to get all the food/drink/fun Portland has to offer.
Alex Frane is a Portland native, which means he is legally required to not only eat brunch at least once a week, but discuss it at every opportunity. Thankfully, he lives in an incredible city for that. Follow his dining habits at @franiacdrinks.