We've already told you about the best under-the-radar burgers in PDX, and about the best burgers in every Portland 'hood, and even about Portland's best new burgers, but you know what we recently found out? There are places in Oregon outside Portland... and they have burgers there! Here are the 10 best, from the far reaches of the state to just outside city limits:

Mt. Shadow Cheeseburger
Pfriem Family Brewers (address and info)
Hood River
This family-run Belgium-inspired brewery is just a stone's throw away from the Columbia river, and has an open air room where you can watch the brewers work while chowing down on their seasonal burgers, including this one w/ local grass-fed beef, fried onions, bacon, BBQ sauce, and a healthy slice of cheddar cheese.
Traditional Cheeseburger
Buoy Beer (address and info)
Astoria
A new addition to the town The Goonies made famous, this brewery celebrates its beautiful surroundings with things like a sea lion viewing window and an Oregon beef burger w/ Tillamook cheddar and all the fixin's that're perfect for pairing with one of the award-winning brews.

Jumbo Cheese Burger
Helvetia Tavern (address and info)
Hillsboro
After a long winding drive, behold this rustic burger spot (with a newly remodeled back patio space) that's famous for its jumbo burgers: two patties, American cheese, special sauce, and traditional toppings in a soft, sesame bun. Get. In. Your. Car.
Pendleton Burger
The Local Cow (address and info)
Downtown Gresham
This quirky burger spot offers all natural, Oregon-raised beef patties served on toasted brioche buns. Go for the Pendleton with crispy onion petals, Tillamook cheddar, tangy BBQ sauce, and bacon.
The Canyon Burger
Canyon Grill (address and info)
Beaverton
Swiss, bacon, avocado, mushrooms, grilled onions, and red peppers sit atop the signature burger at this small, counter-service-style burger joint.
Popper Burger
Jasper's Cafe (address and info)
Medford
There isn't a ton of space at this 20-seat burger spot in Southern Oregon, but there's room for more than 40 menu items (even exotic patty meats like Himalayan antelope and kangaroo), but when you can get a burger and jalapeño poppers at the same time, you only need one.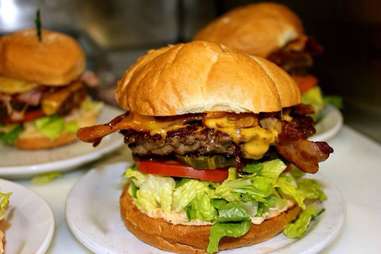 Bacon Cheeseburger
Pilot Butte Drive-In (address and info)
Bend
This classic, diner-style drive-in has two locations in the Bend area for fueling up after a long day on the slopes of Mt Bachelor. Go traditional with a melty, bacon cheeseburger with crisp lettuce, tomato, and pickles.
Three Cheese Burger
Cheesy Stuffed Burgers (address and info)
Corvallis
This food cart near OSU is all about extra cheese: stuffed inside a patty, a thick slice on top, and even more cheese on the spicy cheddar fries with jalapeños and Sriracha. They have seasonal hours, closed during the winter, so get ready to line up when they reopen in March.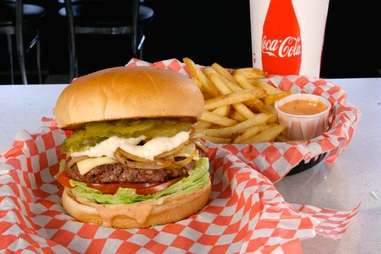 Cryin' Shame
Jimmy's Classic Drive-In (address and info)
Grants Pass
At this drive-in you'll feel a little like Michael J. Fox when he first went Back to the Future thanks to the red vinyl stools, classic cars, and burger named after hit songs from the 50s. We say go for some heat with the Cryin' Shame burger with grilled onions, horseradish, and pepper jack cheese.

The Lumber Jack
Cornerstone Pub (address and info)
Forest Grove
A favorite of Pacific University students and townies alike, this corner shop offers an extensive beer selection and badass burgers like the Lumberjack w/ two fresh Angus beef patties, bacon, grilled onions, and Monterey Jack cheese all tucked inside a kaiser roll.
Sign up here for our daily Seattle email and be the first to get all the food/drink/fun in town.