Portlanders have never had to travel far to find a great burger. This is widely credited to our liquor laws that require hot food where alcohol is sold, so the lion's share of bars across town will offer up some damn good patty options. But there are some places that continue to go above and beyond, whether it's by dedicating an entire menu to the pursuit of the perfect hamburger, or by just having a single, definitive offering that stands defiantly amongst foods of a finer ilk -- you know, things like scallop carpaccio or roasted duck breast slathered in shaved truffles. Anyway, without further ado, here are the twelve best spots to grab a burger in Portland.
Foster/Powell and Pearl District
Portland's hottest drive-thru burger
Restaurateur Micah Camden's fast food shops have drawn long lines, and comparisons to other chains like In-N-Out and Shake Shack, since they've opened. They offer a relatively small menu compared to the larger fast food franchises -- cheeseburgers come single, double, or as a vegan Before the Butcher burger, topped with lettuce, pickles, onions, tomatoes, and American cheese. Bacon can be added to any burger, as well as the crispy fried chicken sandwich for $0.75. And while the french fries are a little lacking, the golden, crispy chicken nuggets more than make up for it. The chain also makes its own fruit sodas, which can be added to any sandwich order along with fries for $3.50.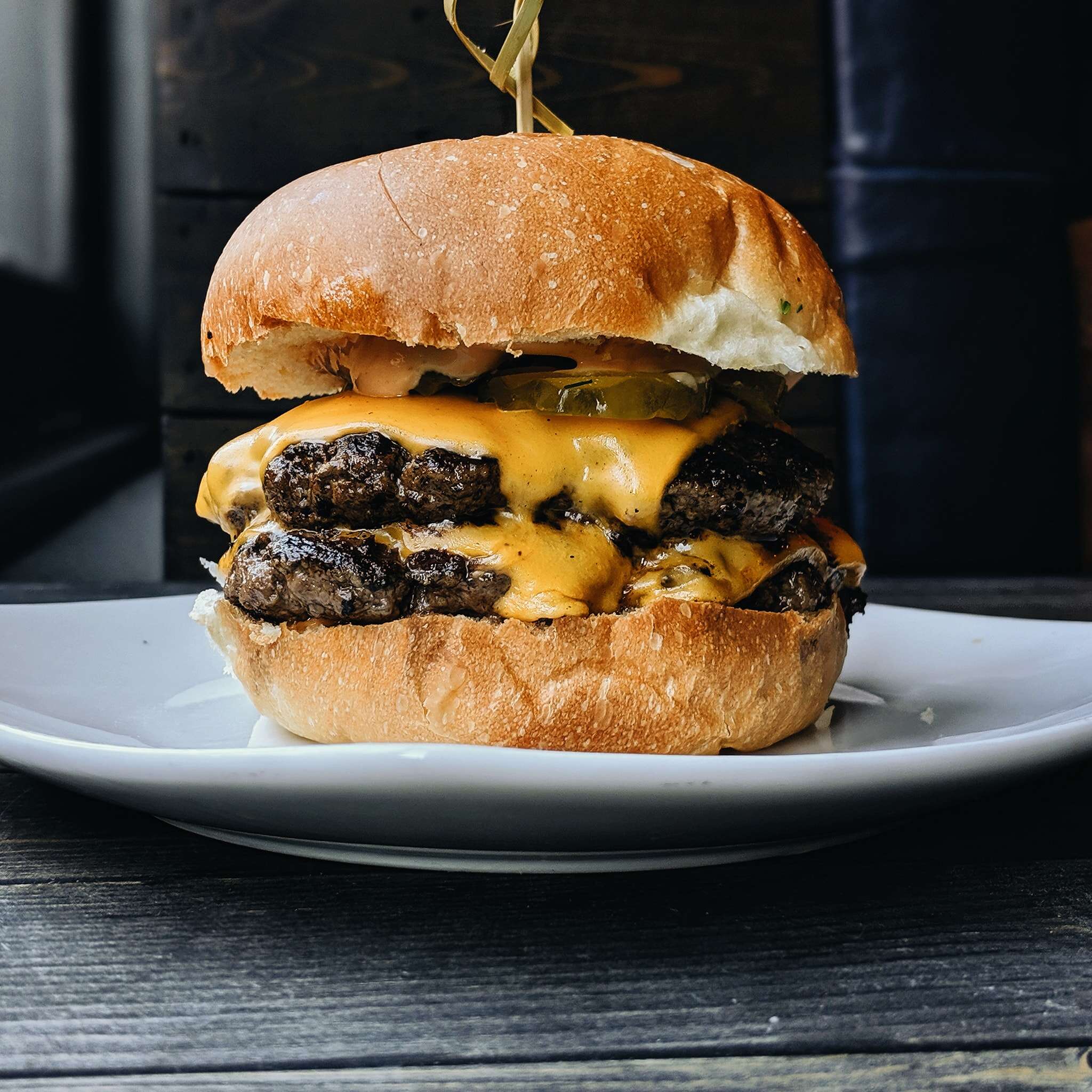 Buckman
Perfect tavern-style smash burger
A bustling beer hall with nearly 100 taps and a generous selection of whiskey, Loyal Legion isn't necessarily known for its food. But the sleeper hit on the bar's menu is its signature smash burger, a consummate tavern burger squashed flat on a scorching hot grill and draped in melting American cheese, with a sort of crispy crust on both sides of the patty. Get it as a single for a quick hearty snack with a beer, as a double, or super smash -- which gets two patties, bacon, pickles, and swaps out the American for cheddar. A few other burgers, including the Big Mac-style McLoyal, and a spicy jalapeno avocado burger are solid as well, and the fries, served in a cone should never be an afterthought.
Mississippi Avenue
Best concert venue burger in town
Bar Bar serves as the, well, bar (bar) for the music venue Mississippi Studios, and is a destination on its own thanks to its sprawling dog-friendly patio, strong drinks, and burger menu. Served on a squishy potato bun, the classic burger comes with a housemade special sauce and lettuce, and diners can add cheese and/or bacon. There's also a pretty solid barbecue burger and a rotating burger of the month. A cheeseburger, fries, and soda will set you back just $9, or $10 to sub the soda for a frosty one.
Downtown and Buckman
Simple, local, delicious
A food cart with locations Downtown and at the cocktail bar, Dig A Pony, Burger Stevens offers about as straightforward a cheeseburger as you can find, but with an eye to local sourcing. Creekstone Farms is used for the ground beef and Franz bakery is called in for the slightly sweet, super fresh bun. Topped with leaf lettuce, pickles, tomatoes, and onions, it's an earnest burger… and a damn good one at that.
Buckman and Foster/Powell
The perfect build-your-own dive burger
Part of a group of bars that spread across the city, the double-decker Elvis Room and divey Lay Low Tavern both offer Build a Burger menus, with boxes to check for type of meat, cheese, vegetables, sauces, extras, and buns. With a ton of extras and cheeses it's easy to make an expensive burger, but generally it'll hover around the $10 mark and offer a classic dive bar burger experience (greasy, not too big, perfect with a beer). For those not comfortable making their own, the bars also offer a basic menu of burger options, perfect for soaking up the cheap, well-crafted drinks.
Downtown
Portland's favorite restaurant burger
While Little Bird is a destination for its French/New American dining and cocktails, its decadent double brie burger is a big fan favorite, and one of only a few burgers in town that can get away with a price tag above $15. The richness of the brie and ground beef is somewhat balanced by the pickle, onions, and spicy ketchup, but not so much that it isn't an entirely indulgent experience. Get it with a high-acid red wine or a glass of bubbly for the full experience.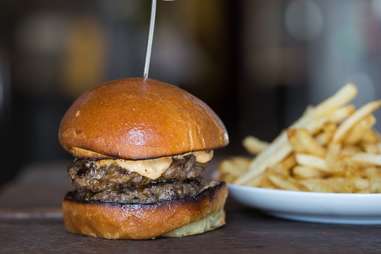 Buckman
Portland's other favorite restaurant burger
Besides Little Bird, Trifecta Tavern is the other restaurant where it's excusable to skip over the pasta dishes and steak frites and just order the burger, especially when sitting with a cocktail at the long marble bar. That's because the pimento double cheeseburger is stacked high between brioche buns, with two thick patties sandwiched with a zesty, melty pimento cheese. Served with fries, the burger is a serious undertaking and no one would blink if you split it with a friend along with some of the excellent starters and veggies roasted in the massive wood-fired oven.
Sellwood-Moreland and Richmond
The "barely small enough to be a slider" slider
Starting as a food cart in Sellwood-Moreland, PDX Sliders now has two brick and mortar locations and a very active Twitter account. The casual counter-service restaurants serve a variety of sliders, mostly named after Portland bridges and streets, and while the pulled pork and fried chicken ones are stellar, the greasy, rich burgers are where it really shines. The Hawthorne is uniquely good, with sweet strawberry preserves and a delicate brioche bun balancing out the saltiness from the ground chuck, bacon, and goat cheese, and the Steel is honestly a fucking steal. It's a hulking double cheeseburger for $5.75 that just barely can get away with the term "slider."
Sunnyside and Lake Oswego
Believe it or not, this is an animal-friendly burger shop
Before the meat-purists start arguing about whether or not a vegan burger actually constitutes a burger, take them to Next Level. Everything here is 100% vegetable-based, from burgers to shakes, but despite the suspiciously healthy-looking whole grain buns, it's the burgers (made from quinoa and mushrooms), that are surprisingly close to the real thing without hitting the uncanny valley level of vegan burger that the Impossible Burger often does. Toppings like tempeh "bacon" and "chz" are thrown in to offer some nice variety.
Downtown and Concordia
Southern-style diner burgers
From one of Portland's biggest names in food, John Gorham's (Toro Bravo, Tasty n Daughters), Bless Your Heart Burgers is all about southern-style burgers. The standard cheeseburger, single or double stacked, is served on a fluffy potato roll with Duke's mayo, pickles, shredded lettuce, ketchup, and mustard, and is a quintessential Southern diner burger. Meanwhile, the eponymous BYH burger offers even more Southern flavors, swapping out the lettuce for chili and coleslaw. You can find the sandwiches, along with fries and hot dogs, at the bustling food hall Pine Street Market or at the brick and mortar on NE 33rd Avenue.
Kerns
Comically stacked meat towers
It's right there in the name: the burgers here are so over the top they are, in fact, stupid. But they're also delicious if you can get your mouth around them. The titular burger is loaded with a towering array of meats, including bacon, ham, and hotlinks, along with an egg on a thick patty. Then you have the $40 Ignorant Burger that's pounds upon pounds of hamburger, sausage, bacon, steak, onions, and just about everything else that has ever topped a burger. There are also some more reasonably sized burgers, but while they're a solid sandwich, it kind of feels like a cop out to order one here.
Sign up here for our daily PDX email and be the first to get all the food/drink/fun Portland has to offer.
Alex Frane is maintains that there is no better bar food than a solid flat-top burger, and is grateful that Portland has such a plethora to choose from. Follow his habits at @franiacdrinks.