Trifecta Tavern

| Andy Kryza/Thrillist
Trifecta Tavern

| Andy Kryza/Thrillist
Editor's Note: This story is the third entry in Thrillist's Burger Quest, Kevin Alexander's yearlong mission to find America's best cheeseburger. Follow along @ThrillistBurgerQuest, and use #ThrillistBurgerQuest to let Kevin know places he needs to hit.
Portland's got beef. I knew the only city in America to somehow be post-hipster would have delicious new-school options, but what I wasn't expecting was the level of talent in the old-school burger spots.
For my third stop on my burger quest around the country, I was not alone. Food & Drink Senior Editor Andy Kryza lives in Portland and helped me pick out the best spots/lugged his camera around. Our Editorial Director Ben Robinson took phone calls outside and helped eat the burgers.
All in all, I was able to go to 11 spots in the 40 hours I was in the city, ranging from fancy sit-down restaurants to old-school divey sports bars with those '80s-style pennants on the walls. A few guidelines here: if the restaurant had multiple burgers, I tried to order the closest to a classic cheeseburger, and if it came with options, I always picked American cheese and grilled onions. If you believe I missed an essential place, leave your recommendation in the comments and I will file it away for the next trip. But for now, here are my Portland Best Burger rankings:
11. Bit House Saloon's Bit House Burger
Eastside
On paper, this double-burger with American and griddled onions appeared to have everything I love. In practice, however, the burger missed its mark for me, mostly due to two factors:
1) a doughy, overly large bun that took up much of the room, and therefore taste, in each of my bites of the burger.
2) The addition of elk into the beef mix. The elk almost dried out the patty, and the flavor, though good, had a bit of a gamy aftertaste.

The American and grilled onion mix, on the other hand, did create a nice melty flavor with the special sauce, but it wasn't enough to push this higher. Also, Andy made me eat popcorn-crusted Rocky Mountain oysters, and that was not cool.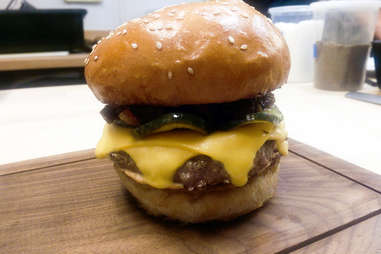 10. Clyde Burger
I went to Clyde by myself at the end of a long night and sat at the bar, where an absolutely glorious bartender named Heather made the perfect Ford cocktail while I waited for my meal. The burger itself was unique — featuring a "fu manchu" kimchee-esque slaw, and a smoked onion aioli that played the parts of the acid and creamy texture on top of the melted cheddar and meat.

The flavors were right, but a few things went wrong: for one, the in-house baked brioche-style bun flaked off the top and got a bit soggy on the bottom, an issue of not holding it long enough on the grill to seal the butter and crisp it. And the meat, which tasted like it came fresh off a backyard grill, was overcooked to the point of near char on the outside. You could tell that the flavors were there with better execution, but I had to play the hand I was dealt, friends.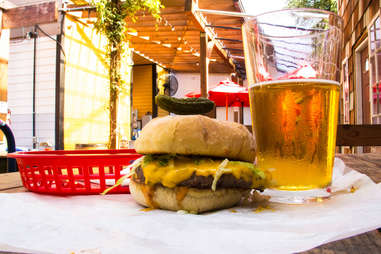 9. Classic Burger
Andy, our local man-about-town, lives close to Bar Bar, so we walked over from his house to check it out. As we got there, a running group was finishing its run (literally people were sprinting to the entrance and getting high fives) at the bar, so it was a bit of a crowded mess. And though I have more to say about enjoying food in the company of extremely sweaty people, let's focus on the actual burger itself: thin patty, American cheese, a sauce, which, to me, tasted almost like HP brown sauce, plus another Thousand Island clone on the bottom, shredded lettuce, and some sort of cabbage action, giving it an Asian-ish vibe that actually kind of worked. Like I kept saying, "This is kind of weird, right?" but I couldn't stop taking bites.

But then came the bun. The bun, friends, is strange. It's an Alessio potato bun, and pliable, but has a sort of weird flour-esque powder on top, and a nearly sour flavor. It was honestly the strangest bun I tasted, and not necessarily in the positive way of the rest of the burger. Also sour: the sweaty runners EVERYWHERE.
8. The Slowburger
If you're looking for a quick little burger, this is not the place to go. Slow Bar's burger is a full half-pound of Columbia River Reserve beef, as well as Gruyere, lettuce, pickle relish, aioli, and famously, a giant thick-cut onion ring on top. For me, the thick patty was flavorful but a giant meaty mouthful, and the even temperature throughout gave it a little bit of a meatloaf flavor. On top of that, the lead lettuce and onion ring slid off as you'd try and bite down, causing most of the toppings to drop out of the back, like a cargo plane opening up its bay door. On the plus side, the sesame bun was grilled perfectly and, when I did manage to get a bite of the entire thing, the flavors played nicely. It's just that that might've happened once.
7. Single Cheeseburger
Twenty minutes outside of the city in wine country, surrounded by grass farms and pumpkin farms and old railroad bridges, this place felt exactly like the perfect burger joint to me. And at $6, the griddled cheeseburger is a steal, especially compared to many of the city burgers. The meat was well-cooked and -seasoned, and the whole thing came together nicely, except for the bun. The bun did not play along. First of all, it isn't grilled, it just comes raw, which is one of my bigger problems, as it all but ensures you get a soggy bun. Second, said bun started to flake off the top, and that makes it seem not as fresh. It's actually frustrating because I really think they're onto something if they'd just take the time to take care of that bun.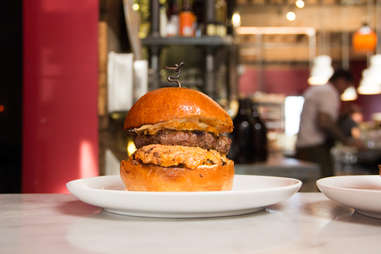 6. Pimento Double-Cheeseburger
Pimento cheese had a moment in the national sun a year or two ago, during the National Southern Food Revival, and it's one of my favorite almost-exclusively Southern snacks/toppings, so I was excited to see that Trifecta featured it on its burger. Other pretty great things: it has an adjacent bakery, meaning the burger buns come out of the oven at 4pm each day, so they're nice and fresh for dinner service. The burgers, a blend of brisket and chuck, come as doubles, with 4oz to each patty. The meat is loosely formed and thrown in the wood-fired grill, then topped with special sauce and pimento cheese, and placed on those fresh buns.

It is a glorious, salty mess. Like, extremely salty. But the burger flavor is fantastic off that smoky wood, and the pimento cheese mixes in with the aioli into a super-special sauce that should be required at every Southern wedding. The only real issue is that there is nothing to really cut through the salty, creamy, meaty mess and give you that yang to its yin. Otherwise, delicious stuff.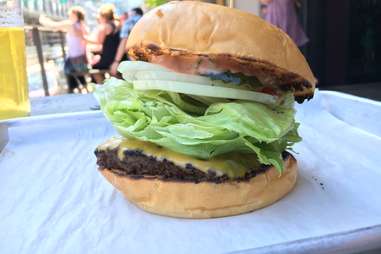 5. Classic Cheeseburger
I went to TILT's second location in the Pearl District, which was set amidst big buildings being advertised for lease for "creative space." And now that I've set the scene, let's talk about the burger. A lot to like here: grilled soft bun is nearly perfect, one of the best buns in Portland, good tang on the Thousand Island, functional acid from the hamburger dill pickles, great griddled look on the patty, which is a Wendy's-style square move. But, as you can see from the picture, there is a shit-ton of lettuce. Like half a head. And a whole lot of raw white onion. And honestly, it took me wading through all of that salad in two bites to even really get to the well-seasoned, juicy burger. This, of course, is an easy fix -- just get it without all of that hoopla, and you'll have yourself a damn fine burger.
4. Flat Top Burger
Vitaly Paley's Downtown spot is a fantastic place to hang for a happy hour, featuring on-point cocktails and a good after-work scene... even if things get slightly uncomfortable when the guys in ties, loudly discussing all the people from SF coming up there and ruining the character of the city, ask me where I came in from. Welp…

BACK TO THE BURGER! The burger, friends, is a delight. The bun is a soft, pliable, but grilled sesame bun, which holds up despite the fact that the salty, medium-thin patty is aggressively juicy. The dill mayo blends with the cheese, but is balanced by the acid from the pickles, and the thick red onions are grilled just enough to blunt their dangerous bite. I could easily see myself posted up at the bar, polishing off two of those things as I buy my friends with the ties a round of drinks for coming in and ruining their city.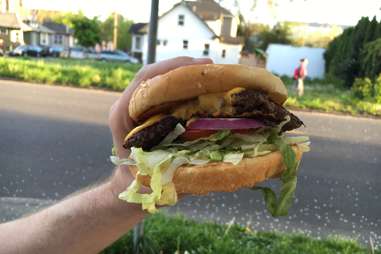 3. Get Yo Bread Up
Amidst the heavy gentrification in the Williams/Vancouver corridor stands Stoopid Burger, a simple food truck offering up zero tricks. It's just making extraordinary burgers and shoving them into brown paper bags, then shoving those bags into your hands so you can wander away and delight in a perfectly charred, hand-formed patty that combines with cheddar and a good, spiced Thousand Island (aka Stoopid sauce), shredded lettuce (the only way to do lettuce!), chopped up pickle spears, and a soft, lightly grilled bun. The only thing that was nerve-racking for me was the raw red onion, which can ruin a weak burger. This is not a weak burger. It's a stoopidly strong burger, in fact. I'M SORRY, I HAD TO.
2. Double Burger à L'américaine
Gabriel Rucker made his name with Le Pigeon, one of a handful of restaurants that put PDX on the culinary map. Little Bird is a more casual restaurant, but still features white tablecloths, so all three of us showed up with patterned Hawaiian shirts on, because we're gentlemen. The double burger on the menu offers up brie cheese, which makes me gasp in anguish, but they also do it à L'américaine, with American cheese, and that saves the damn day.

The house-made brioche bun is fluffy, light, and moist, the bread & butter pickles combat the salty cheese and meat, and pair well with the spicy (house-made!) ketchup and Dijon. Also, they're smart, and shred the lettuce while keeping the red onion slices thin, so that it balances out the flavors and doesn't get in the way. A truly fantastic, fancier double-double, definitely worth seeking out.
1. "Nick's" Cheeseburger with grilled onions
When I first hopped in a cab from the airport to Stanich's, and saw the Portlandia saturation of the area surrounding it, I cursed Andy's name, thinking he'd sent me to some precious burger joint. But alas, he had not. Stanich's is an old-school sports bar, opened in and family-owned since 1949, and walking in there felt like going back to the type of bar I used to walk into with my grandfather during the days when he wanted to sneak a beer before dinner. At this early hour the only three other people in there were construction workers, and the lady behind the counter. Old-school pennants lined the walls. I fell in love quickly. But I didn't expect that the burger would change me, too.

What I had at 11am on a weekday sitting on a comfortable barstool in NE Portland was one of the best burgers I've ever had in my life. The sesame bun was griddled perfectly, preventing the somewhat messy burger from leaking through and getting soggy. The ground chuck had a good crisp edge, and the grilled onions, which must sit marinating in something, melded with the American cheese for that perfect diner burger mix. Normally, we'd stop there, but Stanich's does not yield. On the top bun, they use a combination of mayo and mustard while on the bottom, it's mayo and red relish. The end result is a mixture of sweet and salty flavors I haven't experienced anywhere else. In fact, I didn't even see the hamburger dill pickles sitting on the side until after I ate the whole damn thing, but it didn't matter. This burger is a national treasure that I'd like to keep discovering over and over again.
Sign up here for our daily PDX email and be the first to get all the food/drink/fun Portland has to offer.
Kevin Alexander is Thrillist's National Burger Critic and Writer-at-Large. The large part is making more sense lately. Make fun of him in a somewhat public forum @KAlexander03.