A Cheese Lover's Guide to Portland
Portland chefs use cheese better than MacGyver uses paperclips, so this article is long overdue: time to unleash the most creative uses of cheese in Portland. Short of wrapping cheese in cheese and deep-frying it in cheese, the following dishes are the cheesiest around -- the crème de la crème of cheese, if you will.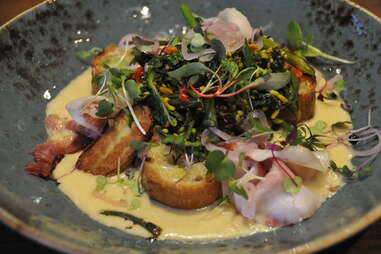 Welsh rarebit
Raven & Rose (address and info)
Downtown
The most gourmet guilty pleasure in the city, Raven & Rose's rarebit introduces itself like fondue on a bender. From Wales, rarebit is a cheese sauce with beer and spices, and the one at Raven & Rose changes with the seasons. Recently, the thick, creamy rarebit came over fingerling potatoes, country ham, and baguette and was topped with a crunchy, tangy garden of fermented sweet peppers, spicy rapini, and broccoli rabe blossoms.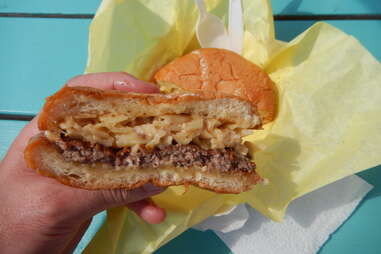 Lobster mac & cheese burger
Melt It! (address and info)
Cartlandia
It was hard to keep this Cartlandia spot from dominating our list due to its sheer number of insane cheese combinations. House-made mac & cheese pizza, deep-fried mac & cheese balls, and mac & tots were all contenders, but the mac & cheese burger takes the golden cheddar. Owner Debra Lewis is more secretive of her recipes than Walter White, but the result is charred beef and creamy cheese between a pub bun. If you want to get really outrageous, order the burger with lobster mac & cheese (no, it's not on the menu: it's another secret!), for a $14 surf-and-turf indulgence.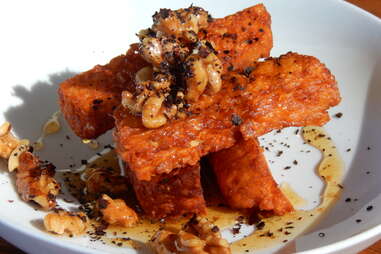 Fried halloumi
Levant (address and info)
Kerns
Possibly originating in ancient Egypt and definitely one of the world's oldest cheeses, halloumi just doesn't melt. Taking advantage of this, Levant chef/owner Scott Snyder chops it into sticks and throws them straight into the fryer. The four emerging cheese sticks are crispy and come topped with local honey, walnuts, and chili flakes for the ultimate cheese-and-honey pairing.

Cheese omakase
Chizu (address and info)
Downtown
What do Japan and cheese have in common? Almost nothing... until now. Chizu is a cheese-obsessed restaurant modeled after a sushi bar, and it was opened in March by Steve Jones, owner of Southeast's also-great Cheese Bar. The omakase platter lets you name your price and have the restaurant's cheese whizzes select from a 30-strong selection. The cheeses are all the right temperature for eating, and the staff's absurd knowledge results in such creative accoutrements as buckwheat honey and tomato jam.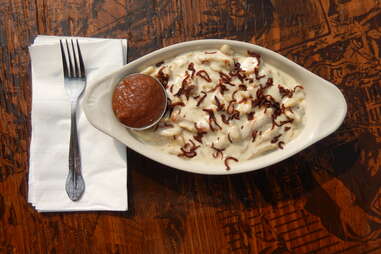 Spätzle
Victory Bar (address and info)
Division
For $8.75 ($5.75 during happy hour), this SE Division bar makes a spatzle as mean as Hannibal Lecter. House-made macaroni egg noodles sit up to their chins in a simultaneously creamy and sharp aged Gruyere sauce. Crispy shallots add texture, and the tangy house-made applesauce, served on the side, takes the whole thing into some kind of fruity heaven that you probably couldn't have ever predicted enjoying.
Paneer cheese kati roll
Bollywood Theater (address and info)
Division and Alberta Arts District
If you don't know about this dish, head to Bollywood Theater immediately: it's Portland's Indian burrito. The fact that the restaurant makes its own paneer cheese -- a traditional Indian cheese that it also sells on site -- is what really puts it over the top. It's absurdly good.
Cauliflower nachos
Punch Bowl Social (address and info)
Downtown
Cheesier than a hipster mustache, these nachos begin with queso cotija, a melty Mexican cheese commonly found in burritos, and queso fundido, a sort of Mexican fondue. On top of that, the restaurant adds crème fraiche and a creamy jalapeño crema with a nice kick. With all that cheese, you can pretty much ignore the cauliflower while somewhat maintaining the belief that you're eating something healthy.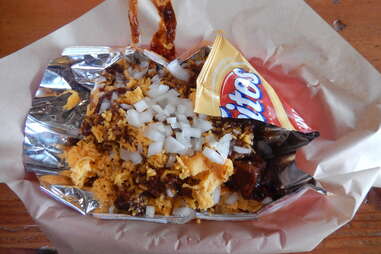 Frito pie
Podnah's Pit (address and info)
Concordia
I thought that pouring melted cheese into a bag of chips only worked after 2am, but it turns out it's also a Texan tradition 24/7. At Podnah's, pit boss Rodney Muirhead serves Frito pie inside of a 2oz bag of Fritos with shredded cheese, raw onion, and Podnah's "all-meat" chili, Texas Red. The result is big chunks of smoky brisket and crunchy Fritos -- all beneath a melty cheddar cheese cap.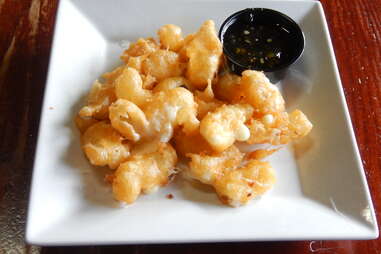 Fried cheese curds
Rogue Distillery and Public House (address and info)
Pearl District
The springy and melty texture of fried cheese curds makes this appetizer impossible to stop eating. Rogue Ales stands out for using top-quality curds from Rogue Creamery and a sweet-and-spicy jalapeño jelly for dipping.
Potted "Judy" Cheese
The Country Cat Dinnerhouse & Bar (address and info)
Montavilla
Executive Chef Adam Sappington has a family recipe for pimento cheese as soulful as the bayou blues, mixing sharp cheddar with Budweiser, mayonnaise, Tabasco and olive juice. He even ages it several days to let the Tex-Mex flavors develop. If you want to make it yourself (which, trust us, you do), keep an eye out this September for The Country Cat's cookbook, Heartlandia.
Poutine
Potato Champion (address and info)
Hawthorne
Even though it uses Wisconsin curds, Potato Champion makes a reliably rich, beefy, and salty poutine. A small costs around $5, and you can even get it vegetarian or vegan.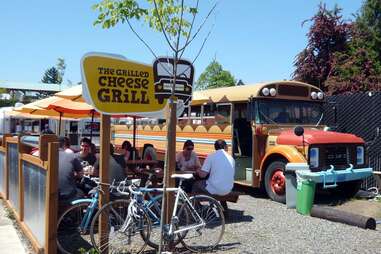 The Cheesus
The Grilled Cheese Grill (address and info)
Downtown and Alberta Arts District
Only $8.50, it's a 1/3lb burger sandwiched between two grilled cheeses that smartly include key burger condiments: one has pickles and American cheese, and the other has grilled onions and Colby Jack. Some would call The Cheesus -- which may have pioneered the GC-burger trend -- wrong. I would call them nonbelievers.
Sign up here for our daily PDX email and be the first to get all the food/drink/fun Portland has to offer.