It's the ultimate picture of American innovation and frugality: take the most seemingly useless piece of a chicken and transform it into the most delicious. Were it not for the chicken wing, there would be no Super Bowl. No use for blue cheese. No inspiration for Paul McCartney's first solo outing. So here, let us sing praise to Portland's best chicken wings… preferably to the tune of "Jet".
Pok Pok
Clinton/Division
The wings that spawned an empire from Portland to New York: Pok Pok's gigantic, signature, fish-sauced wings don't taste like fish at all and are the perfect blend of Thai spice, garlic, and palm sugar. They pair perfectly with the restaurant's signature drinking vinegar, or, if you really want to think outside the box… beer. Because wings are still wings.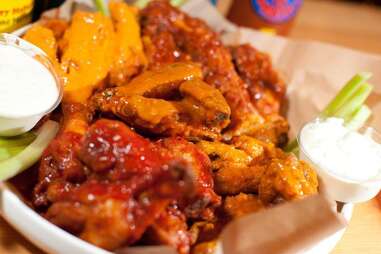 Fire on the Mountain
Overlook
This wing spot is so Portlandian, it has its own brewery (out on 57th & Fremont) and a Grateful Dead song built right in. FOTM's Buffalo wings take their sauces extremely seriously: they range from mild lime/cilantro, to raspberry/habanero, to the incendiary El Jefe, a habanero/jalapeno/capsicum fireball so hot, there's actually an eating challenge based around it that's resulted in many people going down the road feeling bad (about not getting their pictures on the wall).
Metrovino
Pearl District
The Pearl's swank Metrovino puts its spin on the popular pub food at their bar in the form of chicken wing confit, which's actually just a very fancy way to say the wonderfully salty, sauce-less wings are super crunchy on the outside and impossibly tender on the inside, and come arranged nicely w/ garnish and rosemary salt.
NEPO 42
Cully
Adding a little extra rustic action to the mix, NEPO actually smokes its wings before frying them, giving them a nice campfire flavor that holds up surprisingly tenderly when breaded and tossed in oil.
Mee Sen Thai Eatery
Mississippi Avenue
Dubbed Peek Gai Tod -- though not by a guy actually named Todd -- these enormous wings come marinated in a choice of basil, peanut, larb, or sweet and sour sauce. And they're a steal at less than a dollar a pop… because that guy Todd's super generous.
Hopworks BikeBar
Williams/Vancouver
Portland's only spot where there's actually a stationary bike on site for you to burn off those calories (even though you totally won't do that), Bike Bar offers up locally raised wings tossed in a choice of chipotle, Buffalo, or ESBBQ sauce made from beer… beer that you should totally drink in lieu of exercising in a crowded bar.
Breakside Brewery
Concordia
More beer sauce, this time courtesy of Breakside, which takes its signature IPA and transforms it into a Buffalo sauce, which is then slathered across a pile of jumbo wings (also the name of Paul McCartney's band after it because addicted to these suckers).
Alberta Market
Alberta Arts District
No sauce. No gimmick. Just perfectly breaded, slightly spicy, whole wings served with a mound of jojos straight out of a deli window, and best eaten at the bus stop on Alberta. They're $5 for six wings and jojos. Order 20. That bus's gonna be a minute.