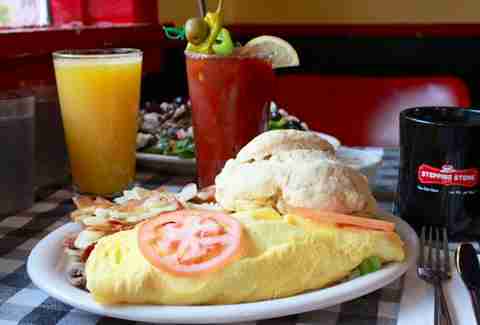 Alphabet District
Of course the booziest brunch spot in the Northwest is one of the best places to get breakfast every day! This greasy spoon offers everything from three egg omelettes to a stack of "mancakes" that was featured on Man v. Food. They serve lunch and dinner too, but since you can get breakfast all day, who cares?
Buckman
A New Mexican food cart turned brick-and-mortar not too long ago, Pepper Box brings Southwestern-style breakfasts East of the river. Get your breakfast taco fix here with any combination of bacon, carne adovada, chorizo, and avocado. Or go for a plate of huevos rancheros.
Alphabet District
One of the classic breakfast spots, Besaw's has been a Portland institution since 1903. It's almost always busy, especially on the weekends, and for good reason. It has a simple breakfast menu with appropriate specials and quick, friendly service. The Wild Salmon Scramble is always a good bet but it's hard to avoid a good Croque Madame.
Eliot
This Swedish outpost on North Interstate is an extension of the extremely popular, extremely small restaurant on SE Clinton. It still offers our absolute favorite Bloody Mary, as well as baked eggs, Swedish hash, and its specialty, aebelskivers (Danish pancakes).
Multiple locations
Purveyors of the best and widest selection of biscuit sandwiches, Pine State has now expanded to almost every quadrant. Most of its biscuits are topped with fried chicken, but if you're smart you'll get with with cheese, bacon, and gravy. I guess what we're saying is order the Reggie Deluxe.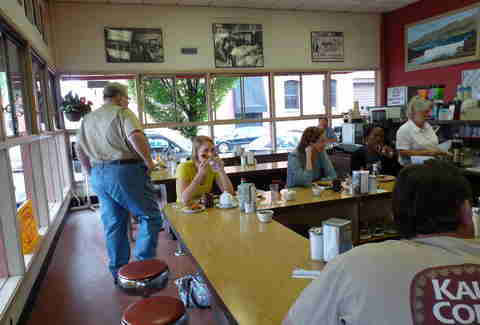 Pearl
A surprisingly blue-collar counter operation nestled between the Pearl and Old Town, Fuller's U-shaped counter and friendly, mostly older, staff feel like something you'd find on the way out of town, not a couple minutes from what people don't actually call Portland's financial district (even though it's true). The food is cheap but delicious. It's not trying to be anything other than a place for properly cooked eggs, crispy hash browns, and a seemingly never-ending cup of hot coffee.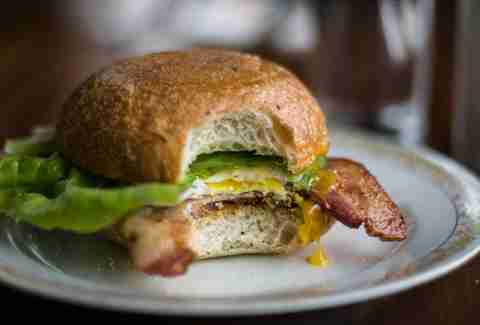 Southeast Portland
Sorry everyone, but since we last talked about Trinket and touted its lack of a brunch line, the tiny restaurant has gotten a tad busier. But good for it! With delicious items like its Fried Duck Egg Sandwich and Sausage Hash, this is a cozy place to bring that person you convinced to stay over last night, and it's well-worth the wait.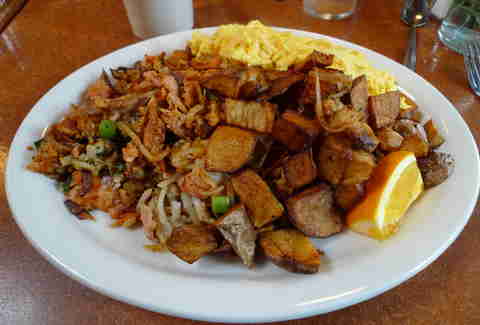 Boise
Let's get this out of the way first: the best thing at Gravy, surprisingly, isn't the gravy. But that shouldn't keep you from going because this trendy little joint on Mississippi happens to make some of the biggest and best omelettes and scrambles not only in town, but also probably the entire West Coast. If you're going for the first time try The Dalise, an obscene combination of bacon, sausage, ham, sweet peppers, mushrooms, onions, and cheddar cheese, all smothered with sausage gravy.
Southeast Tabor
Criminally missing from our first ever dim sum round-up, Pure Spice separates itself by not having its food delivered questionably on a variety of carts. Instead, you get to sit down, look at a menu and order from a bonafide server. Definitely order a couple of the hand-pulled noodles and a scallion pancake. And the five-spice duck. It's all good.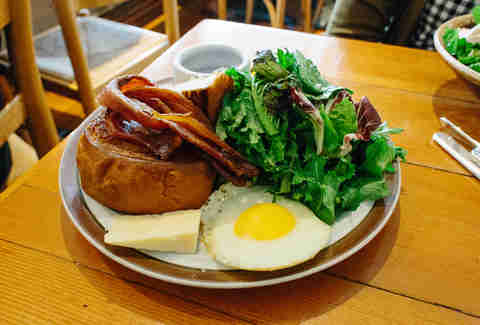 Humboldt
Tiny ceramic pots with miniature wooden spoons for salt containers; a well-curated selection of records and tapes; overflowing green indoor plants perched just so on the rafters -- and we haven't even made it to the food yet. Sweedeedee is the quintessential twee Portland restaurant. Sure, you may have to wait for a table to open up, and then again to order, but everyone will be friendly, the music will be good, and by all means you will order a slice of the salted honey pie to have with coffee.
Sellwood
Bertie Lou's has been "serving Portland's best mediocre breakfast since 1943" and that statement, proudly printed on the front of its menu, should be reason enough to go. No one's trying to sell you anything beyond some of the best breakfast in town. Although, they are self proclaimed "culinary prostitutes" who will cook "anything you want -- for 'enough' money." But when chicken fried steak & eggs goes for less than $9 why would you want 'em to?
Sign up here for our daily PDX email and be the first to get all the food/drink/fun Portland has to offer.