Those who keep close tabs on the national food world know that donuts are straight blowing up right now. Those people are amateurs. Portland's been on the cusp of the donut revolution for more than a decade, and while we'll happily point the nearest tourist to the line outside of the influential Voodoo Donuts, we do so while en route to these, the best damned donuts in Portland.
Recommended Video
Have You Ever Had Dessert Hot Pot?
Kerns
When you're faced with the choice between an amazing cake donut and one of Staccato Gelato's myriad incredible flavors of gelato, there's only one thing to do: put your hands together. Because the only thing better than one of the Friday-Sunday donut options -- ranging from Guinness to the fudgey Prince of Darkness -- is to plop a scoop on top or, if you're really in it to win, slice that sucker in half and make a sandwich.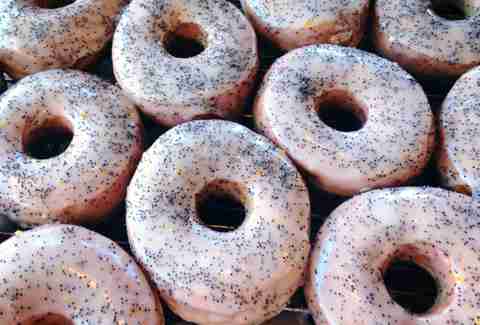 Downtown (& other locations)
When the folks behind Boxer Ramen, Little Big Burger, and Yakuza opened up their donut shop a few years back, we expected big things. Now, with four Portland locations and outposts in LA and Japan, our suspicions are confirmed: the concept of dense, brioche donuts ranging from simple old fashioneds to Mexican chocolate, lemon/poppyseed, and cerme brulee with a shot of Cointreau syrup poking out of the top was good enough to rank among America's best. Next stop: world domination.
Irvington
You'll find traditional cream-filled, jelly-stuffed, glazed, and powdered varieties at this quaint bakery that looks like, sounds like, and tastes like a grandma is running things, which tends to be a win when it comes to baked goods.In a city overrun with high-concept donuts, the simplicity of this perfect jelly donut is a thing of beauty.
Roseway
You know this is an old-school donut shop when you walk in and all the bright yellow booths are taken by cops, the elderly, and kids enjoying the array of traditional options from bear claws to fritters to the city's best chocolate cruller. This is about as old-school and unpretentious as donuts get in Portland.
Alberta Arts District
There's no gimmick -- Tonallis is just a regular old donut shop, the kind you'd see cops loitering at in a Midwest town... and in a city full of gimmicks, its regularity is rare. Get the Milk Bar (an awesome little bunt cake), or the Old Fashioned (a heavily glazed fried wonder that's crispy on the edges and slightly raw in the middle), then hit up their ice-cream selection and make a donut sundae. They're open late. And they don't judge.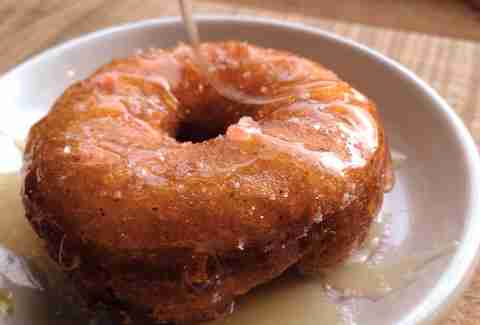 Beaumont-Wilshire
You won't find a lit up case filled with rows of brightly frosted pastries here, but that's a very good thing. These are the sliders of donuts, and the ones covered in sweet and savory honey and sea salt could be devoured by the dozen. And they're made to order, giving you the ultimate in donut freshness, whether at the storefront or out of the roaming cart you'll find popping up all over town. Follow your nose, then get the raw honey.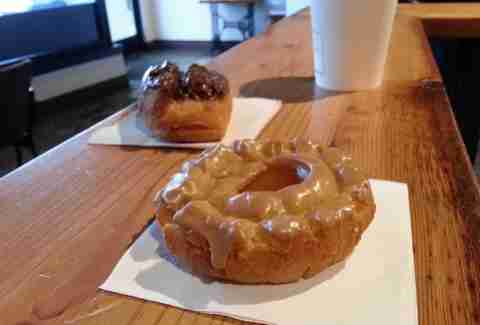 Hollywood
Butter is a good thing. So is buttermilk, tossed into a glazed, chocolate-covered donut. At this ever-expanding chainlet you'll find a pretty case filled with pastel-frosted options, lots of old-fashioneds, and sugar/caffeine-induced study groups on their laptops... or you would if you weren't so distracted by this creamy old-fashioned number.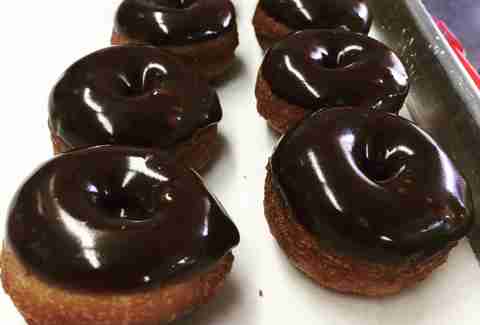 Downtown
Tiny donuts. From a cart. Made fresh all day long. By a robot. But a robot overseen by a dude who hit them with everything from salted caramel to pastry cream, peanut butter, and bacon maple with -- gasp -- real maple syrup. For the freshest experience, custom order your bytes ahead of time, then give thanks to the benevolent robot overlord for the impending diabetic coma you're about to experience, happily.
Hollywood
The must get donut: the Potato Donut. This fancy French bakery supplies bread for some of PDX's best sandwiches, but who cares? They also make the glorious Potato Donut, which tastes like not-potato cake that's coated in cinnamon and sugar, and has a donut hole right on top... representing the only time a hole has topped anything, and really pisses off Courtney Love.
Love free donuts? Find out where to stock up for this year's National Donut Day on Friday, June 2, 2017.
Sign up here for our daily PDX email and be the first to get all the food/drink/fun Portland has to offer.
Andy Kryza is a senior editor at Thrillist who is extremely proud of all the "hole" jokes he left on the floor, because he hates it when his mom calls to complain about his immaturity. Follow him to more Bluth-like fear @apkryza.