Portland, at a time no one can quite pinpoint, became a destination city for donut lovers. Some say it was the meteoric rise of the now-infamous Voodoo Doughnuts which opened in 2003, others claim it was the advance of Blue Star, which saw cake donuts across town and even into Los Angeles.
Whatever the case, Portland challenges other cities for deep-fried dough dominance, largely due to our variety of offerings. From the aging punk-rocker vibes of Voodoo to family-owned corner shops to New Orleans style to vegan, we've got donuts covered.
Of course, like anything post-March of 2020, donut shops look a little different thanks to a certain global pandemic. These days there aren't so many shops open for indoor seating, but thankfully donuts have always been an on-the-go snack, anyway. Here's where to find the city's best, and how to safely order them for takeout and even delivery.
Hollywood
Considering the culture of the city, it was inevitable that a vegan donut shop would land here. What was not inevitable, however, was just how damn good it would be. Even the most devoted donut connoisseur might be fooled, due to just how high quality they are. From the seasonal fruit donut to the standbys like the Earl Gray-tinged Portland Fog and the strawberry milk and sprinkles, each is made from scratch in house, mostly with locally sourced ingredients. Doe Donuts even has savory offerings, which are surprisingly fun.
How to order: Doe Donuts is open for walk-in orders. Speciality orders can be placed by emailing doedonuts@gmail.com.
Downtown
Fills Donuts eschews traditional donut shop norms by serving exclusively two different kinds of donut: Berliner and cruller. The Berliner is the flagship, holeless fluffy doughnuts topped with glaze and filled with everything from a standard Boston cream filling to, no joke, pimento cheese. These fluffy treats live up to the name, but if they're not your interest, the delicate crullers are exemplars of the style. The shop also offers a basic but delicious breakfast sandwich.
How to order: Drop by in person or order online for pickup and delivery.
North Tabor
It's often hard to even tell if Donut Queen is open. The small, rundown space is cluttered with empty shelves, and there are no tables or even a register in sight. What are on display, though, are the collosal apple fritters, about the size of a small child. As delicious as they are—crispy and sugary on the outside, fluffy on the inside with big chunks of apple—it's a challenge to get through the whole thing. But at $2.50 for the best apple fritter in town it's worth the challenge... or you can always just split one with a friend (or two).
How to order: Stop by in person or order online for takeout and delivery.
Buckman
A classic donut shop with an old-school motif, Delicious Donuts primarily operates as a bulk store for cafes and restaurants. However, customers can buy directly starting early in the morning at 5 am (except Sundays, when it's closed), and keep buying until 1 pm. Along with all the staples like old fashioneds, maple bars, and creme filled, Delicious offers a number of fun, less common donuts like chocolate coconut cake and peanut maple cake. The shop also has a full breakfast menu, including breakfast sandwiches that can be served on a donut for peak indulgence.
How to order: Stop by in person or order online.
Pearl District and Lake Oswego
The La'ssants at the cute and friendly little shop in the Pearl (as well as in Lake Oswego) aren't your traditional donut, and the square shape gives that away at first glance. Besides its unconventional corners, what's inside is unique: layers of dough rubbed with butter—much like a croissant—which take over three days to make and lead to a crispy exterior with a flaky, delicate interior. NOLA Doughnuts also serves classic yeast-raised donuts and king cakes.
How to order: Swing by either shop to order from the full menu, or pre-order online for the more traditional ones only.
Multiple locations
The Cock and Balls. The Texass. The cereal-topped cake donut. The once iconoclastic doughnut shop has become iconic to Portland's perceived culture, for better or worse. Despite constant warnings from Portland natives, tourists and Portlanders alike still flock to wait in line for an hour here, and as such, its status as an institution is fully cemented. The donuts themselves could almost be considered an afterthought at this point, but they're still delicious, funky, and will surely end up on your Instagram story.
How to order: Stand in the long line for the most "authentic" Voodoo experience (now with masks required), or order online for takeout and delivery from any location.
Multiple locations
Another traditional chain, the glass-doored racks and racks of colorful donuts evoke Dunkin' or Winchell's. These are better, though, with a lot more care placed in the quality of ingredients, and the namesake donuts are a unique treat. The local chain has bright, cheery locations all over the greater Portland area, but the Raleigh Hills location is a favorite as it's open 24/7, 365, giving late-night revelers a great location to soak up whatever they were drinking that night.
How to order: Stop by in person.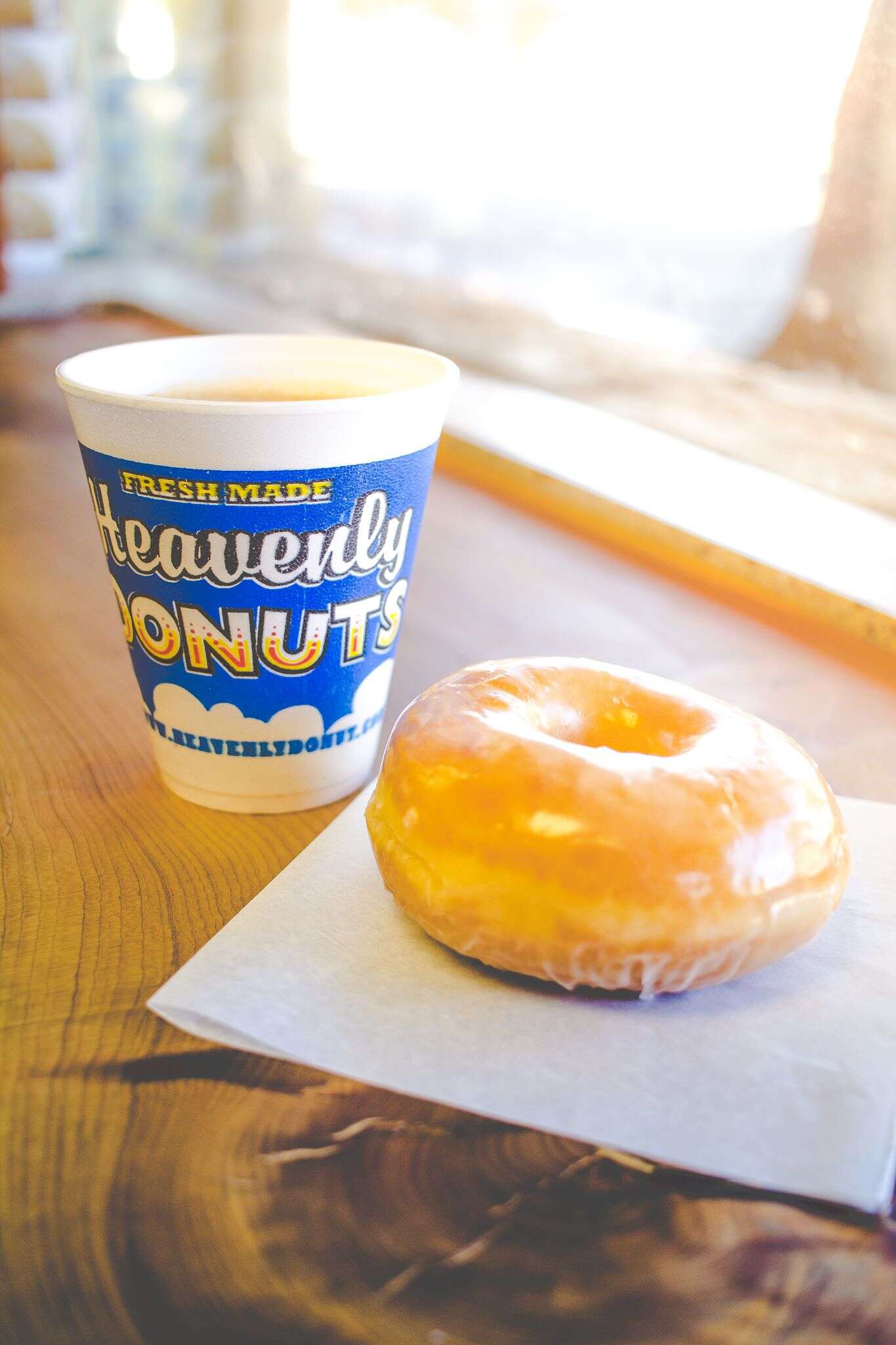 Multiple locations
Heavenly Donuts serves classic donuts with classic vibes across town. The sprinkle-topped donuts look like something out of a cartoon, while the stores themselves feel as though you've stepped back into the '80s. There are no go-to requirements here; all of the fluffy, lightly glazed and topped doughnuts are reliable.
How to order: Stop by in person.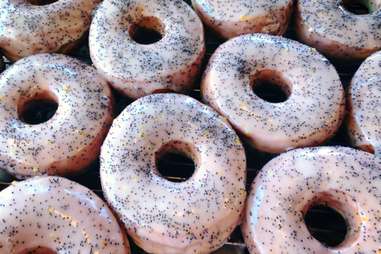 Multiple locations
When the folks behind Boxer Ramen and Little Big Burger opened up their donut shop a few years back, we expected big things. Now, with multiple Portland locations and outposts in LA, our suspicions are confirmed: The concept of dense, brioche doughnuts ranging from simple old fashioneds to Mexican chocolate, lemon/poppyseed, and creme brulee with a shot of Cointreau syrup poking out of the top was good enough to rank among America's best.
How to order: Stop by in person or order online from any Portland store for both takeout and delivery. Blue Star also ships to select states.
Multiple locations
Another Portland mini-chain of donut shops, Coco Donuts & Coffee takes the traditional approach to donut shops and elevates it without losing sight of the roots. The donuts here hew traditional with a few exceptions like the mochi doughnuts. They're mostly glazed, and all fluffy as any major chain. The shop also roasts its own coffee, and has direct relationships with coffee farms and co-ops.
How to order: Stop by in person or, preferably, pre-order online for pickup.
Beaumont-Wilshire
You won't find a lit up case filled with rows of brightly frosted pastries here, but that's a very good thing. These are the sliders of donuts, and the ones covered in sweet and savory honey and sea salt could be devoured by the dozen (honestly, they all could). And they're made to order, giving you the ultimate in donut freshness, whether at the storefront or out of the roaming cart you'll find popping up all over town. Of course, it's not complete without a cup of steaming hot housemade Chai to go with the dozen donuts you've just ordered.
How to order: Drop by in person.
Sign up here for our daily PDX email and be the first to get all the food/drink/fun Portland has to offer.
Alex Frane knows that trying all the donuts in town is a harrowing task, but someone has to do it. Follow him at @franiacdrinks