Thanks to hipster sugar shack Voodoo Doughnut's exposure on various food channels, the place now features an endless array of tourists so captivated w/ the idea of Cocoa Puffs on a donut that they don't realize they waited 30min the rain for something pretty basic. So, skip the lines and try one of Portland's actual five best donuts, which come regular, full of booze, meaty, and with absolutely no Cocoa Puffs.
Blue Star Donuts
Downtown
The Must-Get Donut: The Fried Chicken or the Crème Brûlée w/ Cointreau
Some day, an evil mastermind will devise a method of torture in which some poor slob will be forced to choose between a donut topped w/ fried chicken, or a crème brûlée donut w/ a shot of Cointreau sticking into the side. Until that day comes -- and God forbid it does -- just order both at PDX's most innovative fried dough emporium.
Pip's Original
Beaumont
The Must-Get Donut: Honey & Sea Salt
In a town where donuts are loaded w/ everything from meat to Cap'n Crunch, Pip's stands out by taking a simpler route. Case in point: the Honey & Sea Salt, a piece of mini-donut perfection flavored w/ raw bee candy and made to-order.
Helen Bernhard Bakery
Lloyd District
The Must Get Donut: Raspberry-Filled Glazed
The Bernhard's have been baking amazingness since 1924, and you don't spend 90yrs doing the same thing every day only to have it be mediocre unless you're, like, The Stones, in which case just stick to the hits. The hits here are the raspberry-filled glazed donut, the crumb cake ring, and their simple chocolate-covered beauties... especially on Sunday, when they're half off.
Tonnalli's Donuts & Cream
Alberta Arts District
The Must-Get Donut: The Milk Bar or the Old Fashioned
There's no gimmick -- Tonnalli's is just a regular old donut shop, the kind you'd see cops loitering at in a Midwest town… and in a city full of gimmicks, its regularity is rare. Get the Milk Bar (an awesome little bunt cake), or the Old Fashioned (a heavily glazed fried wonder that's crispy on the edges and slightly raw in the middle), then hit up their ice-cream selection and make a donut sundae.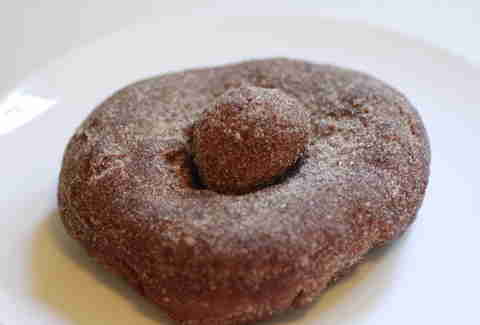 Fleur De Lis Bakery
Hollywood
The Must Get Donut: The Potato Donut
This fancy French bakery supplies bread for some of PDX's best sandwiches, but who cares? They also make the glorious Potato Donut, which tastes like not-potato cake that's coated in cinnamon and sugar, and has a donut hole right on top… representing the only time a hole has topped anything, and really pisses off Courtney Love.