Bend isn't one of our favorite road trips just because it's pretty to look at and a great place to party. Thanks to a slew of breweries and distilleries, plus a handful of people who don't make booze for a living, this vibrant central Oregon city is a sweet place to eat, and especially drink, so we rounded up our 13 favorite Bend bars and restaurants. You're welcome and, as usual, you're free to tell us what we missed in the comments...
Probably the most widely known Bend restaurant, Chow is the brunch spot for locals and visitors alike. With a backyard garden and emphasis on supporting local farmers and ranchers, "farm to table" is more than a buzzword. Make sure to try the corn cakes and one of its inventive Benedicts.
An intimate bakery that feels so ingrained with the honest mountain culture that it's surprising it's not even 10 years old. Only open for breakfast and lunch, The Sparrow is a great place to pick up a loaf of bread for tonight's dinner or sit down for a Waldorf salad or breakfast sandwich. It's no surprise most coffee shops and restaurants use its products.
Bend's best-kept secret (so far), Crux brews some of the Northwest's best fresh-hop beer and distributes only a fraction of it. To experience all of its fermentation projects you have to journey to the tasting room, a small public space next to a sizable grassy field with a stunning view of the mountains to the west. Which is especially great during "sundowner hour" when beer and appetizers are discounted.
Since 10 Barrel was bought by A-B InBev and it opened a pub in Portland, many craft beer lovers are throwing shade at it. But it's hard to argue its beer isn't the ideal thing to drink on a sunny day. And with an enormous patio at its home location, it's a perfect place to enjoy both.
A neighborhood bistro offering upscale comfort food, Drake has elevated Bend's dining scene since opening in 2013. Expect refined sandwiches and seasonal salads served alongside pub favorites like fish & chips. You know a city's made it when it can support a casual restaurant of this caliber.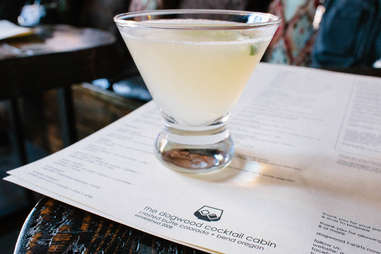 This swanky little "cocktail cabin" in the heart of Bend has an extensive list of cocktails, favoring unique martinis made with a variety of spirits, many of which have been infused with seasonal ingredients. It opens at 5pm Tuesday through Sunday and it's highly recommended that you show up sometime in the first two hours for $4 off most cocktails.
A Latin-inspired restaurant that serves flavorful food and craft cocktails, Barrio began as many Oregon restaurants do, roving the city on four wheels. But two years in, Chef Steven Draheim's spirited take on Latin cuisine had enough of a following to open up in a permanent location. We recommend stopping by during happy hour, when you can get tacos for $2.50 and margaritas for $5.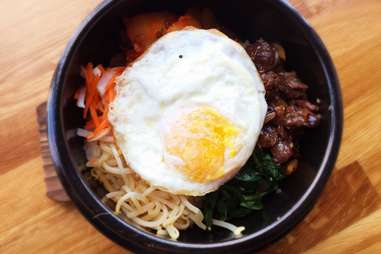 Recently renovated, SOBA is back and better than ever with a paved back patio and attached Alley Bar. The menu features playful Asian staples like teriyaki chicken, pad thai, and the namesake yakisoba. Most striking are the whimsical Japanese aesthetics like the Dōmo-kun on its menu, wooden Studio Ghibli Totoro, and cat bus.
Portland isn't the only city in Oregon with a chef-driven food cart scene. Spork began in 2009, cruising the streets in an old Airstream, feeding locals with an eclectic world fusion cuisine that ranged from Thai steak salad to West African peanut curry. It's now a 50-seat brick-and-mortar with outdoor patio that serves award-winning lunch and dinner daily.
Bend might not be the first place you'd expect two time James Beard semifinalist Chef Joe Kim to be making the state's best sushi, but this modern restaurant feels right at home in the quiet bustle of Downtown. It's a bit spendy, but the artfully arranged sashimi platters are as delicious as they look.
In typical McMenamins style, this pub, brewery, bakery, movie theater, and hotel began in the 1930s as a Catholic schoolhouse. Now you can enjoy a beer brewed onsite in an elaborate turquoise soaking pool or a Portland-distilled whiskey at the Fireside Bar. It's a great home base for out-of-towners who're looking for every excuse not to leave the hotel.
Multiple locations
What smaller town doesn't have its own take on the mom & pop diner with greasy spoon breakfast and claims to have the country's best burger? Well, having opened a second location and serving over 40,000 cheeseburgers a year, Pilot Butte has the pedigree to back up that claim. Hell, it's one of our favorites!

Sure, the coffee's responsibly sourced and locally roasted -- you can find the beans in many of the area restaurants. Lone Pine also puts as much love into its cafe menu, which features a number of homemade syrups and chai blends as well as pastries from the above Sparrow Bakery, since anything it can't make itself is brought in from someone who cares just as much.
Sign up here for our daily PDX email and be the first to get all the food/drink/fun Portland has to offer.