Thrillist
Thrillist
The fact that it's small enough to easily get around and that there are sweet new restaurants opening all the time make Portland a great city to eat and drink in. But what if there were some weird rule -- an extremely generous kind of house arrest, for example -- that forced you to pick one PDX neighborhood to eat and drink in... forever? Which one would you choose? To help narrow it down we ranked all of Portland best 'hoods for eating and drinking. Feast your eyes...
9. Mississippi/Williams
Let's be honest, this neighborhood makes the list thanks to a high concentration of solidly mediocre bars and restaurants that are always packed and vibrant, plus community full of youthful residents that have no problem bumming around in the 'hood. We don't either given what Life of Pie is doing, not to mention the fact that you can't get a bad brunch at Equinox. Hell, they've even have a Lardo, which'll put any 'hood in the top 10.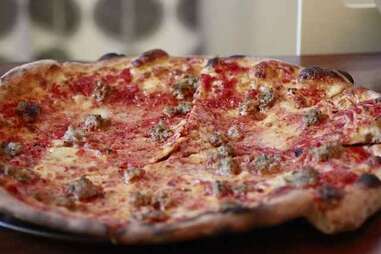 8. Hawthorne
Sure, you're gonna have to look past the ironic mohawks and high school panhandlers who hate "the man" to see the beauty that is a pie from Apizza Scholls, a sandwich from Lardo, or (even better) an arepa from Teote. It also hosts the city's first successfully progressive restaurant, Castagna (which recently upped its casual bar game with a revamped cafe menu), as well as the most exciting chef in the city: Ryan Roadhouse and his Nodoguro concept. In other words, it's totally worth it.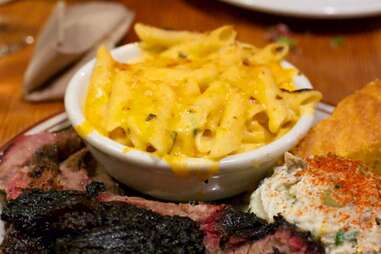 7. Alberta/Killingsworth
This Northeast amalgamation of gentrification and genius has fostered the husband and wife duo of Beast and Expatriate, as well as the local artisan barbecue movement with Podnah's Pit. Meanwhile, Aviary never disappoints and Stella Taco looks like its ready to challenge the fast/casual Mexican scene. Sure, like Hawthorne it has its problems, but they're nothing the influx of young residents with expendable income can't deal with. Now, if we could only take care of the disinterested service that seems to permeate the area...
6. Alphabet District
Once a breeding ground for daytime boutique shoppers with tiny dogs, the Alphabet District (for the most part NW 21st and 23rd) has been harboring an institution in Paley's Place, a firebrand in Ataula, and a bright future given the talent at Fireside. Other standouts include St. Jack (now thankfully here to stay), the brunch destination Industrial Cafe, and a slew of cheap bars like North 45, which we fully endorse because of their patio.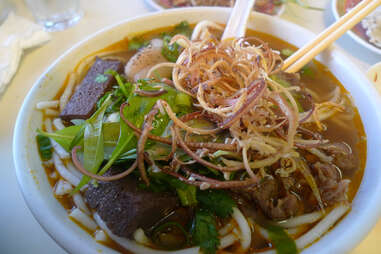 5. 82nd
82nd… a strip of asphalt that separates Portland from the far East: Gresham. Not only is it filled with used car lots and pawn shops, but it's also dominated by foreign grocery stores, so it's no surprise that some of the city's most interesting/flavorful food can be found here. From HA & VL, to dim sum stalwarts like Ocean City and HK Cafe, to the grocery mecca that is Fubonn, you'd be hard pressed to stop at a shady looking building with a sign you don't understand and not find something delicious to eat.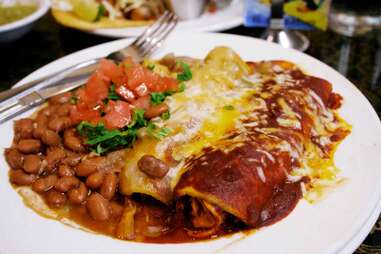 4. Division
While Division might be the first rockstar 'hood of Portland, construction and condos are currently detracting from its appeal... but not so much you should pass up an opportunity to dine at Bollywood Theater, Sen Yai, La Panza or, of course, Pok Pok (the New York version of which just earned a Michelin star). Breakfast and late-night eats are taken care of by Pine State and Reel M Inn, but keep your eyes on Roe, SE Wine Collective, and the Tidbit cart too, they're bound to become mainstays.
3. Downtown
Downtown Portland hasn't felt this lively in years. Once thriving on destination dinners and corporate luncheons, the hub of the city has been quietly transforming itself into an all-hours playground for more than just the business crowd. Late nights at Luc Lac and Departure are a must, while Lardo and the carts (led by Nong) swiftly feed a majority of the foot traffic. There's Pépé le Moko and The Rookery for after work, Boxer Ramen for the rain, Imperial for happy hour, and Little Bird and Maurice for... um, whenever.
2. Lower Burnside
Perhaps the most overlooked neighborhood, East Burnside has proven its worth with consistency from greats like Le Pigeon and Screen Door, as well as Biwa, Levant, and Laurelhurst Market. But the recent rise of Davenport and Paadee really put this place on the map. The fact that there are great pubs like Burnside Brewing and Beulahland are just icing on the cake.
1. Central Eastside/Industrial
Central Eastside and Burnside are almost interchangeable, but what really sets the former apart is the rate at which new spots are popping up. There's enough room for the classics such as Montage to exist alongside new kids like Rum Club, Kachka, and Taqueria Nueve. Throw in the best brewpub in town, the best coffee (yeah, we see you Water Ave and Coava), the best cured meats, AND the best strip club… then stop to realize that this 'hood's just getting started.
Sign up here for our daily PDX email and be the first to get all the food/drink/fun Portland has to offer.